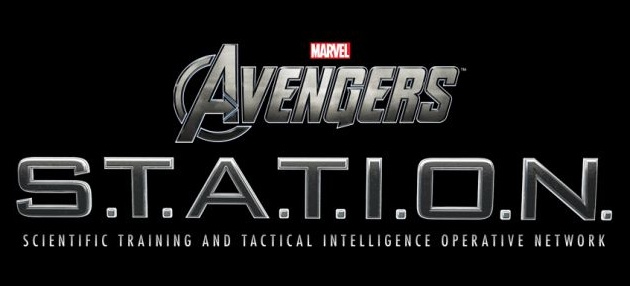 For all the talk of San Diego Comic-Con versus New York Comic Con, San Diego has New York beat by a wide margin in at least one area: offsite events. Although NYCC has taken strides this year in expanding its offsite presence, in part through a new Super Week program which gives those who purchased the additional card access to events and stores around the area at a discount, offerings like Bedbugs: The Musical are still a far cry from San Diego's wall-to-wall parties, studio-sponsored interactive offsite exhibits, and world premiere clips and actor signings.
However, New York doesn't necessarily need amazing offsite events specifically in town for the convention. It's New York City, which means there's plenty to keep anyone willing to travel just a short distance by public transportation busy. And one of the coolest things going on right now in the city is Marvel's Avengers S.T.A.T.I.O.N. exhibit at Discovery Times Square.
Victory Hill Exhibitions, in association with Marvel Entertainment, have put together one of the coolest exhibits in the area with Avengers S.T.A.T.I.O.N., which opened back in May. The exhibit allows Marvel fans to "join" S.H.I.E.L.D. and tour the S.T.A.T.I.O.N. (Scientific Training and Tactical Intelligence Operative Network) headquarters, home to lots of Avengers artifacts, equipment, and classified information.
Upon entering the exhibit, fans are asked to create their own S.T.A.T.I.O.N. ID, which displays the "agent"'s name, the date of issue, an agent ID number, and the agent's status (set automatically to "probationary"). This card is your ticket to gaining access to use the various stations inside.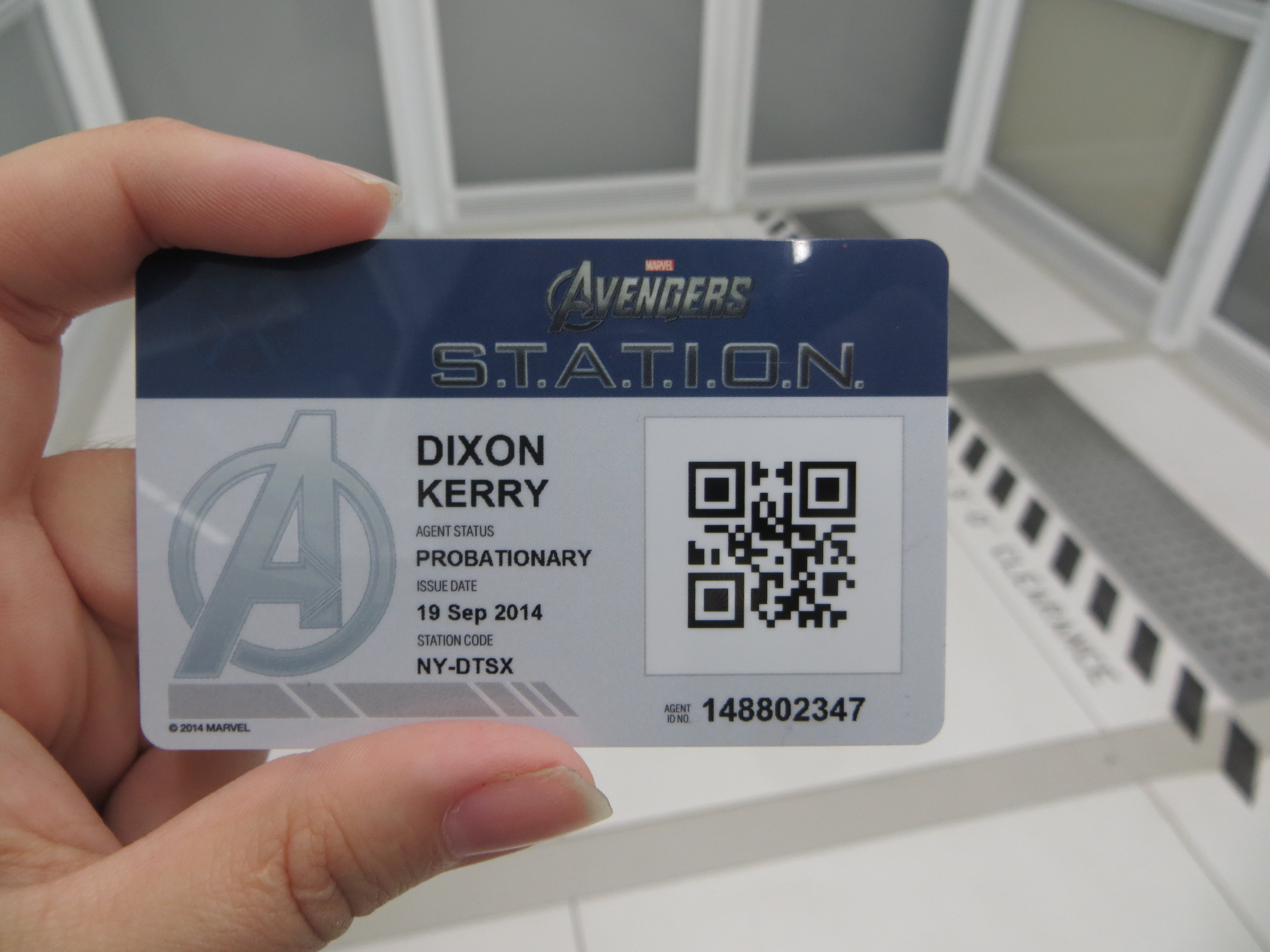 Once you've been issued your ID, you'll be directed into the world of S.H.I.E.L.D., where you'll be given a debriefing by costumed S.H.I.E.L.D. operatives from the facility, as well as a video message from Marvel's Agents of S.H.I.E.L.D.'s Agent Blake (played by actor Titus Welliver).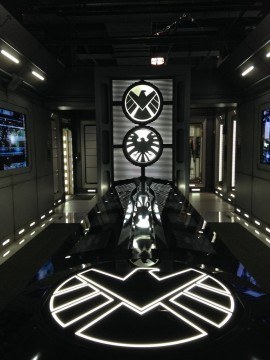 From there, the real fun starts. The exhibit is a seamless blend of familiar movie props (you can check out a Chitari captured in battle, Captain America's shield, Loki's scepter, and more), and integrated technology from the Marvel world, and attendees of the exhibit can poke around at almost every screen lining the walls to learn something new.
The rooms are mostly sectioned off according to various Avengers — so fans of Captain America can take their time reading through old war documents and looking at the famous trading cards in Steve Roger's room, while those who prefer the Hulk can spend more time in Bruce Banner's laboratory, learning how gamma radiation works.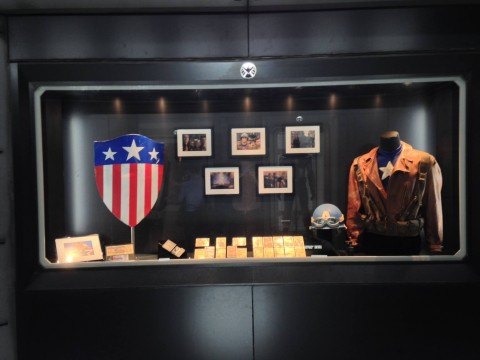 The best part of the exhibit, though, is how interactive it is. Almost every room has various stations where visitors can stop by to test their knowledge and skill at different tasks. You can test your strength against Steve Rogers', try your hand at battle simulations, and even activate the Tesseract to make the room literally quake with your newfound power.
The real gem of the exhibit, though, is the section dedicated to Tony Stark and Iron Man. It's the most interactive room, and gives visitors the chance to test out powering different functions of Iron Man's suit. Guests get to see how their hand movements make the suit's arms bend and flex, and in one of the coolest stations, you can use a heads up display to find out how Iron Man's helmet works.
Through the use of an EEG and eye-tracking sensors, you'll get to see just how the Iron Man suit functions. Trackers read your eye movement and brain waves as you attempt to disarm targets, using only your eyes. We'll admit, we're biased as we beat everyone else on our tour at this station, but it's ridiculously fun and a great way to feel like you're immersed in the Marvel world.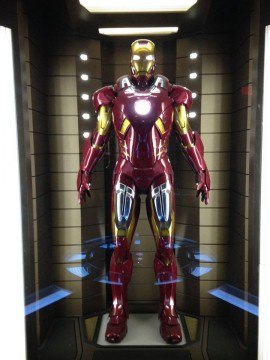 The exhibit resembles some of the best offsite events we've seen at San Diego Comic-Con, but because it's in a static location for the long term, it's got even more bells and whistles. All of the technology in the exhibit is real — and Mashable interviewed one of the executives at Victory Hill about the making of Avengers S.T.A.T.I.O.N., and how it adds so much to the overall experience.
If we have one complaint, it's that some of the Avengers — notably the Black Widow and Hawkeye — are a little shortchanged in the exhibit. Their costumes can be seen, along with costumes for Maria Hill, Nick Fury, and a few others, but unlike the rest of the Avengers, there's no room dedicated to them or interactive exhibits.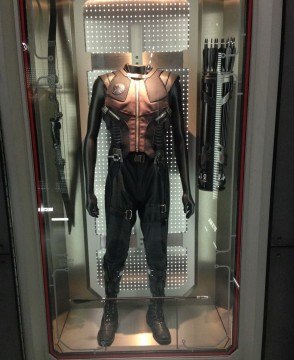 Avengers S.T.A.T.I.O.N. will be at Discovery Times Square through part of 2015, and then is expected to begin touring around the country (hopefully with a future stop in San Diego during Comic-Con time).
For now though, if you're visiting New York or NYCC, we highly recommend stopping in and checking it out for yourself. Tickets are timed, and available for $27.
We'll be sharing more about the merchandise available at the S.T.A.T.I.O.N. tomorrow.
Will you be stopping by Avengers S.T.A.T.I.O.N.? Let us know in the comments.