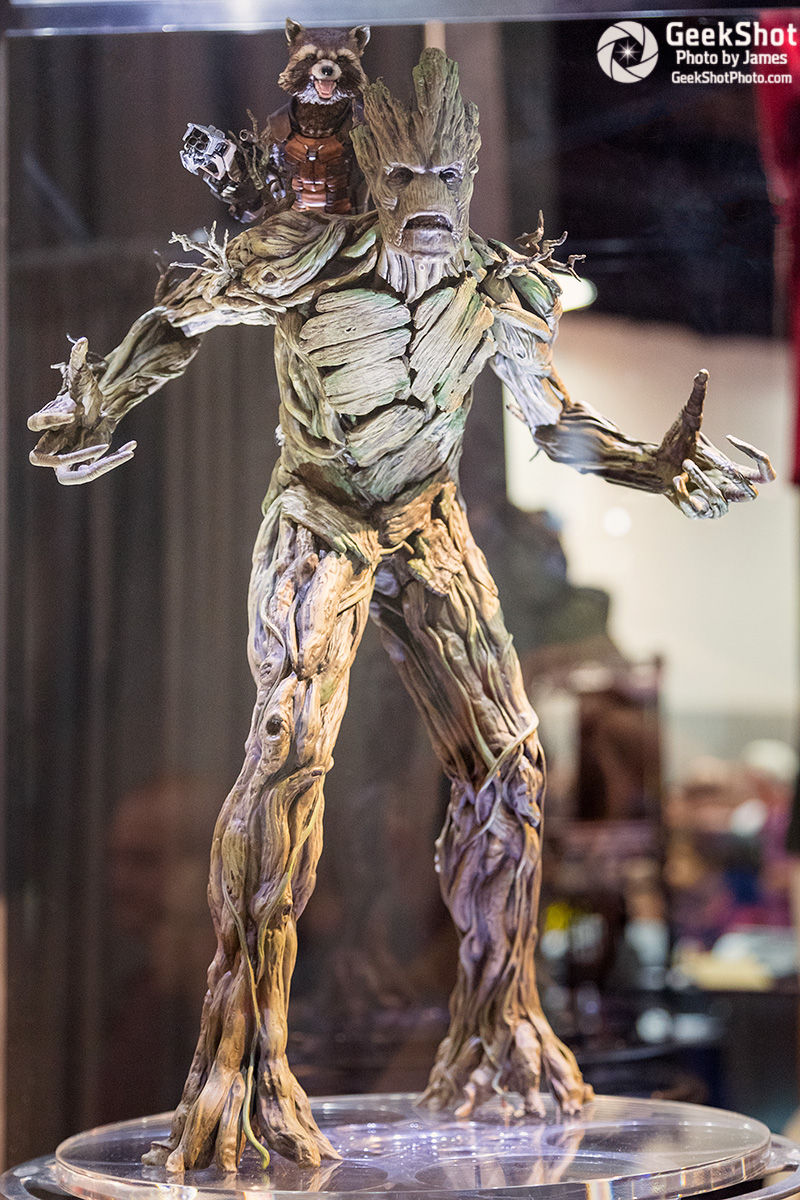 Welcome to the GeekShot Photo Exclusive Series. This will be a weekly post featuring cool, interesting, or just plain awesome moments we have captured during San Diego Comic-Con. Each week we'll post a photo by Beth or James of GeekShot Photography. We may include a short story about the photo, but sometimes we'll just let the photo speak for itself.
About This Photo
Groot and Rocket Raccoon statue at the Gentle Giant booth at the 2014 San Diego Comic-Con.
I might as well end the year with a couple of my favorite things. I was prepared to like Guardians of the Galaxy based on all the previews. I was not prepared to like it so much. It became one of the few movies in recent memory that exceeded my already high expectations. While I enjoyed every aspect of the movie, Rocket and Groot stood out. James Gunn and everyone involved in their creation deserves a lot of credit for making me care about 2 CG characters. We've come a long way since Jar Jar.
One of my goals for SDCC in 2014 was to get an awesome Lego Rocket/Groot photo. I may or may not have gotten one that I may or may not post next year. Since I didn't know there would be this Gentle Giant statue slowly spinning inside a glass case I didn't have it as one of my goals, but once I saw it I spent a few minutes capturing it from all angles. The spinning helped with that, but it was a hindrance as well. It was difficult to get the shutter fast enough with the low overall light. I didn't want to push the ISO too high and get a lot of grain. I compromised and settled for a shallow depth of field, which is why Rocket is slightly out of focus compared to Groot (except his left arm/leg). I'm really happy with the amount of detail I managed to capture that is in focus.
This was one of my favorite finds on the show floor. Did you run across something unexpected? Let us know in the comments.
You can see all of the previous posts in this series here.