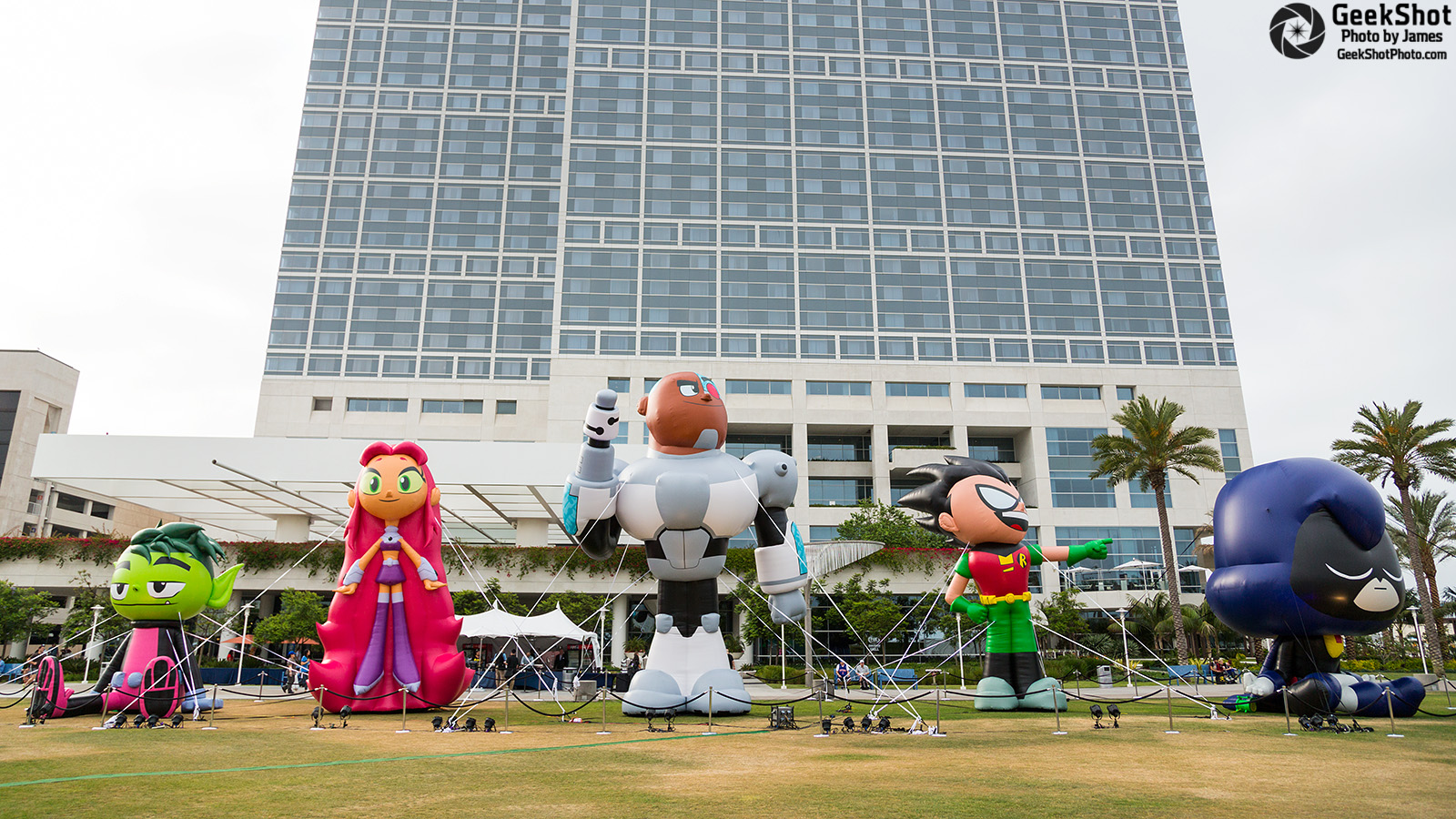 Welcome to the GeekShot Photo Exclusive Series. This will be a weekly post featuring cool, interesting, or just plain awesome moments we have captured during San Diego Comic-Con. Each week we'll post a photo by Beth or James of GeekShot Photography. We may include a short story about the photo, but sometimes we'll just let the photo speak for itself.
About This Photo
Teen Titans Go inflatables at the 2013 San Diego Comic-Con.
As most of you know, displays and events have spilled out of SDCC onto lawns, hotels, restaurants, parking lots, and pretty much anywhere else that's near the convention center. The lawn outside the Hilton Bayfront has been one of the prime spots recently and WB is usually the company that takes it over. In 2013 they seemed to have a bit of an off year and just put out some static, non-interactive stuff, which they dubbed "Lawn Con" by Warner Bros. These giant Teen Titans Go inflatables were just there. Take a photo and move on. The Scooby Doo van, Batman Legos, Hobbit Lego house, etc. weren't much better.
But if you are going to try and get photos of things like this, there's a good time to do it. I took this photo before 8AM on Thursday morning. As you can see I was able to get far enough away to get the entire set in one shot. I didn't have to wait much to do it either because there were only a handful of other people out at that time of the morning. Most people are either still getting ready or already in line to enter the con or get their badge. I was able to wander around these displays and across to some of the downtown events and get photos without much hassle at all. If you have the time and don't mind a long day, get up early and head out around sunrise. You'll get some great photos and you won't have huge crowds causing problems.
Do you have a special time for getting photos? Let us know in the comments.
You can see all of the previous posts in this series here.