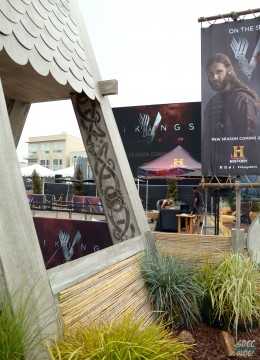 History Channel's first ever scripted saga, Vikings, is ready to raid television sets once again with season three, premiering Thursday, February 19th at 10ET/9CT.
The historical drama explores the tale of the legendary Norseman, Ragnar Lothbrok (played by Travis Fimmel), and follows his ambitious exploits.  The show has spent two seasons building strong momentum with a fantastic storyline full of intense battle sequences, action, and beautifully crafted character dynamics.
For the past two years, Vikings has also had a strong San Diego Comic-Con presence as well — offering attendees fantastic offsite events, cast signings, and panels.  During last year's Comic-Con panel, creator and writer Michael Hirst and cast members Fimmel (Ragnar), Clive Standen (Rollo), Katheryn Winnick (Lagertha) and Alexander Ludwig (adult Bjorn) promised an epic upcoming season that is about to "explode".  Secrets were also revealed regarding the loss of one of the show's characters, thus hinting at the promise of an unforgettable season to come. The panel left viewers with a sense of trepidation, excitement, and high expectations for the coming season. If you missed the SDCC 2014 Vikings panel you can view the History Channel's YouTube video of it here:
This year, I was lucky enough to be able to catch an advance screening preview for the first three episodes of the new upcoming season.  So just how does the season premiere of Vikings live up to the Comic-Con 2014 panel?  Will it deliver a strong upcoming season? Lets take a look:
Where Season 3 Picks Up:
First let me start by saying, sorry girls — unlike the opening scene for season 2, there is no shirtless Rollo at the beginning of this year's new season. However the first three episodes promise an impressive start to the return season.  Brilliantly acted scenes, power struggles, and of course action-packed battle scenes.  What would a Vikings episode be without the battles?  We also get to look forward to some new additions to the cast, as well as some interesting relationship developments.
Episode 301: "Mercenary"

From the moment the show begins, the Vikings episode pulls us back into it's captivating tale.  It does not miss a beat and the continuity of character and content is brilliantly played out. The opening scene begins with a compelling look at what the seer's visions have in store for Lagertha.  An ominous prediction from the oracle reveals a foreboding look into what the Gods have fated for her. Even though the prophet's vision is clouded and vague, the prediction does not bode well for her. It leaves us with more questions than answers.
From there it doesn't take long before we begin to realize that there are those who are vying to manipulate their way into positions of power. New schemes come into  play and cause a shift of alliances. Betrayal and deception will leave some characters unaware of what is to come.  While the alliances of others are still questionable and it leaves us wondering just where motives really reside.
During last season's finale we saw Ragnar rise to meet the threat of King Horik's (Donal Logue) betrayal.  Wasting no time in picking up where last season left off, we now find the new King – Ragnar — having to come to terms with his new position of power and the consequences of what it might mean for both himself and for those close to him. Yet Ragnar is a determined individual who has every intention of facing head-on whatever may get in his way.
The peace treaty between Ragnar and King Ecbert (Linus Roache) is still firmly on Ragnar's mind.  In order to see King Ecbert fulfill his promises of English land for the Norsemen, Ragnar once again prepares to set sail for Wessex. However, it remains to be seen whether or not King Ecbert has any plans of keeping his promises and I look forward to seeing how the supposed peaceful reconciliation between the two will play out.  Is Ecbert setting Ragnar up for failure?  On the surface it seems like King Ecbert is honest in his intentions toward the Norsemen, but he is ambitious and is looking to gain for himself as well.  This leaves us with shadows of doubt regarding his intentions.
Meanwhile, repercussions of past actions weigh heavy on several characters relationships. Tension still stands between Rollo and Siggy and it seems Floki (Gustaf Skarsgard) has some entertaining notions regarding happiness. We also start to see the beginnings of some new relationships forming during the next two episodes that I screened.  Although it's still too early to understand the complexities of these new connections, I look forward to seeing where the relationships are headed.
Oh, and did I mention the battles? Yes, a Vikings episode is not complete without a battle of axe wielding Norsemen. However, I will leave the details of that to your own viewing pleasure when you tune in on Thursday night.
Although it may seem to some that the episode might start out a bit slower than previous seasons in terms of action, I believe the season premiere is laying firm groundwork for what will be an impressive and exciting season to come. The cast is able to successfully capture the subtle underlying nuances of their characters, and there is most definitely more going on in these episodes than meets the eye.
Does it live up to the expectations of the SDCC 2014 panel? We are certainly off to an intriguing start.  Prophetic visions, riveting battle scenes, and scheming is always a good start to a season, and it's bound to leave viewers wanting more. Unfortunately, there is the painful task of having to wait a full week before the next episode airs.
Michael Hirst and all of the talented individuals at the History Channel who bring this show to life have proven once again that they are able to bring us a show that is beautifully crafted, and that can seamlessly blend together the gritty reality of the Viking culture while still maintaining the humanity, belief system, and complex relationship developments in which the historical culture thrived.  I look forward to a wonderful season 3 and hope that they will once again be able to bring the show and cast back to San Diego Comic-Con for 2015.
If you would like to catch up on the previous seasons of Vikings, you can check out the History Channel website where they have the episodes posted for a limited time.  And don't forget to catch the Vikings Season 3 premier debut on the History Channel, Thursday February 19th, 2015 at 10ET/9CT.
Are you looking forward to the season three premiere of Vikings?  What are you looking forward to most?  Let us know in the comments.