For fans of toys and collectibles, Toy Fair is the ultimate convention (yes, maybe even more so than San Diego Comic-Con). It's where the biggest names in the industry showcase their upcoming lines – and sometimes even offer a sneak peek at some of their exclusives for later in the year.
Although news on San Diego Comic-Con's exclusives wasn't quite as prevalent as it was in 2014, we did get a glance at two Pacific Rim and Game of Thrones SDCC 2015 exclusives from some of our favorite companies, NECA and Factory Entertainment.
This past weekend at Toy Fair in New York, NECA revealed at least one of the exclusives set for Comic-Con — a set of Pacific Rim Chibi Replica figures. From what we've seen, it appears that there are several Kaijus and at least one Jaeger in the set.
Here's a look at the figures from the website Import Monsters: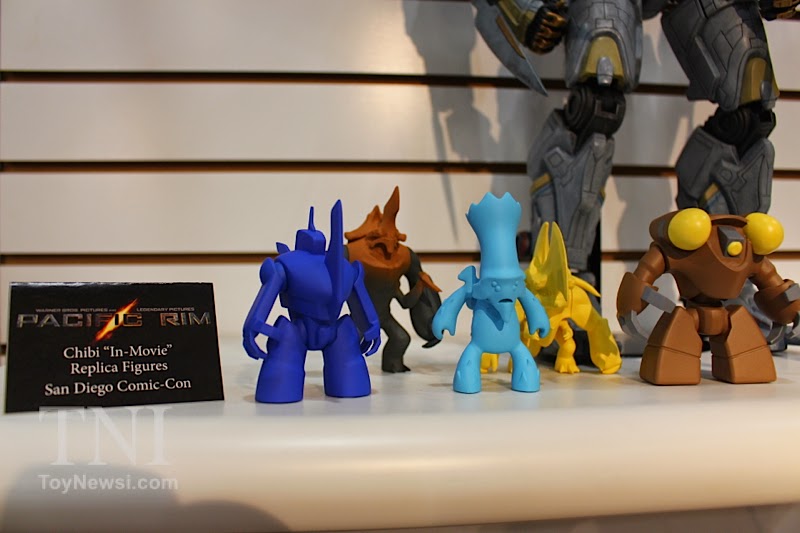 NECA then confirmed on Twitter that they'll be sold in a five-pack as Comic-Con exclusives.
"@PaulSMattson: Hi Randy – Are the chibi PacRim figures (which I absolutely LOVE BTW) going to be SDCC exclusives? @NECA_TOYS" yes

— NECA (@NECA_TOYS) February 15, 2015
@PaulSMattson yes. Set of 5

— NECA (@NECA_TOYS) February 15, 2015
Also at Toy Fair this past weekend, Factory Entertainment unveiled the first look at an upcoming George R.R. Martin talking plush doll (and our friends at Stitch Kingdom got the a closer look). There will be two versions — a regular (in suspenders) version, and a Comic-Con exclusive (in armor). Here's a look at both versions from Stitch Kingdom's Instagram:
We spoke to Factory Entertainment about the Comic-Con variant, which will have "exclusive audio and it will feature GRRM in armor, clutching a battle axe, ready to take on a band of orcs or wildlings". Martin himself recorded the audio for the plush, which we're promised says some pretty cool things.
Are you excited about these Comic-Con exclusives? Let us know in the comments.