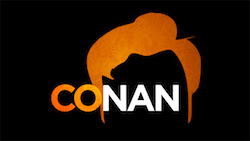 Although we've known since last April that TBS late-night show host Conan O'Brien would be bringing his talk show, CONAN, to San Diego Comic-Con, details since then have been pretty scarce.
On last night's episode, though, O'Brien revealed several details about his Comic-Con appearance. Because his show normally airs Monday-Thursday, it will instead be airing that week on Wednesday-Saturday (July 8-11) to coincide with the convention — from the Spreckles Theatre, which we know from the original press release last year.
According to O'Brien, "all of our comedy and all of our guests are going to relate to the magic of Comic-Con". Considering the town is crawling with Hollywood talent all week, there's huge potential for a great roster of guests.
Here's a look at the announcement from last night's episode:
There's still no word yet on how to score tickets — but as Comic-Con is now just over two months away, an announcement can't be that far off. We'll keep you updated as soon as we hear anything.
Conan had previously appeared at SDCC in 2011, as a surprise guest on The Green Lantern animated series panel.
Will you be trying to attend a taping of CONAN? Let us know in the comments.