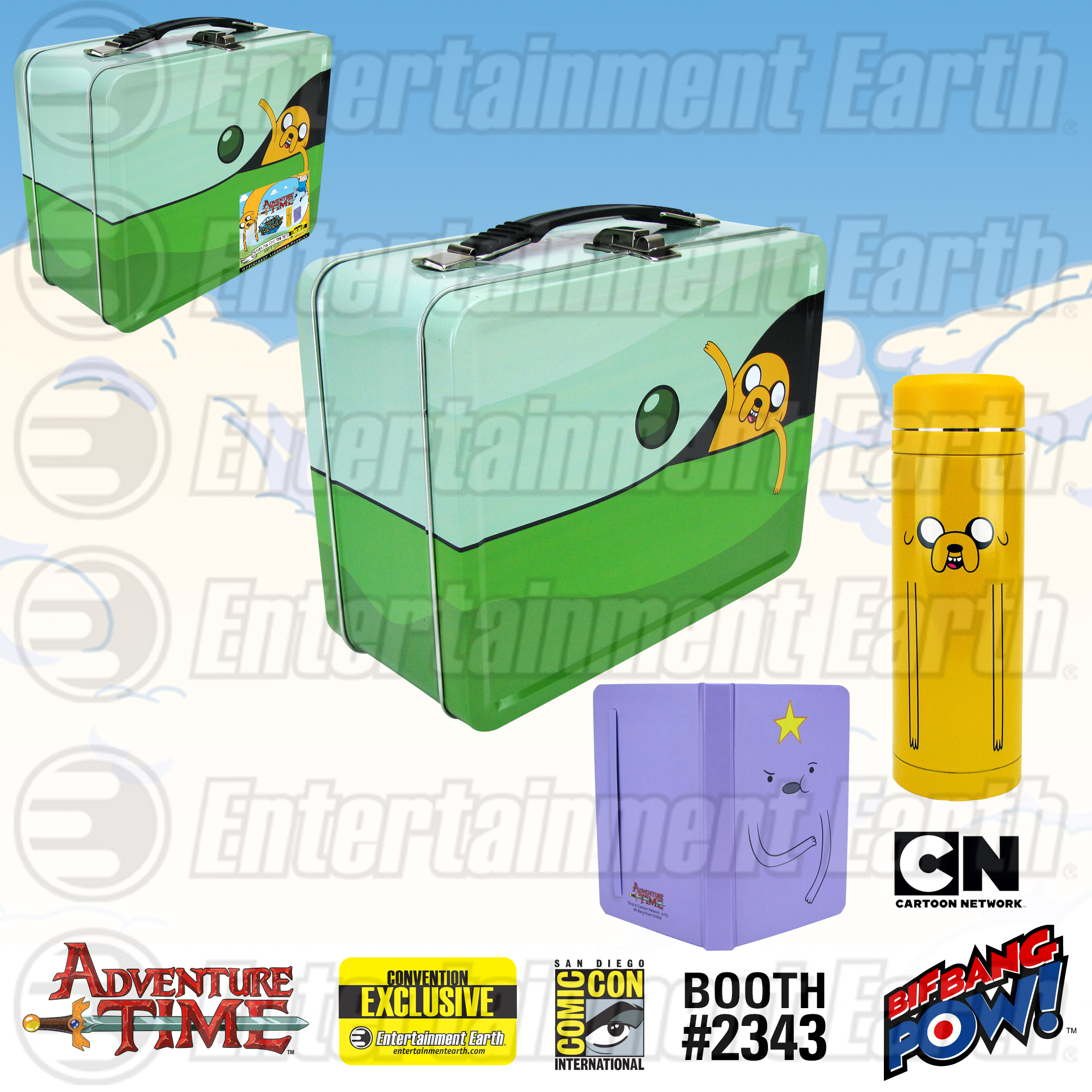 You won't be able to resist saying "Oh my glob" to this adventurous San Diego Comic-Con exclusive.
Bif Bang Pow! has created this totally mathematical Adventure Time Traveling Jake Tin Tote Gift Set – Convention Exclusive, that SDCC attendees can grab either online or at the convention itself.
This colorful one-of-a-kind tin tote looks just like Finn's backpack with Jake traveling inside and measures approximately 8 5/8-inches wide x 6 3/4-inches tall x 4-inches deep. Inside you'll find a 7 1/4-inch tall, 300 ml insulated stainless steel container featuring Finn's best friend Jake; and a 5 1/2-inch tall x 3 1/2-inch wide hardbound mini-journal of the Lumpy Space Princess that boasts 192 lined pages, an elastic closure and a built-in bookmark. It's for ages 14 and up.
This is a special limited edition set of only 1,500pcs so you'll want to try and get your hands on one before it travels away forever.
You'll be able to grab it for the first time on July 8-12 at the Entertainment Earth booth #2343 during San Diego Comic-Con, where fans will have the first opportunity to snatch up this individually numbered and limited edition exclusive before it becomes an endangered species.
If you're not attending San Diego Comic-Con 2015, you can pre-order your Adventure Time Traveling Jake Tin Tote Gift Set – Convention Exclusive at Entertainment Earth now!
(*NOTE: Pre-orders made before San Diego Comic-Con 2015 are not guaranteed to be fulfilled based on limited supplies. Available units will ship after Comic-Con 2015 while supplies last.)
Visit Entertainment Earth and all of their social media networks for the latest Entertainment Earth and San Diego Comic-Con news.