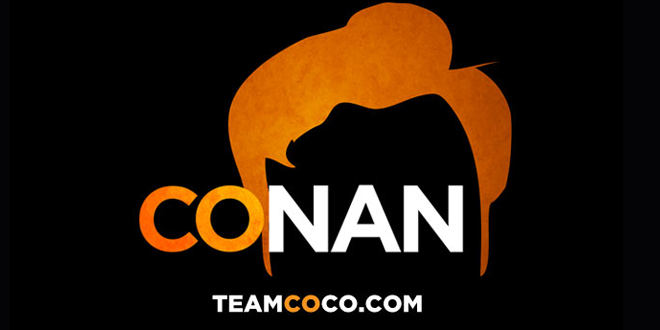 We know what you're here for, okay?
Conan San Diego Comic-Con tickets are available now. Click this link!
Note: Emails are going out from Comic-Con International with a special code for SDCC attendees, so check your inbox.
Oh, you're still here? Okay, great. We're going to assume that you've already bought your ticket to Conan and come back to read more, or you're here because it's already sold out (and we're very sorry to hear that).
So, as you hopefully gathered already, tickets for Conan O'Brien's Conan San Diego Comic-Con tapings on July 8-11 at the historic Spreckles Theatre went on sale today, through 1iota. Tickets are free, but the demand is great as because this is Comic-Con, everyone is expecting four shows of wall-to-wall celebrities and hijinks – so tickets won't last long.
1iota lists the kickoff time for the tapings as 3PM on Wednesday, Thursday, and Friday, 1:30PM on Saturday, meaning attendees who want to attend will likely have to devote a good chunk of their afternoon to the taping. The TeamCoco.com website also confirms that fans with an e-ticket will need to queue on the morning of for a physical ticket — but from there, physical tickets are seat-specific, so once you've claimed your ticket, you're free to come and go as you please.
If you've made it to the end of this article, the tickets are probably all already claimed — but hey, maybe you feel more empowered with the knowledge of how it's all going to work. Maybe you just like reading about Comic-Con. Maybe your cat refuses to get off the laptop, and you don't care about Conan, and just really want to play World of Warcraft already. Whatever the reason, we don't judge.
Did you score tickets to Conan? Let us know in the comments.