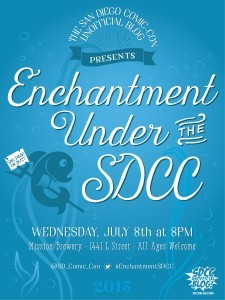 Hello UBlog readers and partygoers!
Enchantment Under the SDCC is two weeks away and we hope you're just as excited as we are. We've had a few questions about tickets so we thought we'd clear things up for everyone.
All of the ticket packages only included one admission. If you purchased one package but received more than one email, check the Ticket ID numbers. They should match and you only need to bring one print out, even if the QR codes are different. If there are any issues with the QR code, we can match your photo ID to your name, but that only works if the ticket was purchased in your name.
If you purchased multiple ticket packages but they're all under one name, you'll need to have each QR code, or the person whose name they are under will have to be there to show photo ID.
We're at capacity for the venue and won't be able to make any exceptions to let even one more person in so please be sure you have your tickets printed or on your phone. Please contact Sarah at @slacestation or sdcomiccon.blog@gmail.com or comment below if you have any questions or concerns.
Remember that early entry is at 7pm for Great Scott! ticket holders and 8pm for all other tickets. We'll be handing out your gift bags when you enter. You must be present to get your bag, as we can't mail them later.
We have a lot of fun things in store for you and can't wait to party the night away with our awesome readers.
See you soon!