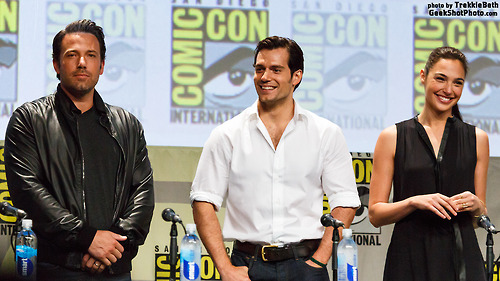 We're exactly a week out until we start getting the official San Diego Comic-Con schedule release, but already the panel schedule is starting to fill in. The one thing everyone seems to want the details of? Warner Bros.' panel, as it's undoubtedly going to be huge thanks to a little movie called Batman v Superman: Dawn of Justice.
In a recent interview with Collider, Jesse Eisenberg – who plays Lex Luther in the upcoming film – was asked if he'd be at this year's Comic-Con. His response?
"I'll be there…I think I'm there for the hour I'm on the stage."
While Warner Bros. has yet to officially confirm the film's inclusion in a panel, this news shouldn't come as shocking news, as last year when Ben Affleck, Henry Cavill, Gal Gadot and director Zack Snyder took to the Hall H stage for a quick drive-by wave, Snyder told attendees, "We'll see you guys next year."
Here's a look at the segment, from Collider:
Are you excited about Batman v Superman: Dawn of Justice coming to Comic-Con?