As we get closer to Comic-Con, it's almost time to start making those difficult decisions about what you're going to do with your time, which offsites you'd like to hit up, and which booths you want to make sure you don't miss. And the best way to do that is to start getting prepared, and to do it early.
Before we start, let us re-iterate that we're not advocating for you to plan out every second of your day at Comic-Con. There is literally no way to do the entire convention in four and a half days, and some of the best experiences at the convention come from just letting yourself explore. However, there's also a lot of really cool things at the convention that you might see and think, "Oh, I want to check that out," and when you actually get the convention, you won't remember. So for that reason, we're big advocates of using spreadsheets during Comic-Con.
CCI's official schedule for all five days will go out July 6-9, 2023. The good news is that MySched was back for WonderCon, which should hopefully indicate it will be back for San Diego Comic-Con as well — making finding the room and what's around your panel even easier.
While MySched is a fantastic tool, we don't recommend only using that tool, because it only lists out official Comic-Con International panels and autograph signings. If Marvel has an autograph signing you don't want to miss, or you want to schedule in time to get in line at the Toddland booth to buy your exclusives – this app won't help you with that.
But fear not, Comic-Con attendee. The odds are high you have access to either Excel or Google Drive, and you can make your own schedule (really, it's not hard). We use a pretty simple schedule, that's color coded based on three things: Things we absolutely want to do, things we might be interested in (maybe's), and back-ups. We break it out by day and by hour, but if that doesn't make sense to you – break it out another way. We also add booth #'s on here for things that we're interested in checking out. Plus, as you get closer to SDCC, this is a good, quick way to see if something that just got announced has any time conflicts with other things you're interested in.
Here's my 2019 schedule, and as you can see, there's plenty of open time scheduled in, and I've got panels, offsites, and even a few lunches with friends. I've also added in multiple signings with author Lev Grossman, in case I couldn't make it to one. Also, if you've ever wondered some of what booths are my on my to-do list, I guess now you know!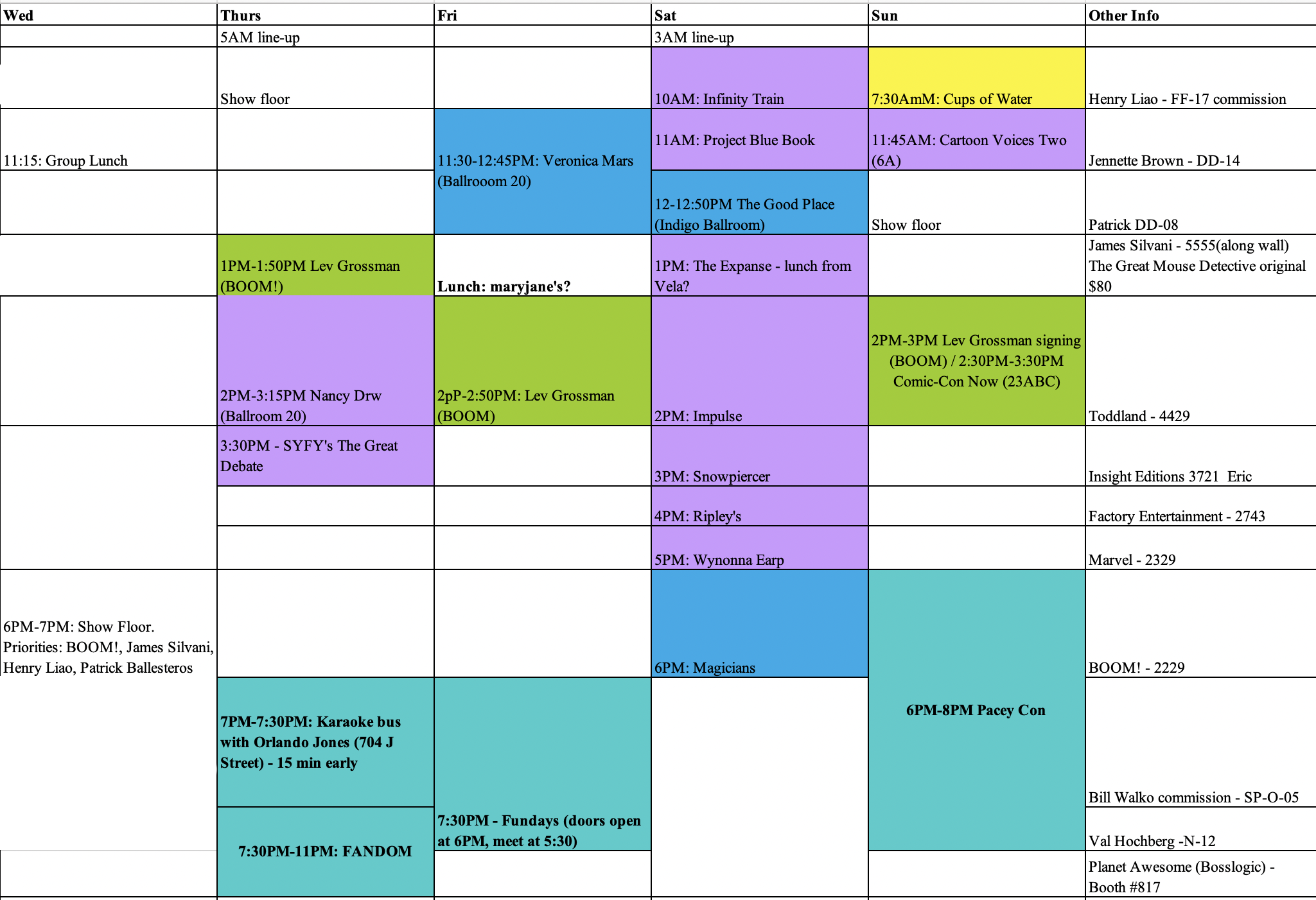 If you don't feel comfortable making your own schedule, or if you're looking for a base to start from, you can also use Dustin Majitsu's wonderful Google Drive spreadsheet, which you can download and customize. His version is much more detailed – it includes everything from a grocery list to a packing list to exclusives you want to pick-up, and more.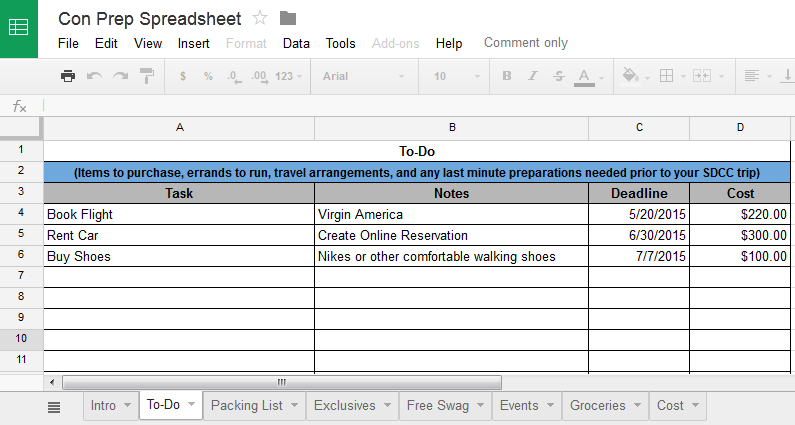 Will you be using a spreadsheet this year? Have you used one in the past? What do you like to put on yours? Let us know in the comments.