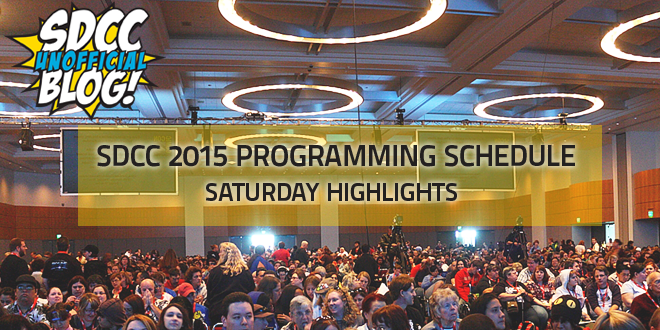 It's less than two weeks away from Comic-Con, and CCI is releasing the programming schedule for Comic-Con 2015 in its annual fashion. We'll be bringing you the highlights of each day as they're announced.
We'll also be discussing our thoughts on this year's lineup, including our top picks, in a special series of live podcasts this weekend. The first of which covered Preview Night, Thursday's and Friday's lineup, and the second segment — in which we break down Saturday and Sunday — will be on Sunday, June 28 at 4PM PT / 7PM ET.
With that said, let's dive right into Saturday.
Hall H looks relatively close to what we thought it would, with a few small surprises. Warner Bros. is back with the morning slot, and although it's currently the dreaded vaguest of vague descriptions ("A "sneak peek" at a few upcoming releases from Warner Bros."), we can pretty much guarantee you'll be seeing at least Batman v Superman in that time slot. Why? Well, maybe because it's the biggest movie on WB's slate, and they'd be insane not to bring it out — but also maybe because Wonder Woman herself, Gal Gadot, is slated for the Entertainment Weekly: Women Who Kick ass panel in the same room at 3:45PM (along with Gwendoline Christie, Hayley Atwell, and Kathy Bates).
Chugging right along in that room, there's also the previously announced Screen Gems with Pride and Prejudice and Zombies and Patient Zero; The Hateful Eight with Quentin Tarantino (no cast listed yet); Legendary Pictures with Krampus, Crimson Peak, Warcraft, and Great Wall (no cast listed yet); the previously mentioned Women Who Kick Ass; Dark Horse: An Afternoon with Joss Whedon which should be very interesting; and then 20th Century Fox. Fox is also TBA, but they get a whopping 15 minutes of presentation time over Warner Bros. — so expect them to fill that time with awesome things. Deadpool? Fantastic Four? The Martian? The Maze Runner? X-Men: Apocalypse? We know that WB is all the buzz this year, but this is the panel that we think is going to absolutely kill it this year. Hopefully we'll know soon.
Let's skip into TV, as the day in Hall H closes out with the previously announced WB/DC mega-night that's sure to have even more attendees than last year given that this is your only chance to see these shows/actors. Over in Ballroom 20, it's the annual Once Upon a Time and the Fox Animation blocks, with a TV Guide Magazine: Fan Favorites sandwiched in between. If you couldn't make it into Hall H the day before, this is a good chance to catch Norman Reedus and Maisie Williams, as well as a lot of other awesome actors. Then there's Grimm, Outlander (with a room upgrade), and what may be your last chance to sit down with Hannibal.
Over in Indigo, it's another awesome day of TV, with The Last Man on Earth, 12 Monkeys, The Expanse, Z Nation, and more. There's also Marvel Animation and Person of Interest in 6BCF, Colony (again…?) over in the Horton Grand, The Muppet Show in 6A, and Robert Kirkman's new Cinemax series Outcast and the world premiere pilot screening of Scream Queens in 6DE.
For lovers of comics, Saturday is an amazing day. Catch up with Stan Lee in 6A (in what's going to be a packed room), find out about the New DC Universe: Batman from Scott Snyder, Greg Capullo, and Danny Miki, get a glimpse into IDW's TMNT with Kevin Eastman "and a very special guest", stop by for an in-depth chat with Marvel's chief creative officer Joe Quesada in the annual Marvel: Cup O'Joe, and soak in all the talent in Dark Horse Takes Over the World with Mike Richardson, Mike Mignola, Chuck Palahniu, Jeff Lemire, Eric Powell, and Matt Kindt.
Also worth mentioning is Camp Out with Lumberjanes! that's sure to fill up Room 8, and Valiant, which is the next publisher to get a super hero movie universe, as they reflect on 25 years of comics over in Room 4.
There are a few dozen other panels we could point you towards, including the Minimates Mini-Figures (there's prizes, people!), the Spotlight on Allie Brosh in which the New York Times best-selling author chats with Felicia Day, and Top Cow: 2016. Plus, there's the always popular Mythbusters panel (though this year it's truncated to just Adam Savage), a reunion of the live-action classic Land of the Lost and a reunion of almost the entire cast of Babylon 5. Looking at Zelda and it's place in gaming could be particularly interesting this year with Universal announcing he and his Nintendo friends are heading to the parks soon, so head on over to join VIZ Media in 5AB at 1:30PM.
Also worth another look is We Are All Heroes: The Changing Landscape of Comics, Geekdom, and Fanboy Culture, with Michael Jai White, Tyler Jesse Williams, Kristina Law, and more, as well as A Song of Ice and Fire: Game of Thrones Fan Discussion at the Library, which given recent events, should make for a lively panel discussion.
Overall, this year is lightyears ahead of the 2014 schedule for us — and we've still got one more full day of panels to go!
You can view the full Saturday programming schedule on the MySched website.
What will you be lining up for on the first full day of Comic-Con? Let us know in the comments.