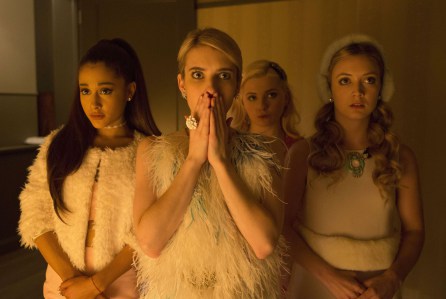 Twentieth Century Fox Television has announced this year's line-up of San Diego Comic-Con for all of its TV shows housed on various networks, including FOX, FX, and more, and the studio is heading to Comic-Con in a big way.
Not only are they returning with the "two-story Fox booth on the convention center floor, for star-studded autograph signings and booth activities including distribution of exclusive 2015 Fox Fanfare Poster Tubes, collectible mini-posters, premium giveaways, DVD sales", and more, but they've also got a killer panel lineup.
Along with returning series Sleepy Hollow, The Simpsons, Bob's Burgers, Family Guy, American Dad, and Salem., the studio is also bringing along several newcomers.
Attendees will be treated to the world premiere screening of Scream Queens on Saturday, as well as a joint panel between Scream Queens and American Horror Story, with stars from both series appearing. For Scream Queens, Jamie Lee Curtis, Emma Roberts, Lea Michele, and Skyler Samuels and Keke Palmer will all be in attendance – and for American Horror Story: Freak Show/Hotel, Kathy Bates, Angela Bassett, Sarah Paulson, Evan Peters and Matt Bomer will join in for a joint Q&A.
Attendees will also get a first look at Minority Report, the new series based on the 2002 Steven Spielberg film, with stars Stark Sands, Meagan Good, and other cast and producers in attendance for both a special screening and a Q&A.
As we predicted, after making its WonderCon debut, Last Man on Earth is also headed to the convention with stars Will Forte, Kristen Schaal, January Jones, and Executive Producer Chris Miller.
Also in attendance will be Damien, the upcoming A&E series based on The Omen, with stars Bradley James, Barbara Hershey, Megalyn Echikunwoke and Omid Abtahi, and a "special guest". The latest Fox animated series, Bordertown, will also be at SDCC this year, splitting a panel with Family Guy and American Dad. Seth MacFarlane will be discussing all three shows, along with Seth Green, Alex Borstein, Mike Henry, Scott Grimes, Dee Bradley Baker, Wendy Schaal, Rich Appel, Steve Callaghan, Matt Weitzman and Brian Boyle as well as Bordertown's Missi Pyle, Nicholas Gonzalez, and Mark Hentemann.
The one big notable exclusions from this list? Bones, which has been a perennial staple at Comic-Con, looks like it won't be there this year. It also appears that The X-Files, which starts production this week, won't be there either.
[UPDATE] The Hollywood Reporter is now listing the panel rooms and times, which we've updated below and on our Announced Panels Masterlist.
From the press release, here's a description of the panels:
American Horror Story & Scream Queens (Sunday, Hall H, 12:30PM-1:30PM)


Get ready to scream! It's a Comic-Con horror fest when members of the all-star cast of Ryan Murphy, Brad Falchuk and Ian Brennan's Fox comedy  "Scream Queens" (Jamie Lee Curtis—the original "scream queen"—Emma Roberts, Lea Michele, Skyler Samuels, and Keke Palmer) come face to face with the stars of Murphy and Falchuk's FX dramas "American Horror Story: Freak Show" and upcoming "American Horror Story: Hotel" (Kathy Bates, Angela Bassett, Sarah Paulson, Evan Peters, and Matt Bomer). This lively gathering of headliners promises laughs, scares and secrets from the sets.

Bob's Burgers (Friday, Indigo Ballroom, 4PM-5PM)


The always entertaining cast and creators behind Fox's "Bob's Burgers" bring their Emmy Award-winning animated series back to San Diego for another unforgettable panel you don't want to miss! Creator and executive producer Loren Bouchard, executive producer Jim Dauterive and the hilarious cast including H. Jon Benjamin, Dan Mintz, Eugene Mirman, John Roberts, Kristen Schaal and Larry Murphy will entertain with never-before-seen footage followed by a Q&A panel discussion.

Damien (Thursday, Room 6A, 6:45PM-7:45PM)


From Executive Producer Glen Mazzara (The Walking Dead, The Shield), "Damien" follows the adult life of Damien Thorn, the mysterious child from the 1976 motion picture who has grown up seemingly unaware of the satanic forces around him.  Haunted by his past, Damien must now come to terms with his true destiny — that he is the Antichrist.  Starring Bradley James ("Merlin"), Barbara Hershey, Megalyn Echikunwoke, and Omid Abtahi. Get an exclusive look at the exciting first season of A&E's drama series "Damien" followed by a Q&A with cast and producers – plus a very special guest appearance!

The Last Man On Earth (Saturday, Indigo Ballroom, 10AM-11AM)

What would you do if you were the last person on earth? Join us for a Q&A panel discussion with star and creator Will Forte (Nebraska, Saturday Night Live), Kristen Schaal (Bob's Burgers, Flight of the Conchords), January Jones (Mad Men) and director/executive producer Chris Miller (The Lego Movie, 21 Jump Street) as they discuss the surprising twists and turns of the first season of the Fox hit comedy as well as tease the upcoming second season.

Salem (Saturday, Room 6A, 5:30PM-6:30PM)


It's a witch war! Join the star-studded cast including Shane West (Nikita, The League of Extraordinary Gentlemen), Janet Montgomery, Seth Gabel, Ashley Madekwe and Iddo Goldberg, along with executive producers Brannon Braga (Star Trek) and Adam Simon, for a look back at intriguing footage from the supernatural second season, from WGN America and Fox 21 Television Studios. Moderated discussion will be followed by an audience Q&A.

Scream Queens: World Premiere Screening (Saturday, Room 6DE, 9:15PM-10:15PM)


Be the first in the world to see Fox's comedy-horror anthology series "Scream Queens!" From Emmy-and Golden Globe Award-winning executive producers Ryan Murphy, Brad Falchuk, and Ian Brennan, and starring Jamie Lee Curtis, Emma Roberts, Lea Michele, Abigal Breslin, Nasim Pedrad, Oliver Hudson, Skyler Samuels, Keke Palmer, Billie Lourd, Diego Bonita, Glen Powell, Lucien Laviscount, Niecy Nash, Nick Jonas and Ariana Grande, this killer new series centers around a string of college campus murders.  Kappa House, the most sought-after sorority for pledges, is ruled with an iron fist (in a designer glove) by its Queen Bitch, Chanel Oberlin (Roberts). But when anti-Kappa Dean Munsch (Curtis) decrees that Kappa must accept all new pedges, and not just the school's silver-spooned elite, all hell is about to break loose, as a 20-year old mystery and a devil-clad killer begins wreaking havoc.

Seth MacFarlane Animation Block (Saturday, Ballroom 20, 1PM-2:45PM)


A COMIC-CON FIRST! The renaissance man of entertainment will participate in a panel featuring sneak peeks at the upcoming seasons of Fox's "Family Guy" and TBS' "American Dad!" plus an exclusive look at his Fox's newest animated project, "Bordertown." Joined by the casts and executive producers from each show, including: Seth Green, Alex Borstein, Mike Henry, Scott Grimes, Dee Bradley Baker, Wendy Schaal, Rich Appel, Steve Callaghan, Matt Weitzman, Brian Boyle, and from "Bordertown," Missi Pyle, Nicholas Gonzalez, and Mark Hentemann.

Sex&Drugs&Rock&Roll (Sunday, Hall H, 3PM-4:30PM)


FX's new comedy series, "Sex&Drugs&Rock&Roll," centers on a legendary early 90's band called The Heathens, who were on the brink of becoming famous until they broke up the same day the album dropped. Many years later, a talented young singer shows up with a desire to be famous, an appreciation for the band's only album, and a stack of cash big enough to bring the whole band back into the studio. Come see an exclusive screening, and then join Creator/Executive Producer/Writer/Director Denis Leary and actors Elizabeth Gillies, John Corbett, Elaine Hendrix, Robert Kelly and John Ales as they discuss bringing the show to life.

The Simpsons (Saturday, Ballroom 20, 12PM-12:45PM)


Going into its record-demolishing 27th season on Fox!  Join us for a sneak peek behind "Treehouse of Horror XXVI" and much much more with creator Matt Groening, Executive Producers Al Jean and Matt Selman, Supervising Director Mike Anderson, long-time director David Silverman and the woman behind Bart Simpson, Nelson Muntz and Ralph Wiggum, Nancy Cartwright.  Ay carumba indeed.

Sleepy Hollow (Friday, Room 6A, 4:45PM-5:45PM)


Everyone's favorite witnesses return to Comic-con! Join Tom Mison, Nicole Beharie, Lyndie Greenwood and Executive Producers of the hit Fox show for a first peek into the highly anticipated third season. 

Minority Report (Friday, Ballroom 20, 1:45PM-2:45PM)


Be one of the first to take a look at Fox's new fall sci-fi action thriller! Based on the hit futuristic Steven Spielberg feature, "Minority Report" follows the unlikely partnership between a man haunted by the future and a cop haunted by her past, as they race to stop the worst crimes of the year 2065 before they happen.  Join Stark Sands (Inside Llewyn Davis), Meagan Good, (Think Like A Man franchise, Californication) along with other cast and producers for a special screening followed by a Q&A.
Which 20th Century Fox panels will you be attending? Let us know in the comments.