Comedy Central returns to San Diego with their no-badge-required, free and open to the public, event, #ComedyCentralCon. Once again taking over the San Diego Wine & Culinary Center (200 Harbor Dr. #120), directly across from the Convention Center, the activation will be open Friday, July 10, and Saturday, July 11, from 11AM-8PM.
#ComedyCentralCon will include: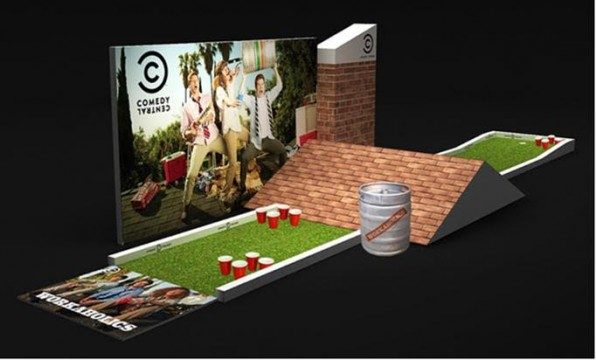 Play mini golf on a 9-Hole course featuring a variety of the brand's series including Broad City, Review, Key & Peele, @Midnight with Chris Hardwick, Workaholics, Inside Amy Schumer, Another Period, Why? With Hannibal Buress, and Moonbeam City.
Snap a virtual pic in the Comedy Central GIF photo booth with the stars of Workaholics, Key & Peele, Broad City, Why? With Hannibal Buress, Another Period, and Moonbeam City.
Get dizzy with "Drunk History" in a 360-degree phot

o booth experie

nce.
Spin a prize wheel to win limited edition Come

dy Central c

ollectibles.
To top it all off, some of the stars will be stopping by #ComedyCentralCon to meet fans and sign autographs.
Friday, July 10:
4:00-5:00 pm: "Drunk History" Derek Waters and Jeremy Konners
5:00-6:00 pm: "Another Period" Natasha Leggero and Riki Lindhome
Saturday, July 11:
2:00-3:00 pm: "Workaholics" Anders Holm, Blake Anderson, Kyle Newacheck
5:00-6:00 pm: "The Meltdown with Jonah and Kumail"  Jonah Ray and Kumail Nanjiani
Another Period Rides & Lifts
For Comedy Central's new turn-of-the-century franchise Another Period, Comedy Central is kicking it old school and giving convention goers free rides in Old Tyme vehicles from Thursday, July 9 – Sunday, July 12 from 11AM-5PM. Fans can flag down the vintage cars and enjoy a free ride to their destination while living like the original ballers did and bumping to some hip-hop jams along the way.
Can't catch a car? No worries! Comic-Con fans will also have the opportunity to get carried away with Another Period's Original Lift from Thursday, July 9 – Saturday, July 11 from 11AM – 6PM. Butlers will be carrying participants for free around downtown San Diego and pampering them in swanky chaise lounge chairs. Walking is so overrated.
The Meltdown with Jonah and Kumail
Also on our offsites list from Comedy Central is The Meltdown with Jonah and Kumail, hosted by Jonah Ray and Kumail Nanjiani. The guys will be taking their uber popular Los Angeles stand-up show to Comic-Con with a free performance at The American Comedy Co. on Friday, July 10, at 7:30PM.
The Meltdown is in its second season on Comedy Central with new episodes airing on Tuesdays at 12:30AM ET/PT. Based on the live show which takes place in the back of Meltdown Comics in LA, Ray and Nanjiani welcome the biggest names in comedy as they experiment with new bits onstage and hang out backstage.
Comedy Central's official Comic-Con panels include:
Thursday, July 9, 4:00-5:00 p.m: "Moonbeam City" (Indigo Ballroom at the Hilton Bayfront Hotel)
"Moonbeam City" is an absurdist, retro-futuristic 80s cop extravaganza. Comedy Central's new animated series follows Dazzle Novak (voiced by Rob Lowe), a handsome, idiotic detective who commits more crimes than most criminals. His sexy, tyrannical chief Pizzaz Miller (Elizabeth Banks) won't get off his back. His obnoxious rival Rad Cunningham (Will Forte) will stop at nothing to destroy him. Dazzle must team up with the city's only competent police officer, Chrysalis Tate (Kate Mara), to protect their beloved, neon-soaked metropolis. "Moonbeam City" premieres on Wednesday, September 16 at 10:30 p.m. ET/PT following the 19th season premiere of "South Park." The panel will be moderated by Scott Aukerman and include series star and Producer Rob Lowe, series creator and Executive Producer Scott Gairdner, Executive Producer Tommy Blacha and Executive Producer Richie Schwartz.

6:00-7:30 p.m: Comedy Central Presents "Drunk History" and "Another Period" (Indigo Ballroom at the Hilton Bayfront Hotel)
Come learn about the history of "Drunk History!" Derek Waters (co-creator, host, Director) and Jeremy Konner (co-creator, Director) will walk fans through how this historically accurate, yet slightly slurred show, works to portray little-known events and figures in history from the perspective of an intoxicated narrator. From humble beginnings as a digital series to two seasons on Comedy Central, with the third season set to premiere on September 1 at 10:30 p.m. ET/PT, Derek and Jeremy have plenty of stories to tell about the making of the show. The panel includes an exclusive sneak peek at the upcoming new season, a Q&A and plenty more fun and debauchery as only "Drunk History" can create! The panel is moderated by Paul F. Tompkins and includes Derek Waters, Jeremy Konner, SNL's Taran Killam (who has guest starred on all three seasons of the show) and series recurring guest star Paget Brewster.

The party continues with "Another Period," the original out of touch reality family in this turn-of-the-century historical and satirical scripted series that follows the insanely ridiculous and debaucherous life of the Bellacourts, who have more servants than relatives and whose days are filled with money, sex, drugs and more money. "Another Period" is co-created by Natasha Leggero and Riki Lindhome, executive produced by Ben Stiller's Red Hour and airs Tuesdays at 10:30 p.m. ET/PT. The panel will include stars and Executive Producers Natasha Leggero and Riki Lindhome, series co-stars Armen Weitzman, Michael Ian Black, Paget Brewster and Executive Producer and Director Jeremy Konner.
Will you be attending #ComedyCentralCon or their SDCC panels? Discuss in the comments!