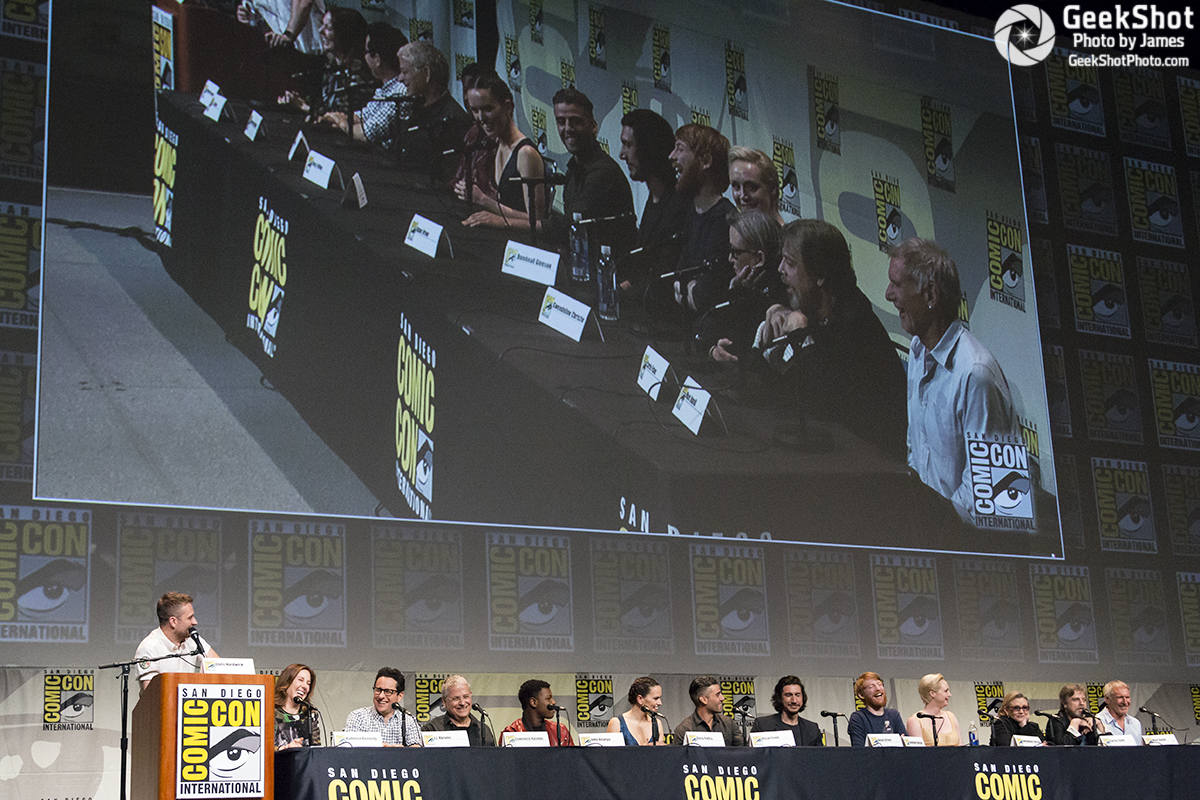 Welcome to the GeekShot Photo Exclusive Series. This will be a weekly post featuring cool, interesting, or just plain awesome moments we have captured during San Diego Comic-Con and WonderCon. Each week we'll post a photo by Beth or James of GeekShot Photography. We may include a short story about the photo, but sometimes we'll just let the photo speak for itself.
About This Photo
The Lucasfilm Star Wars: The Force Awakens panel at San Diego Comic-Con 2015. Look at all the smiles!
Have I made it obvious in previous posts and the podcast what my favorite part of SDCC 2015 is? If not, this week's photo will let you know. The panel essentially fulfilled what I had hoped to see, and then proceeded to give me even more. My only wish was that the big three – Mark Hamill, Carrie Fisher, and Harrison Ford (they are being called Legacy actors) – appear.
I got that wish granted.
Beyond seeing the original trio though, there was so much more. JJ Abrams, Kathleen Kennedy, and Lawrence Kasdan talked about making the movie. The new actors, John Boyega, Daisy Ridley, Oscar Isaac, Adam Driver, Domhnall Gleeson, and Gwendoline Christie were all entertaining and engaging while discussing their characters and experiences during filming. A fully practical creature, Bobbajo, came out and walked across the stage. A behind the scenes video was shown. Multiple behind the scenes photos were shown. And then the topper was the free concert by the San Diego Symphony and a free lightsaber just to add icing on the cake.
Honestly, there has been nothing in my entire time going to Comic-Con that can match this experience.
I don't even really care if I got any outstanding or "one-of-a-kind" photos from the panel. I'm happy just having been lucky enough to be there.
Did you have a best ever experience at the con this year? Let us know in the comments.
You can see all of the previous posts in this series here.