For the last two years, Marvel has turned their booths into one of the top destinations on the floor with their own line of exclusives available for purchase only through their booth #2329. Although some complained that it made a crowded area of the exhibit hall even worse, those that suffered the lines and obtained their favorite comic variant or exclusive Guardians or Captain America hoodie enjoyed the spoils and look to get the chance to repeat as Marvel is back and in a very big way with these new items.
Here's a look at what Marvel is bringing to its booth at the convention, to Booth #2329:
[UPDATE July 6]
Marvel has finally unveiled this year's line-up of exclusives, which includes t-shirt designs, hoodies, variant comics and more featuring your favorite Marvel characters. Here's a look:
Here's another look with the full list with prices and sizing: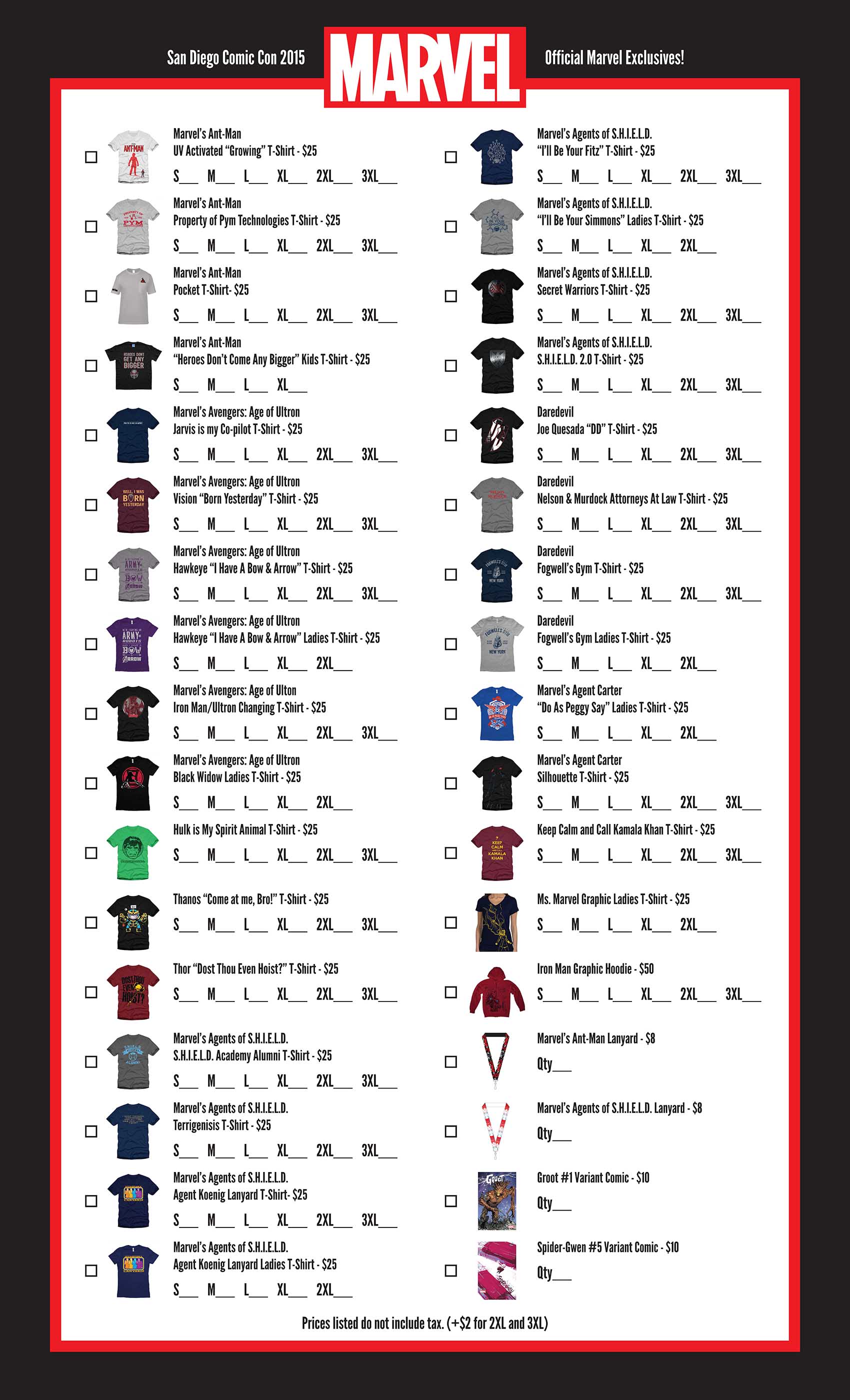 [UPDATE June 30] We've been waiting (im)patiently for a look at what Marvel is bringing to the convention this year, and MTV has the first exclusive look. Marvel will be offering 28 collectible, enamel pins, based on artist Skottie Young's Marvel comic book covers. There are several four-packs available for $25, two-packs for $12.50, and single pins available for $10-$15. According to MTV, here's the breakdown:
– Star-Lord, Rocket/Groot, Thanos, and Nova are only available in a "Guardians of the Galaxy" 4-pack. $25 for each 4-pack.

– Black Widow, Hawkeye, Iron Man, and Thor Odinson are only available in an Avengers 4-pack. $25 for each 4-pack.

– Amazing Spider-Man, Spider-Man 2099, Silk, and Spider-Gwen are only available in a Spider-Man 4-pack. $25 for each 4-pack.

– She-Hulk, Squirrel Girl, Elektra, and Thor (Jane Foster) are only available in a Women of Marvel 4-pack. $25 for each 4-pack.

– Hulk/Banner, Captain America, Black Bolt, Black Panther, Iron Patriot, Iron Fist, Loki, Captain Marvel are only available in blind box 2-packs. $12.50 for each 2-pack.

– Ultron, Ant-Man and Vision are only available in limited quantities throughout the convention for $10 each. Spend $30 at the Marvel Shop and you'll be able to purchase one, spend $65 to purchase two, or spend $90 to purchase all three.

– Nick Fury is only available in a special pin and lanyard pack. $15 for each pack.
Here's a look at all 28 pins:
Didn't get that one pin you couldn't wait to get your hands on? Fans are encouraged to come by the Marvel Booth (Booth #2329) at specially planned Pin Trading Hours and trade with other fans and collectors. Please refer to the official booth schedule for scheduled Pin Trading Hours.
Which Marvel exclusive will you be fighting the good fight of the exhibit floor for? Let us know in the comments.