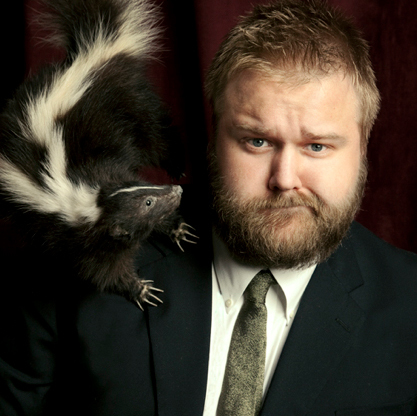 Earlier this week (or maybe last week — time tends to lose all meaning to us this time of year), some eagle-eyed readers noticed that something strange happened to the Robert Kirkman San Diego Comic-Con panels. Kirkman's name — which had been all over the schedule with panels for Skybound, The Walking Dead, Fear the Walking Dead, Outcast and more — suddenly disappeared. And his The Walking Dead: An Inside Look with Robert Kirkman panel for Saturday was cancelled, without explanation.
Today, Kirkman and Skybound Entertainment broke that silence with an announcement, that confirms The Walking Dead creator won't be able to make Comic-Con this year, for the first time "in well over a decade".
After a recent surgery on his throat has temporarily left him unable to speak while he heals, Kirkman has had to cancel a few appearances lately, including both SDCC and Image Expo. In his announcement on Sybound, Kirkman promises that the surgery is nothing serious, and that he'll be making his "triumphant Comic-Con return next year".
With the exception of the Inside Look, all other panels that Kirkman was previously slated to attend will still proceed as planned.
You can read the full announcement on Skybound.