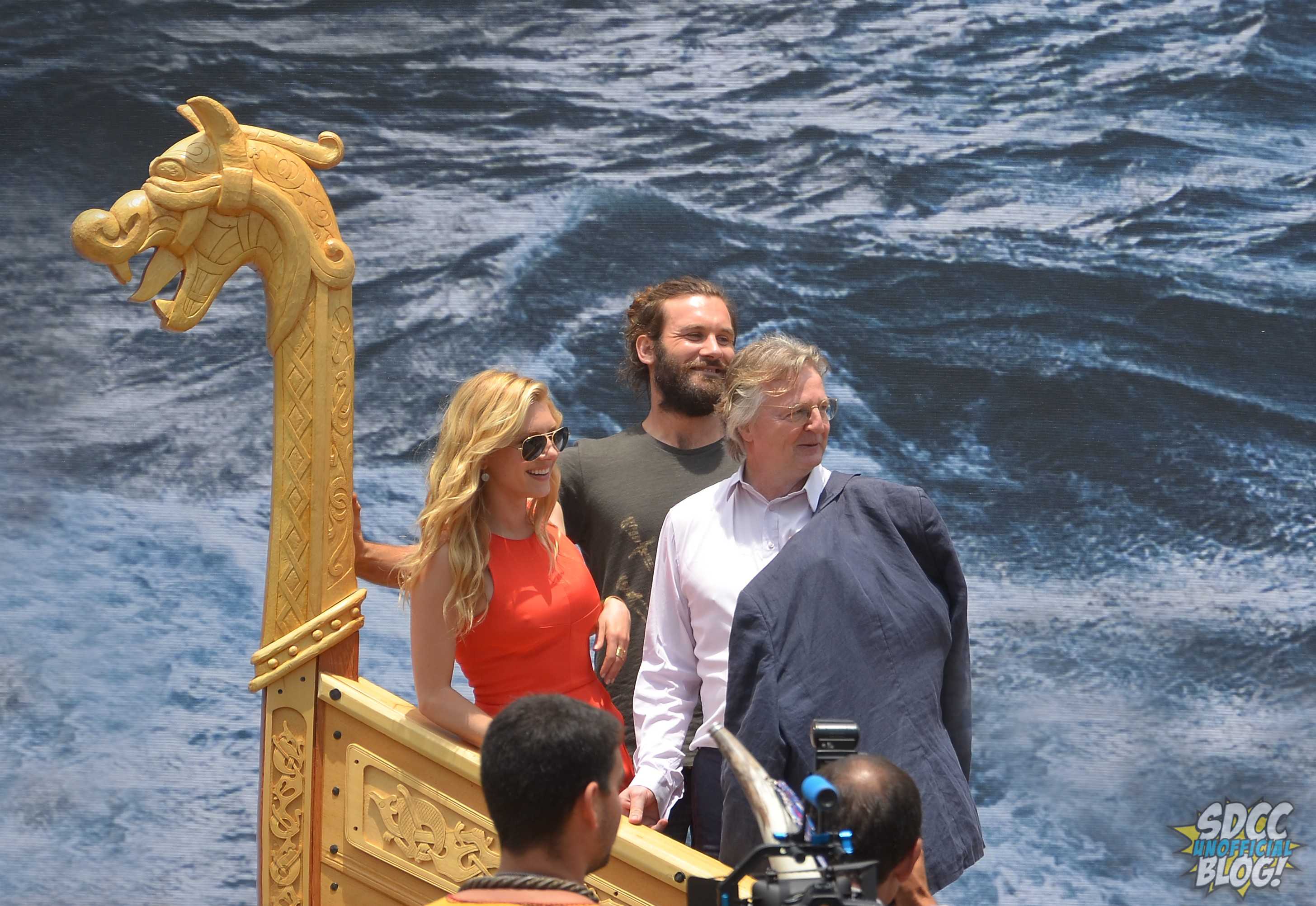 Vikings is returning to raid San Diego Comic-Con again this year, with a bigger presence than ever before.
The previously announced panel on Friday, July 10 from 3:30PM-4:30PM in Room 6A, will feature actors Travis Fimmel, Katheryn Winnick, Clive Standen, and Alexander Ludwig, along with writer and creator Michael Hirst and HISTORY's EVP Dirk Hoogstra. Together, they'll present attendees with an exclusive sneak peek of the new season of Vikings.
But as attendees know, Vikings typically goes all out at Comic-Con, with interactive offsites and interactions, and this year they're upping the ante. Fans of the series will be able to conquer Comic-Con aboard a Vikings Longship, a San Diego Seal Boat that's been transformed, which will be driving through Downtown, the Gaslamp Quarter, and sailing the harbor. The boat will offer free stops at select Gaslamp locations (TBA), and fans will also receive a Vikings Drinking Horn after their rides. Select fans will even have a chance to win a sunset cruise aboard the Longship with the cast of Vikings.
[UPDATE]
Here are the hours and the pick-up and drop-off locations for the Vikings Long Ships:
Morning Route (near Convention Center)  –

9:00am – 12:30pm

Pick-up at Manchester Grand Hyatt
Drop-off at 5th Avenue Landing (behind the Convention Center)
Afternoon Route (Gaslamp Quarter) –

1:00pm – 5:00pm

Pick-up & Drop-off at 7th Avenue and Market Street Lot
You can also snag your own Vikings Horn by finding the Vikings Brand Ambassadors and Shield Maidens in the Gaslamp, which will entitle the horn holder to special drink discounts and select local bars.
Finally, attendees can stop by Booth #437 for a Vikings Instagram experience, where fans can create their own special effects Viking battle. Fans will get to dress in authentic costume, choose their opponent, and then swing their Viking weapon – all while camera capture the footage, which on-site editors will integrate into a 15 second, social-media-sharable clip.
Are you excited about the return of Vikings? Let us know in the comments.