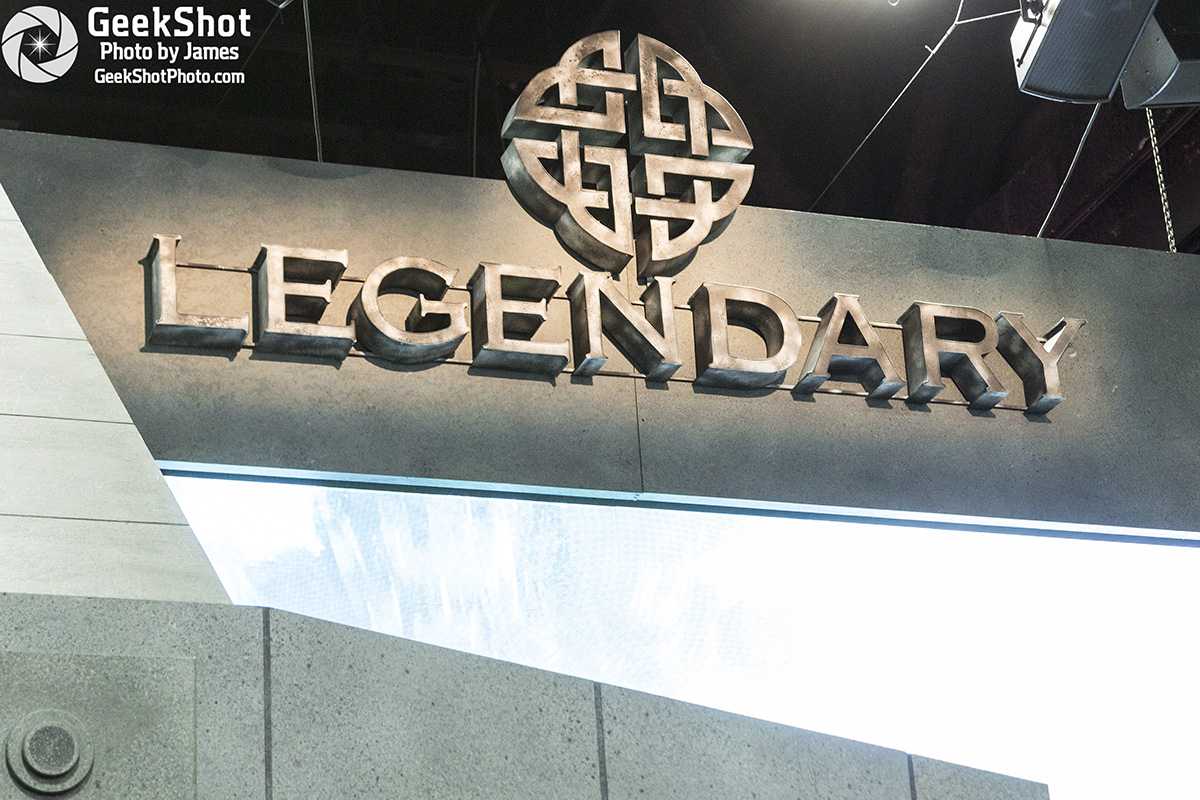 With San Diego Comic-Con over and my euphoria beginning to wain, I can now reflect back on this year's Comic-Con and point out a lesson I re-learned this year and that should be one of your ten SDCC commandments: NEVER ASSUME anything and make sure to always ask questions!
This year for some odd reason I forgot to do this. Maybe it was because the con was earlier this year or maybe it was because I was not as prepared. But I can tell you that because of my assumptions and lack of a follow through question I missed out on critical information which would have made my decision making a bit more clear cut and I could have avoided my Legendary mistake.
Let me first preface this by saying that we are talking about the San Diego Comic-Con and nothing is truly fair. Throughout my years of attending SDCC I feel like I seen it all. I usually just roll with the punches as you win some and lose some. But in this case, I thought it would be a good informational read to point out my mishap for our followers so you can be better prepared for future Comic-Con's.
Just like most of you that read the blog I gather as much information as I can from various resources and start making an agenda on what I'd like to try to do at SDCC. I gauge my tolerance and weigh it with my desire to set my goals for each day. My agenda is usually pretty flexible as I have an option A, B, C, D, etc. and tend to shift priorities depending on changing variables that I see happening.
The general theme of Comic-Con for the past few years is to line-up earlier and earlier to ensure better odds of whatever goal you have set. Whether it be getting into a presentation (Hall H or Ballroom 20), exclusives (Hasbro, LEGO, Mattel, Funko, Gentle Giant, etc), autograph signings, or swag, there is a line for everything and the key is to manage your time and make choices based on your priorities and information.
For this years SDCC I decided to scale back my Comic-Con activities and just focus on a couple key things each day so I could devote a little more time to explore the exhibit hall and the Gaslamp. So to give you an idea here is what I scheduled out as key things to do each day:
Thursday – SuperMansion signing, Marvel booth Skottie Young Pins/Agent Carter poster, set-up comic commissions, LEGO draw, Return of Gravity Falls panel, Nick Dragotta signing
Friday –  Colony/Hardwick & Day signing, LEGO draw, Viking Longship, Scott Snyder & Jock signing, David and Meredith Finch signing, Disney Infinity Pop-up Shop
Saturday – Crimson Peak/Agent Carter/Joss Whedon/Outlander signing, Akiman signing, Muppets panel, Google Spotlight Stories Panel
Sunday – Scream Queens signing, Viking Bludgeon Booth, Ingress MissionDay, pick-up comic commissions
For those that know me this is a pretty light schedule as I usually go into "warp speed" mode and try to do as much as I can each day. With my scaled back schedule and easy going attitude I was surprised that I hit everything on my list for Thursday and Friday except getting the Agent Carter poster. So going into Saturday I was going to let my line position dictate whether to go for the Agent Carter (random draw) or the Crimson Peak (ticket handout) signing.
Once I saw my position in line was the same as Friday I decided to go for the Crimson Peak signing since it was a breeze to get the Colony/Hardwick & Day signing. When they let attendees into the convention hall I was on my way to the Legendary booth. When I got there I was astonished to see that there was a line wrapping around the Legendary booth that was already 200+ deep and capped. Lines that long are nothing new at Comic-Con, but I had been 70th in line at the top of the escalators, so how could that be? Where did all these people come from?
In scoping out the line, I could see that half of the people in line had exhibitor badges, so when I asked a Legendary representative about that she said, "We let anyone with a badge in line."
Was I saddened to learn this? Yes. Do I think that it is an injustice to the fans that don't have similar access to the exhibit hall? Yes. Do I blame Legendary? No.
I was the one that made the cardinal mistake of not asking booth policy for a signing I was planning on attempting. This goes back to the previous day I was in the same area in line at the top of the escalator and made Legendary booth my first stop on the exhibit floor. I was able to get a signing ticket for Colony and Hardwick/Day and there was only nine people ahead of me.
This is where the assumption part comes in instead of asking questions about tomorrow's signing and their policy on passing out tickets. I assumed it would be the same situation. If I would have asked and found out that they let anybody with a badge line-up to get tickets I would have already known that my chances of scoring a popular signing ticket such as Crimson Peak would have been almost nil as exhibitors would have the inside track.
Normally this type of stuff doesn't bother me as I see it as part of the SDCC experience as people are going to do what they can to get what they want. But than I got responses back from my tweet about this and I genuinely felt appalled and mad for those that put in the time to be beat out on a technicality. Although I don't fault Legendary for their system as they have every right to handle their product any way they like, it makes me wonder if they know the sacrifice that fans go through thinking they have a chance at scoring that prized ticket. I truly feel awful for the other fans that lined up earlier than I or had other line mishaps:
https://twitter.com/NGC_2070/status/619918548647829504
https://twitter.com/cel713/status/619920612199235584
@Legendary waited for 3 hrs for Crimson Peak signing if front of line in ADA line and they moved us away from the booth and let others in

— Ed (@PEEPLEGRAVITY) July 11, 2015
Legendary should be ashamed. We're 5th in the ADA line and we didn't get in the Crimson Peak signing.

— ⧗ Charlie ⧗ (@princesscharlie) July 11, 2015
@jes_chastain I queued for 16 hours for the Crimson Peak signing, and Legendary forgot about the disabled line and none of us got in.

— ⧗ Charlie ⧗ (@princesscharlie) July 11, 2015
@twhiddleston So sad to miss the #CrimsonPeak peak signing at #Legendary. We waited all night and were forgotten.

— Elizabeth Lobach (@LizzyLeeLobach) July 11, 2015
If that is their policy and they want to uphold that then you have to respect it. But I am giving Legendary the benefit of the doubt here and say that they don't know the inequities and if they did they might change their policy like other companies have in the past.
Here are a few companies whose policies have actually changed over the years, to make the fan experience better:
WB Booth Signings
For anyone that attended SDCC pre-WB wristbands you will remember that it used to be a big mosh pit that circled the booth and once the line opened up it was a mad rush before it was capped instantaneously. This insanity repeated itself 30 minutes prior to each signing and it was absolutely mayhem. After numerous complaints from fans, WB implemented the random pull wristband system we all know today.
LEGO Set and Mini Distribution
Who here remembers when the LEGO booth got shut down? Because of the mini-figure craze a mass of people rushed the LEGO booth the first day at the 2013 Comic-Con to try to get a ticket for the Spider Woman mini-figure. The booth was overwhelmed and had to be shut down. The following day they held the mini-figure ticket giveaway outside in the west terrace.  After this fiasco LEGO sent a survey to those who gave their email.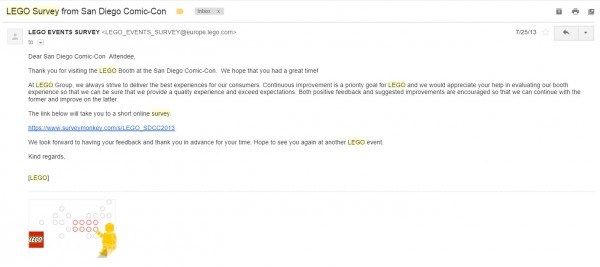 The following year LEGO implemented the random win/lose push button system.
So there is hope that a company like Legendary will change their policy in the future if enough people let them know how they feel about that policy through something like an online petition and if not I will be sure to let you all know as I don't want others to make the same Legendary mistake that I did.
Please comment below to let me know if anyone else experienced this at other booths on the exhibition floor.