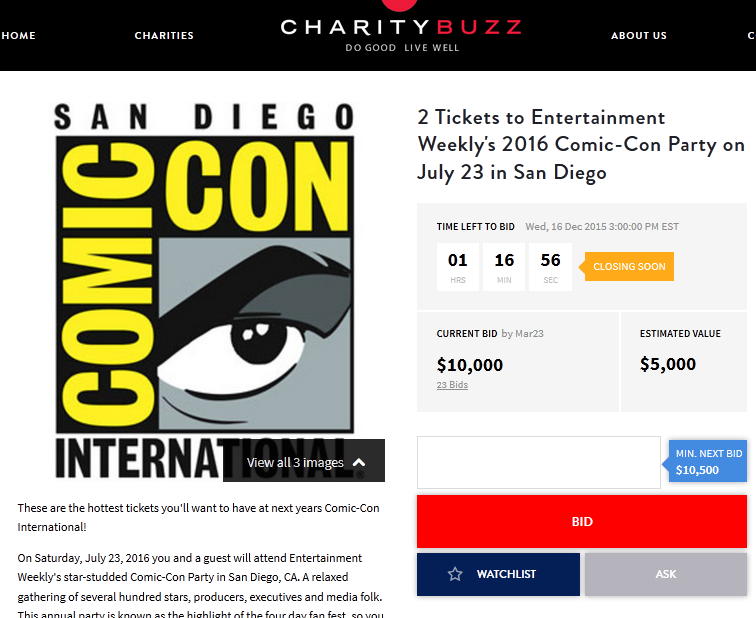 San Diego Comic-Con is one of the hottest tickets around in part because of the level of talent they're able to draw to San Diego during the convention. And during the convention, one of the most coveted invite-only events of the convention is Entertainment Weekly's annual San Diego Comic-Con party – which you could attend.
The party draws actors, industry-insiders, and more. Last year, the guest list included the cast of Game of Thrones, Teen Wolf, and Once Upon a Time, as well as actors Daniel Radcliffe, Peter Capaldi, Seth Green, and many more.
For the last several years, EW auctions off a pair of tickets to their party for charity, which specifically this year is for GLSEN. Charitybuzz now has up for auction two tickets to the Entertainment Weekly 2016 SDCC party being held Saturday, July 23, 2016.
Here is the description from the auction page:
These are the hottest tickets you'll want to have at next years Comic-Con International!

On Saturday, July 23, 2016 you and a guest will attend Entertainment Weekly's star-studded Comic-Con Party in San Diego, CA. A relaxed gathering of several hundred stars, producers, executives and media folk. This annual party is known as the highlight of the four day fan fest, so you don't wanna miss it.
Those who bid must be 18 years or older, and the auction is open until 3PM ET today, Wednesday, December 16. At the time of publication, bidding was up to $10,000.
Will you be bidding?  Let us know in the comments.