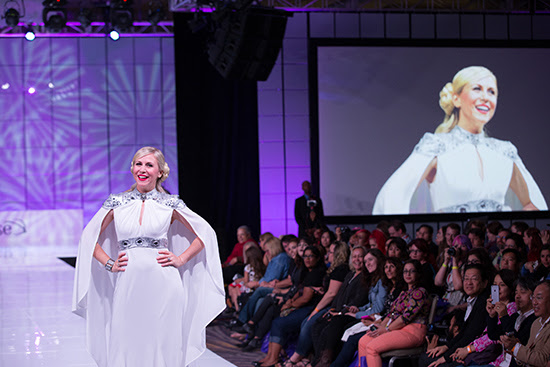 Her Universe, the fangirl fashion company founded by Ashley Eckstein, is returning to WonderCon this year in a big way.
Attendees can expect not only panels, but a first look at both this year's San Diego Comic-Con Her Universe Fashion Show (which is returning), as well as the premiere of Her Universe and Kohl's Marvel activewear collection for juniors.
On Friday, March 25, from 2PM-3PM in Room 502B, stop by to hear a "Her Universe Fashion Show Update" about the Her Universe and Hot Topic joint fashion show, taking place at San Diego Comic-Con again this summer.
Although no details about when or where the show will be taking place (last year's show was on Thursday at the Grand Hyatt Hotel in San Diego), attendees will be able to hear information on how to submit their designs, and also to see the upcoming collection designed by last year's winners, Leetal Platt and Kelly Cercone. The panel will feature not only Eckstein, but also Hot Topic's VP of Merchandising Cat Carson, and Hot Topic's Director of Brand Marketing Andrews Lewis.
WonderCon will also be the first place for fans to get their hands on the upcoming Her Universe and Kohl's Marvel activewear collection for juniors. The collection will be sold nationwide in Kohl's by the end of March, but the line will be premiering at the WonderCon Her Universe Booth #1225.
Attendees can also find Her Universe and Eckstein on "Calling All Aspiring Writers/Her Universe Press" panel on Saturday, March 26, from 2PM-3PM in Room 515A. Eckstein, and authors Heather Nuhfer, E. Anne Convery, and Christina Hobbs will share advice to fans on preparing a winning pitch to get their novel published.
Eckstein will also be appearing on Saturday, March 26 from 10:30AM-11:30AM in Room 150 for a "Her Universe Geek Fashion Portfolio Review", to give budding designers a chance to share their portfolio with industry professionals from both Her Universe and Hot Topic.
Here's a look at some of the available merch at WonderCon:
Are you excited the Her Universe Fashion Show is returning to SDCC? Will you be attending any Her Universe events at Wondercon? Let us know in the comments.