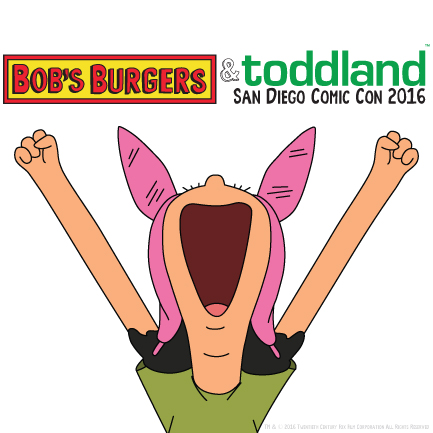 Our friends at toddland are teaming up with Bob's Burgers for San Diego Comic-Con 2016, and we've got the exclusive announcement right here.
toddland, the self-proclaimed "purveyors of radness", are back at SDCC this year and will be partnering up with Bob's Burgers for the first time. Although they're still keeping things pretty quiet about what exactly they'll be up to at the con, we do know that the booth (back at their regular haunt at Booth #4537 by Warner Bros.) is going to be set up as the title restaurant from the FOX series.
Plus, this year toddland will be offering over 20 exclusives at the convention, with a pre-sell (only available as pick-up at SDCC) set for sometime between June 1 – July 1. Some of the exclusives will be limited to 100 pieces or less (that's only 20 per day). We'll have more about what they'll be offering in the weeks leading up the convention.
"Wait, Bob's Burgers wants to work with us too?" Todd Masters, the owner of toddland, said to us. "They returned our call and know who we are? Oh, yeah, that's cool…. (hangs up phone, entire art department runs around office high fiving each other). We couldn't be more excited about getting to partner with Bento Box and Fox for SDCC this year.  We've all been wearing pink bunny ears and fake mustaches in the office the few two months since we found out.  So yes, we are a little excited."
On the convention floor won't be the only place to find toddland, though, as they'll once again be a sponsor of our own Enchantment Under the SDCC party on Wednesday, July 20, at Henry's Pub in the Gaslamp. Word on the street is that they'll have something exclusive only for the party attendees – so make sure you stop by.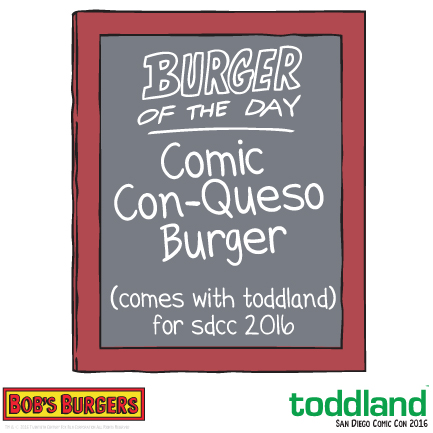 Are you excited about toddland's new Bob's Burger's partnership and what they have planned for 2016? Let us know in the comments.