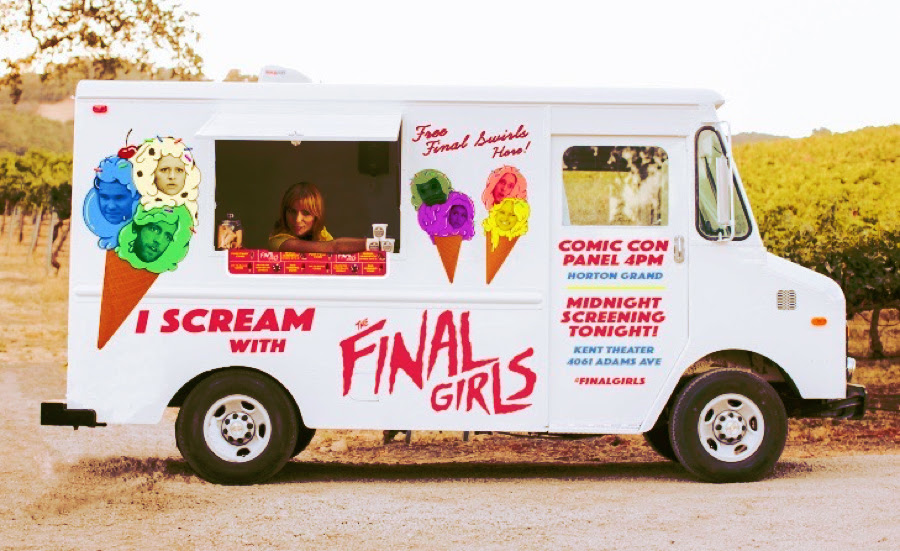 The Final Girls, the slasher comedy film released last year which stars Taissa Farmiga and Malin Akerman, is headed to San Diego Comic-Con with a panel, offsite midnight screening, and even an ice cream truck.
The previously announced screening will take place at midnight on the evening of Saturday, July 23, at the Ken Cinema in San Diego. For those who want a more in-depth look at the behind-the-scenes making of the film, head to the Grand Horton earlier that day on Saturday the 23 for a 4PM panel with Director Todd Todd Strauss-Schulson, Writers Joshua John Miller, M.A. Fortin, and cast members Thomas Middleditch, Angela Trimbur – as well as "actual final girls from horror history".
Best of all, they'll have an "I Scream" truck at the Grand Horton. Fans who post #finalgirls photos on Instagram, Twitter and Snapchat will get free signed posters & ice cream (The Final Swirls) handed out by surprise guests. To follow along on the action, follow director  @straussschulson on Twitter, Instagram, and Snapchat, to find out more details.
[Editor's Note: Thanks to Pete Salisbury for the heads up!]