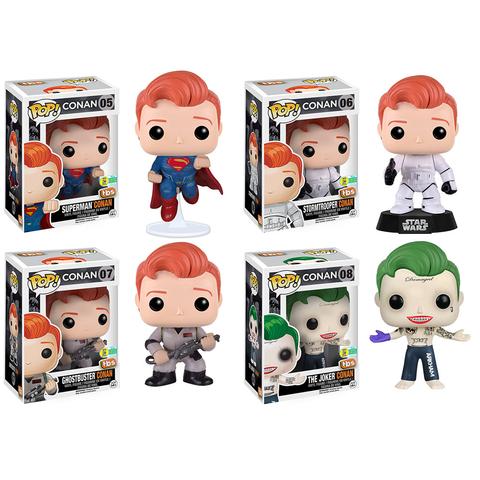 Conan O'Brien is coming to Comic-Con, and the appearance just keeps getting better.
Last night, O'Brien unveiled the four exclusive Funko Pop! figures which will be given away to attendees at his Wednesday, July 20 – Saturday, July 23 tapings at the Spreckles Theatre. Today, though, Funko revealed that there's another way to get your hands on the exclusive variants (which include Superman, a Storm Trooper, a Ghostbuster, and a Suicide Squad Joker).
According to Funko, the figures will also be given out "directly to Comic-Con® attendees each morning. Supplies are limited, and details will be posted on the Comic-Con® website". So no word yet on how that additional distribution will happen — but it won't be at the Funko booth.
It may, however, be at the TBS booth, which is new this year, and will feature a virtual realty experience. The experience will give attendees an exclusive peek into Conan O'Brien's world, both on and offstage, as seen through the eyes of a Conan Pop! Vinyl figure.
You'll also be able to find Conan all over San Diego, including on TV spots, through a wrap on the Marriott Marina's South wall, wrapped trolleys and bus shelters, airport messaging, and more.
You can find the full press release on Funko's site.