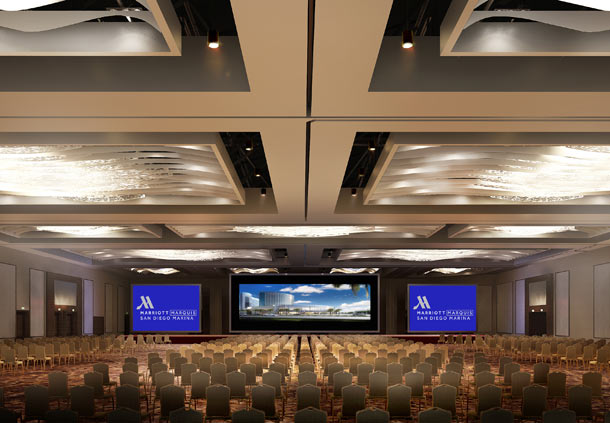 The question we've been wondering all year is, just what will the Marriott Marquis & Marina be using those brand new, two 36,000-square foot ballrooms for? Well, we've got at least a partial answer.
Looks like the Comic-Con International: Independent Film Festival is on the move, from the Manchester Grand Hyatt's Grand Ballroom D to the Marriott Marquis' Pacific Ballroom 23.
The Pacific Ballroom can fold up into a total of 12 different spaces, and currently we only know the plans for one section – which seats 160. That's a lot less than the Manchester Hyatt's Ballroom D, which sat 700 – so it's entirely possible they're using multiple rooms this year.
After all, that leaves an awful lot of space still open. The rest of the Pacific Ballroom spaces combined seat 3,278 – and you have to imagine that CCI is planning to utilize at least some more of that space for programming. And that's only one room. There's an entire other ballroom – the Marriott Grand Ballroom, which seats an additional 3,718 attendees.
Earlier this year, Michael Aldworth, Senior Event Manager at the Marriott Marquis San Diego Marina, told us, "It was our intention to give SDCC the new space to help keep the convention in San Diego. It will allow SDCC to free up crowded space from the Convention Center and move it here."
So there have to be more plans for that space – but for now, this is our first look at what that might be.