The SDCC news and tidbits is coming in all over the place! You know when we have Under the Tents being published nearly every day that it's nearly July. This edition includes news on a Toxic Avenger t-shirt, a Hannibal print, a possible Hot Topic exclusive, and more.
Here's a look at the news you might have missed:
Are you waiting for an official Toxic Avenger shirt from Troma? Wait no longer, as Troma will have the following shirt available at their booth #4017. The official website of Lloyd Kaufman, co-founder and President of Troma, also mentions an official Toxic Avenger skateboard deck. Troma will also have a panel on July 23 from 9PM – 10PM with additional guest panelists.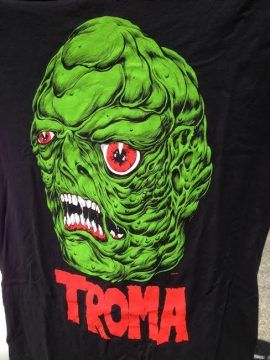 Creator of comics, The Oatmeal, will be at SDCC. According to a Facebook comment they responded to, they will be in sunny San Diego doing a few book signings and will be on panel with Exploding Kittens. Thanks to Twitter user @MaddyLovesBlogs for the tip!
You might not find Del Rey Books on the SDCC exhibitor list but Erich Schoeneweiss cleared up some confusion. His tweet shows where the three Del Rey booths will be located. Del Rey Books will be located at #1515, Del Rey Star Wars will be at 2913-F, and finally their Minecraft booth will be at #4020.
.@SD_Comic_Con Here's the #SDCC map with our three @DelReyBooks and @DelReyStarWars booth locations highlighted. pic.twitter.com/fB086JsDYz

— Erich Schoeneweiss (@Darth_Duff) June 23, 2016
The show might be gone but Hannibal lives on in this print from Smallest Lecter that will be available at SDCC!
Working on a print for SDCC. What do you guys think? #Hannibal pic.twitter.com/W9ZLSGsdCh

— #1 Hugh Dancy hoe (@SmallestLecter) June 23, 2016
More commission news as Art By Thibert will be taking commission requests. You can contact him for a pre-con commission or find him at his table FF-10 according to his Tumblr post.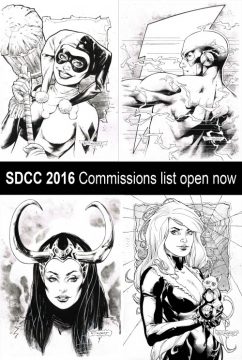 Lots of options at SDCC if you're looking for a commission to add to your collection. You can get on the pre-con commissions list for Bill Walko is currently up according to his Tumblr post.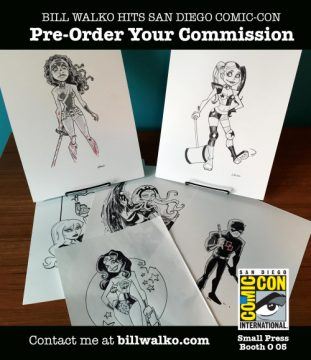 File this under uncertainty, but Hot Topic recently tweeted out an image of a Hot Topic Suicide Squad Exclusive. In the same tweet it mentions that it is one month until SDCC? Could they be available at the con? Could they be available in Hot Topic retail stores only during SDCC? Could Hot Topic made it a little clearer? We vote probably in all cases.
One month till #SDCC and your chance to get these #HTexclusive #SuicideSquad metals! pic.twitter.com/hGdNPZCvVi

— Hot Topic (@HotTopic) June 23, 2016
Chris Burnham must have gotten through his pre-con commissions pretty quickly as he has opened up SDCC commission list according to Felix Comic Art.
#SDCC commission list re-opened for @TheBurnham! Check out latest! Do NOT need to attend to get on list, write me! pic.twitter.com/cojSHj343l

— Felix Comic Art (@FelixComicArt) June 23, 2016
Dead Rising Endgame actress Keegan Connor Tracy recently tweeted out that she will be at SDCC next month. What could she possibly be promoting at the con? You and I both know the answer (probably)!
Looks like I'll be in San Diego for @Comic_Con! Come see me then. https://t.co/58c5DnJ6EW

— Keegan Connor Tracy (@keegolicious) June 23, 2016
Wondering why kind of cool swag you might be getting at the Sonic 25th Anniversary Event at the House of Blues during SDCC? Global License has a sneak peek at just that which includes the previously reported 25th anniversary commemorative coin, a Sonic plush, a Sonic hat, and a Sonic: Mega Drive comic from Archie Comics.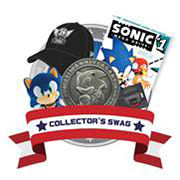 Unfortunately, Brian Michael Bendis has confirmed that he won't be at Comic-Con this year. Good news is, it's for a good reason: To make comics, and "you know, raise [his] kids and stuff." Fiiiiiiine.
David Michael Latt, a producer for Sharknado and Z Nation, revealed on Twitter that they might debut a Z Nation sneak peek in the Sharnado 4 panel at Comic-Con. What does that mean? Primarily, that Z Nation won't be getting its own panel.
I think we might debut a #Znation sneak peak at the #Sharknado4 panel at #SDCC2016 https://t.co/BdDdN96cif

— David Michael Latt (@DavidMLatt) June 24, 2016
Anything we missed? Let us know in the comments, drop us a line or tweet us at @SD_Comic_Con.