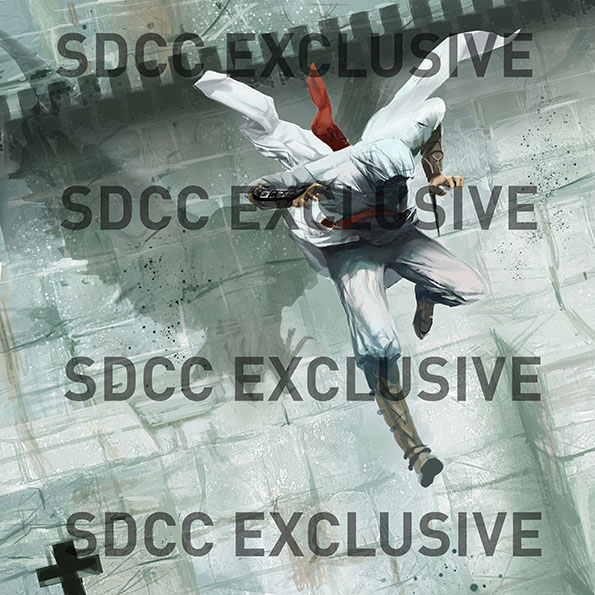 Let's get the really bad news out of the way first: There won't be an Assassin's Creed Obstacle Course this year.
But now that you all know that, we can focus on the (sort of) good news – which is that Ubisoft and the Assassin's Creed team have lots up their sleeves, though it's less than we would have expected in a year when Assassin's Creed likely has the most hype it's ever had, with the upcoming film releasing December 21 of this year.
Since 20th Century Fox is sitting out this year, there won't be Assassin's Creed actors on hand – but there will be Assassin's cosplayers on hand (like Rick Boer and Melanie Hunsucker) at the Ubisoft/Kernel Booth #135, wearing movie costumes and doing signings (Friday 11:30AM-2:30PM; Saturday 10:30AM-1:30PM) and taking pictures. Cosplayer Riki "Riddle" Lecotey will also be present to sign autographs from 4PM-7PM on Saturday. They'll also have Assasin's Creed gear from Glitch Clothing available to purchase.
Since we're not getting a Hall H panel for Assassin's Creed, we are at least getting "Traveling Back in Time: A Conversation with Assassin's Creed Last Decendants" with author Matthew J. Kirby, to discuss the Assassin's Creed young adult novels. The panel will be Sunday, July 24 from 2:30PM in Room 23ABC. Kirby will also be signing autographs at the Kernel Booth on Saturday from 2PM-3PM and Sunday from 1PM-2PM.
The best news is that there will be an exclusive print available at the Ubisoft/Kernel booth, but there are only 100 – so hurry.
Finally, there's the cosplay meet-up we told you about last week, on Saturday, starting at 3:15PM.