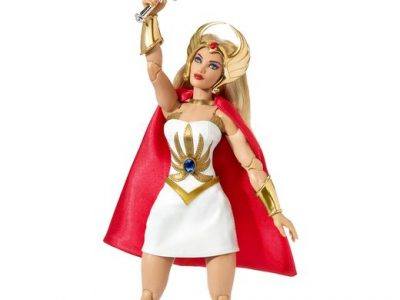 Mattel is changing the game.
Typically there is a pre-sale for their San Diego Comic-Con exclusives before the show, then they sell the items at the show, and then whatever is left has a special online sale after the show.
In a surprise change of plans, Mattel has now made eight of their exclusives from this year online only. There will be a first time ever SDCC Online Sale. The following items are affected:
Barbie Amazon Princess Wonder Woman Doll ($80)
DC Comics Multiverse Wonder Woman Figure + Invisible Jet ($15)
Ever After High Cedar Wood SDCC 2016 Exclusive Marionette Doll ($30)
He-Man and the Masters of the Universe She-Ra ($75)
Hot Wheels Star Trek: '64 Buick Riviera & Spock 1:64 Figure ($20)
Monster High Ghostbusters Frankie Stein Doll ($25)
Thomas & Friends/DC Super Friends MINIS ($19.99)
ThunderCats WilyKit & WilyKat 2-Pack ($60)
These items will only be available at MattyCollector.com starting on Monday July 18 at 9AM PT and ending Sunday July 24 at 11:59PM PT. This sale is open to everyone, not just SDCC attendees.
Be aware that this means these items will no longer be available for sale at the Mattel booth. In a post on their Facebook page they note that "If you pre-ordered She-Ra or Thundercats: Wilykit and Wilykat during our Voucher Sale, you'll still pick them up at SDCC." While they didn't mention the other figures on the list, they will likely also be available for pick-up to those who purchased previously.
[UPDATE July 15] Mattel has clarified some questions about how, and where, various Comic-Con exclusives will be available. From their site, here are the details:
The SDCC Voucher Sale from last month is entirely separate from any other of our SDCC sales. If you ordered anything during the Voucher Sale, you don't need to do anything else except pick up your products at SDCC, at Salons 12 and 13 of the Marriott Grand Ballroom at the Marriot San Diego Hotel and Marina, which is just next door to the San Diego Convention Center. (Dates/times are still the same: Thursday 7/21, Friday 7/22, or Saturday 7/23 from 7 a.m. – Noon or 3 p.m. to 7 p.m.)

An additional supply of some, but not all, of the items you saw available in the SDCC Voucher Sale will be available for purchase at our booth at SDCC. This, also, is entirely separate from our other SDCC sales. If you missed out on the Voucher Sale, but you're going to SDCC, this is your second chance to get the exclusives you want.

Not everyone can go to SDCC, so we wanted to do something special for the fans who can't make it there. That's why we added an SDCC Online Sale this year. An additional supply of eight of the items you saw available in the SDCC Voucher Sale will soon be available for purchase in the Online Sale, so you don't have to go to SDCC to get an SDCC exclusive. When you order from the upcoming Online Sale, the products will be shipped directly to you. Be sure to check back daily, as additional quantities will be released each day during the sale.
[UPDATE July 19] The sale will continue all week, with new inventory added every morning at 9AM PT.
What do you think of this change? Let us know in the comments.