Every year, Crazy Cat Collectibles brings attendees crazy awesome offerings, usually centered around none other than Stan Lee. 2016 looks to be no different – so swing by Booth #429 to get your hands on these items (plus, there will also be Stan Lee autographs and meet and greets happening all weekend, so look for that schedule later!)
Here's a look at their 2016 exclusives:
[UPDATE July 19]
Wanting to get an autograph or a photo op with Stan Lee at San Diego Comic-Con? Crazy Cat Collectibles/Stan Lee Collectibles have you covered.
In order to attend these autograph session's you must purchase and autograph ticket at Booth #429.  The cost is $100 (Cash Only) for each autograph.
Friday

:

2pm to 4pm

Saturday

:

2pm to 4pm

Sunday

:

2pm to 4pm
The signings will be held up at the Sails Pavilion located upstairs at the convention center.
Fans will also have a chance to get their photo with the legend during these times:
Saturday

:

12pm to 1pm

&

4:15pm to 5:15pm

Sunday

:

11am & 4pm
Booth #3945 is where the photo ops will take place.  Please email donbonneau1@yahoo.com or simply visiter their website with any questions regarding the photo ops.
[UPDATE July 15]
Crazy Cat Collectibles/Stan Lee Collectibles has partnered with ComicBookJewelry.com in celebration of Captain America's 75th Anniversary, with two limited edition pieces (only 75 of each design made!) being launched at San Diego Comic Con. The Silver Age ring will be made in sterling silver and the Golden Age ring will be made in 14kt yellow gold. Each box will be hand numbered, and signed by Stan Lee himself — and when you purchase a limited ring at SDCC, you'll get to take a special photo with Stan right at the booth (#429).
ComicBookJewelry.com will also be a guest at the booth, debuting a screen-accurate Black Panther ring, as well as a couple of other surprise designs.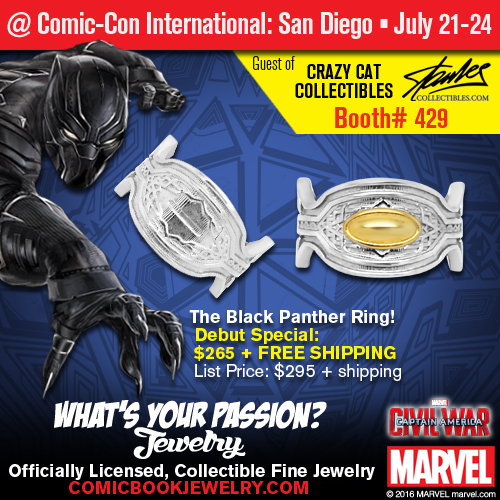 [UPDATE July 11]
Next up, Crazy Cat Collectibles/Stan Lee Collectibles has a San Diego Comic-Con exclusive of a different sort. They're offering a once-in-a-lifetime meet and greet with Stan Lee at an undisclosed offsite location near the convention center, which includes:
Signed Stan Lee Lithograph
Stan Lee Das Toys Collectible Figure Signed
2 Variant Stan Lee Collectible's Comics
2 Personal items that you may bring to have Stan Lee sign
Photo with Stan Lee(with your own camera)
Drinks(non alcoholic) & Hors d'oeuvre will be served
The first 30 buyers will also receive a signed copy of J.C. Lee's book All About Love: The Stan Lee Family, signed of Lee. You can purchase the exclusive meet and greet for $795 now on the website.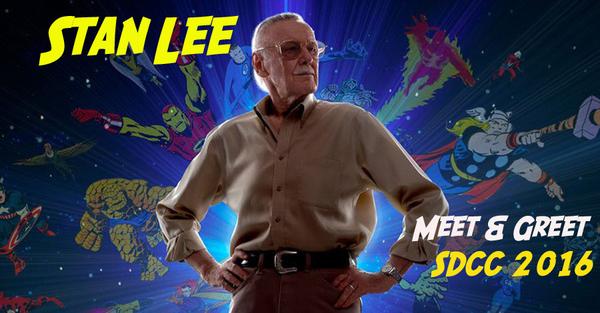 [UPDATE July 6]
Stan Lee Collectibles announced that they've teamed up with Funko once again to bring you a Stan Lee Funko Pop!, this time as General Guan Yu. The Pop Asia variant will retail for $25 (cash only) at their booth – and they'll also have a signed version (price unannounced), so you can ask about that at the booth as well.