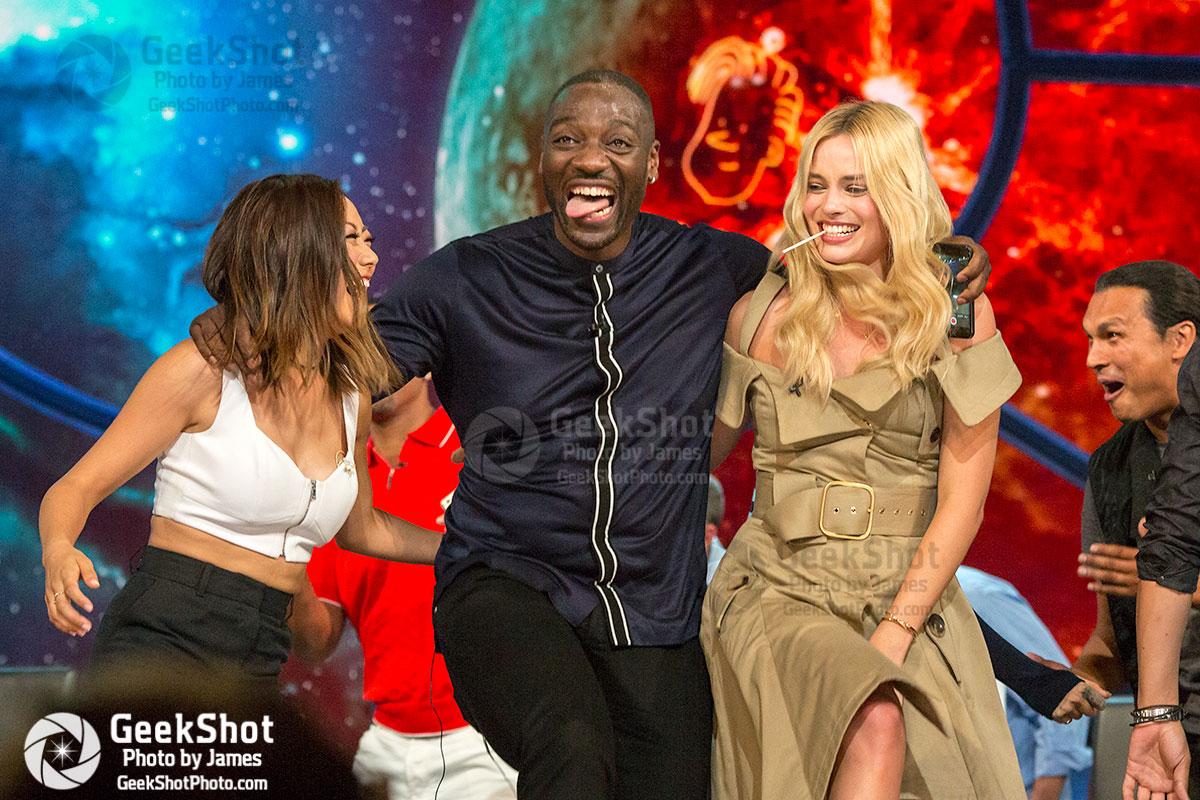 Welcome to the GeekShot Photo Exclusive Series. This will be a weekly post featuring cool, interesting, or just plain awesome moments we have captured during San Diego Comic-Con and WonderCon. Each week we'll post a photo by Beth or James of GeekShot Photography. We may include a short story about the photo, but sometimes we'll just let the photo speak for itself.
About This Photo
Karen Fukuhara, Adewale Akinnuoye-Agbaje, and Margot Robbie (and Adam Beach) during a break at the Conan show at the Spreckels Theater during San Diego Comic-Con 2016.
You've got to hand it to WB/DC for one thing. They've managed to turn around the dour and sour feelings of Batman v Superman in one weekend. A huge part of that for me was seeing the Suicide Squad cast as guests on Conan, which I was lucky enough to attend. The break between segments was essentially a dance party, and the fun and energy of the cast permeated the theater. Combined with the more upbeat tone of the Wonder Woman trailer and Justice League footage, I am finally looking forward to DC movies.
As far as San Diego Comic-Con 2016 goes, I'm going to have to say that the two Conan shows I attended were the highlights of the convention. I went on Thursday and Saturday and really enjoyed them both. Once the show starts there isn't a lot of waiting around like you hear happens on TV and movie sets. The actual recording of the show happens in about an hour. It's fun and entertaining and just gets better when the guests are in the spirit of the event. Attending requires luck in getting a ticket and a minimum of 2-3 hours out of your day, depending on how much time you want to spend in line to get a specific seat.
I'll talk about SDCC 2016 more in the wrap up SDConCast and in the following weeks as we post our weekly photos.
What was your favorite part of SDCC this year? Let us know in the comments.
You can see all of the previous posts in this series here.
This photo is copyright (All Rights Reserved) by Beth and/or James Riley of GeekShot Photography. It may not be copied, reposted, published, or used in any manner without their written permission.