While this marks the first year that badges are being shipped to San Diego Comic-Con attendees (and no, deep breath everyone, general attendee badges have not been shipped yet), not everyone is going to get that fateful package in the mail.
Those who entered an international address during check-out (or those whose packages don't arrive) will need to pick-up on-site. New this year, Town & Country won't be used at all for badge pick-up, and the convention center will also be used for professional, trade professional, and press badges. General attendee badges will now be picked up at the Marriott Marquis San Diego Marina Hotel, in the Pacific Ballroom.
From CCI's site, here's a look at this year's pick-up schedule — [update] but it apparently means nothing, as they announced on July 4 that new this year, international attendees will be able to pick up their badges a day early (and that badge bacodes, which will be required to retrieve the badge, will be e-mailed out on Tuesday, July 5). So here, we fixed the chart, since that should be the majority of folks who are picking up: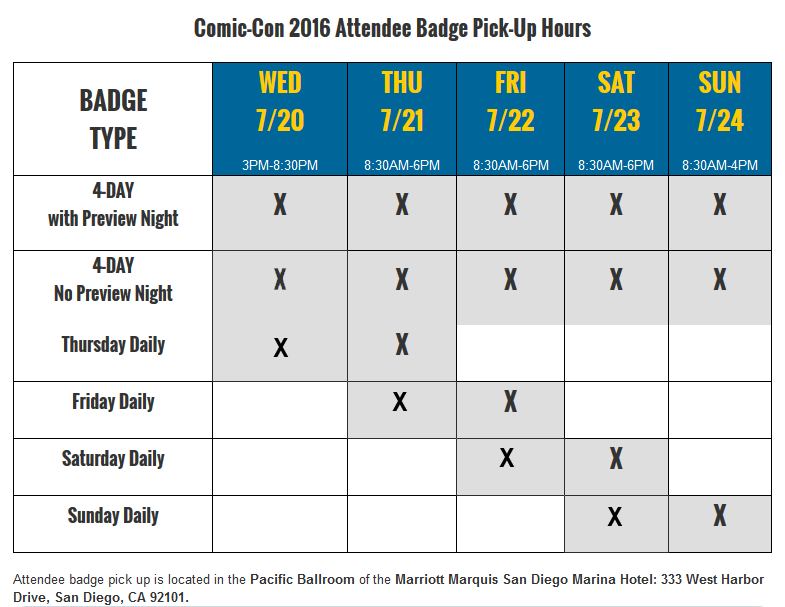 And here's the original chart that CCI posted. Potentially, this may still apply to those who simply never received their badge in the mail (but are domestic) who need to pick up on-site… but the right hand doesn't seem to know what the left hand is doing with badge pick-up, so take with a grain of salt: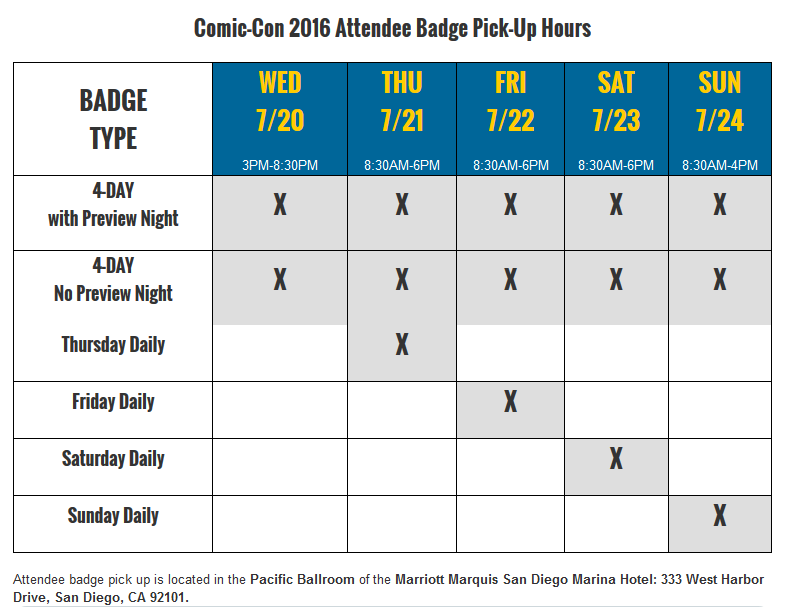 According to CCI, all international attendees will receive a barcode confirmation e-mail with their barcode confirmation. As per usual, you'll need to bring that barcode confirmation and your photo ID to pick-up on site.