This time next week we will all be knee deep in the chaos that is SDCC. Until then, make sure you read up on news about a new Squid Kids Ink figure, which WB TV actor will be at SDCC, and a sneak peak at the booth set up for an artist legend.
Here's a look at the news you might have missed:
Squid Kids Ink has teamed up with Iron Maiden to celebrate their return to video games, with the Iron Maiden: Legacy of the Beast 10-Doh! figure. The commemorative 7″ figure will retail for $35, and can be picked up in limited quantities at Booth #5150.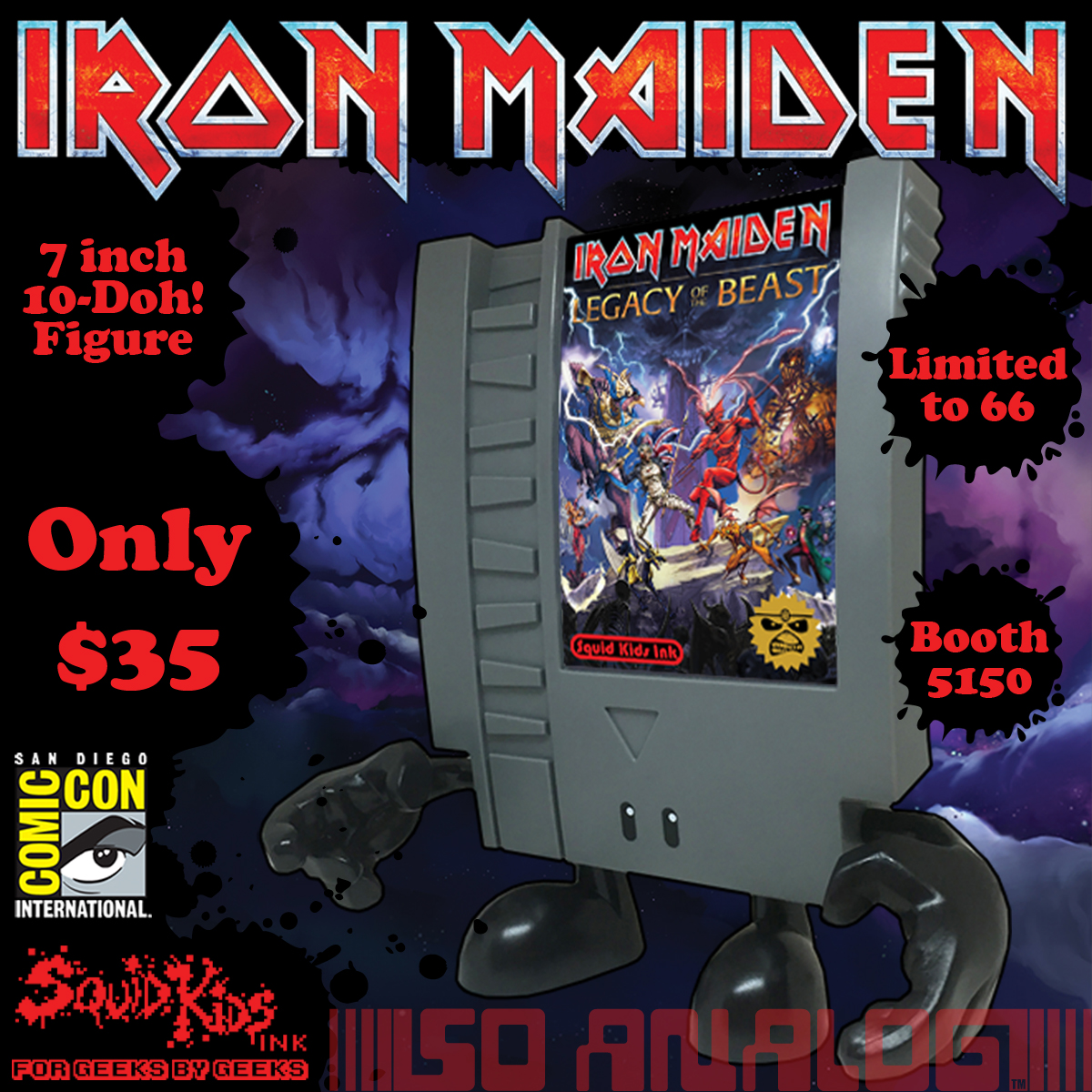 BAIT is bringing several awesome things to Comic-Con this year, including a 1/6 scale, fully articulated figure made by 1000 toys. Pick it up at Booth #4845 or at the BAIT store in downtown San Diego.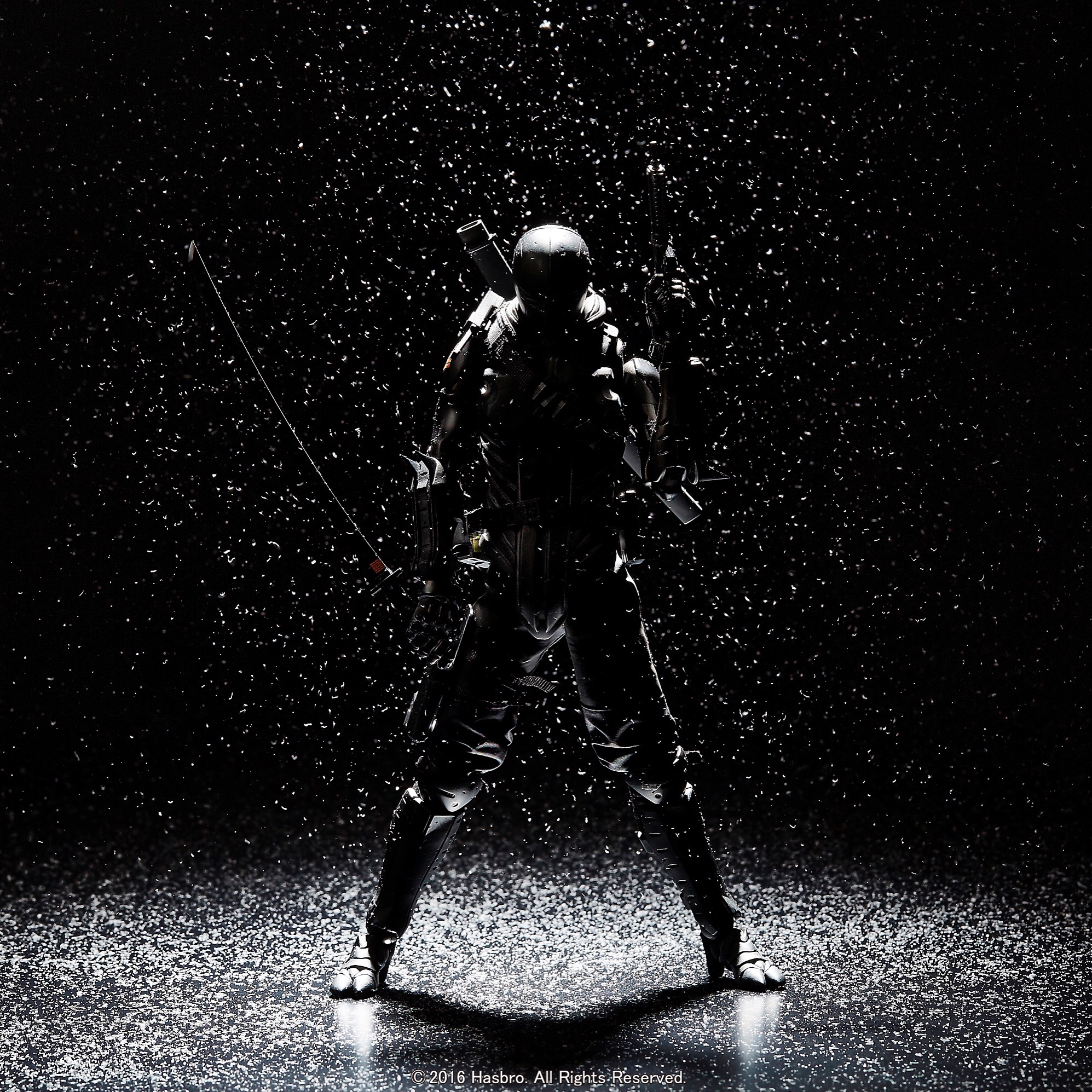 BAIT will also have their collaboration with Kidrobot, the Streetfighter 8″ Oni available at Booth #4845. A limited run of 500, he'll retail for $500.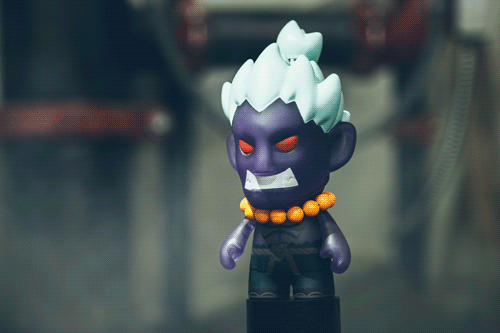 BAIT will also have an exclusive Glow in the Dark edition of the Munky King x Kozyndan Uprisings – Tropical Glow piece, which is inspired by the classic Hokusai woodblock print, "The Great Wave off Kanagawa". The piece is limited to 100 units, and will retail for $80.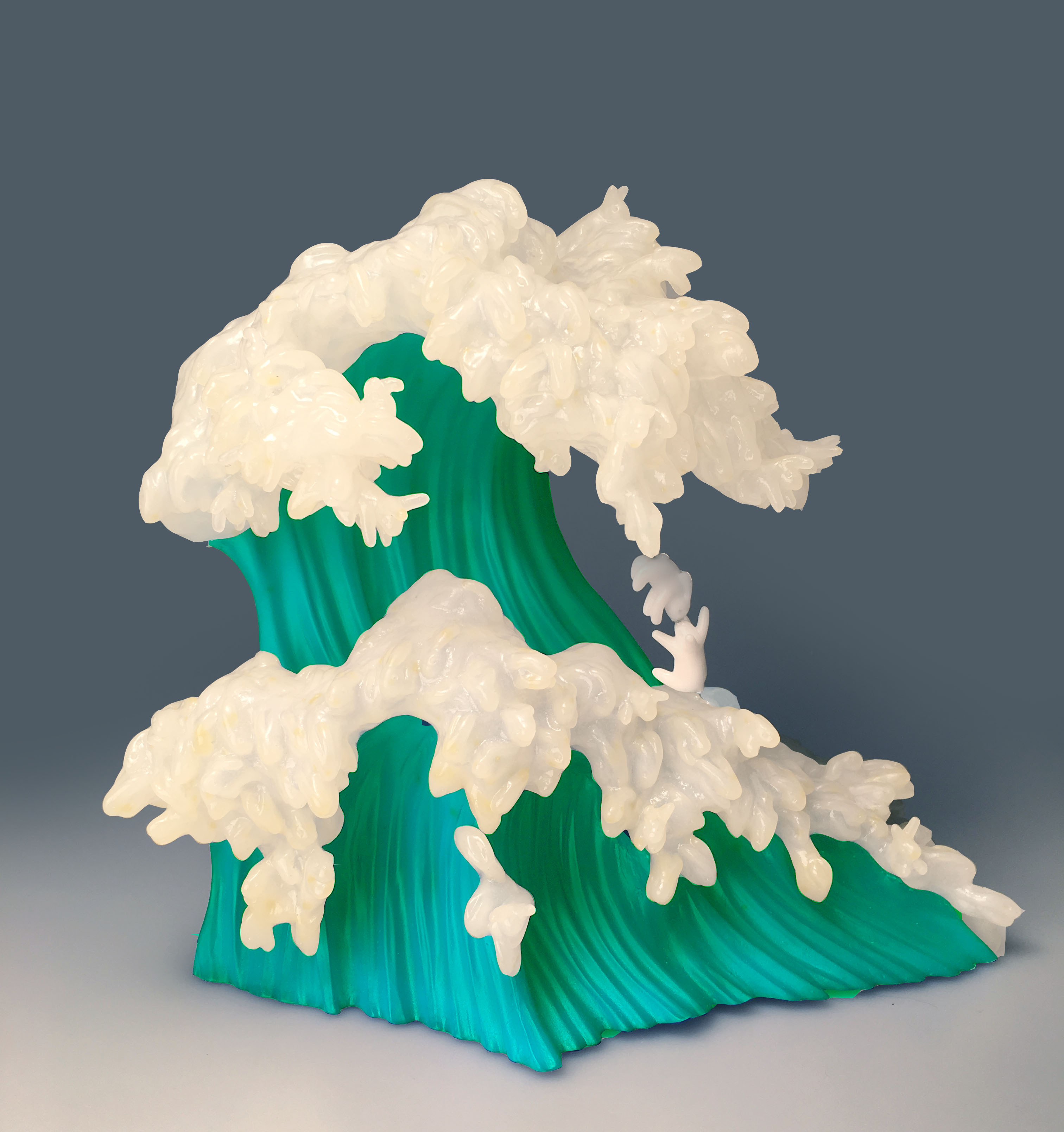 Genuine Haha will be bringing several greeting cards to the convention, for those occasions when you just can't find the right card for saying sorry about smashing my shield through your arc reactor and leaving you on a mountain. Although we already showed off one of these last week, there are several more, and they're all equally adorable. X-Men, Civil War, and Game of Thrones will be available in limited quantities of 100, and Pokemon will be available in a limited quantity of 50. Better catch that ultra-rare Pikachu while you can! [Editor's Note: I know nothing about Pokemon Go]
Pop Fun Merchandising, a collectible drinkware company, will be bringing several Comic-Con exclusives to the convention next week. Based on Jim Lee's character designs for REBIRTH, these 18oz tumblrs will retail for $10 each at Booth #3744.
Beam yourself right to the bottom of your glass with Shmaltz Brewing Company's debut Star Trek ale – The Trouble With Tribbles. It will be available at the premiere of Star Trek Beyond, as well as the following retail locations around San Diego. Starting next week, Golden Anniversary Ale: The Trouble With Tribbles will be available throughout the San Diego metro area at Neighborhood (777 G St.), Burgers, Bate & Beer (200 Marina Park Way), Hopping Pig (748 Fifth Ave), Tipsy Crow (770 Fifth Ave), Gaslamp Tavern (868 Fifth Ave), The Safehouse – North Park (2930 University Ave), Newport Pizza & Alehouse – Ocean Beach (5050 Newport Ave), Balboa Tap House – Clairemont (4421 Genesee Ave), Goldfish Point Café – La Jolla (1255 Coast Blvd), Eureka! – La Jolla (4353 La Jolla Village Dr), Woodstock's Pizza – SDSU (6145 El Cajon Blvd), Ugly Dog Pub (6344 El Cajon Blvd), Craft Kitchen – La Mesa (4253 Palm Ave), and The Hills – La Mesa (8758 La Mesa Blvd). Please refer to this interactive map for additional locations selling The Trouble With Tribbles.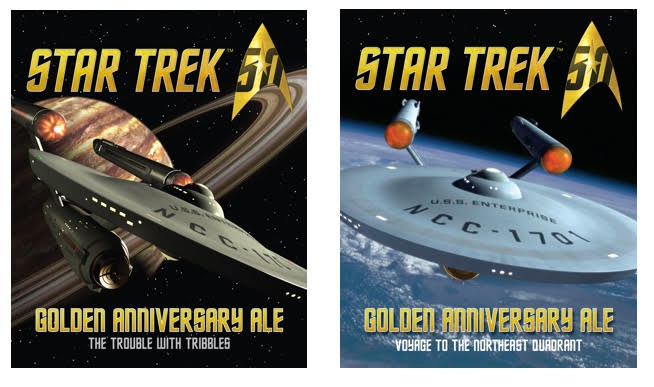 Applehead Factory is bringing a new action figure to Comic-Con: Stealth Commando Ninja Master Exclusive Man. He's so exclusive, they can't even show you the figure yet except for this sneak peek – but he'll retail for $6 at Booth #4923.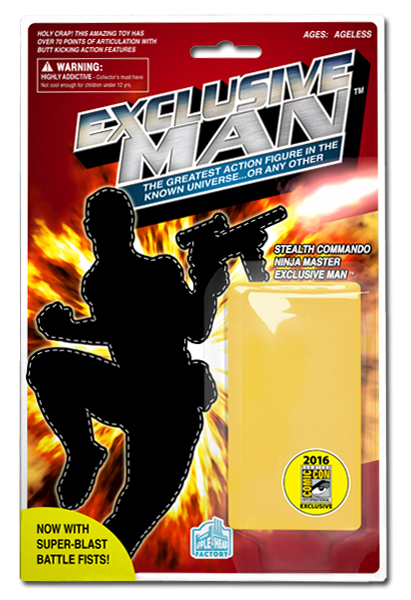 Bedrock City will have an exclusive cover to ROM #1 by Nick Pitarra debuting at SDCC, ahead of its 7/27 street date. You can pick it up at the Bedrock City Booth #1206.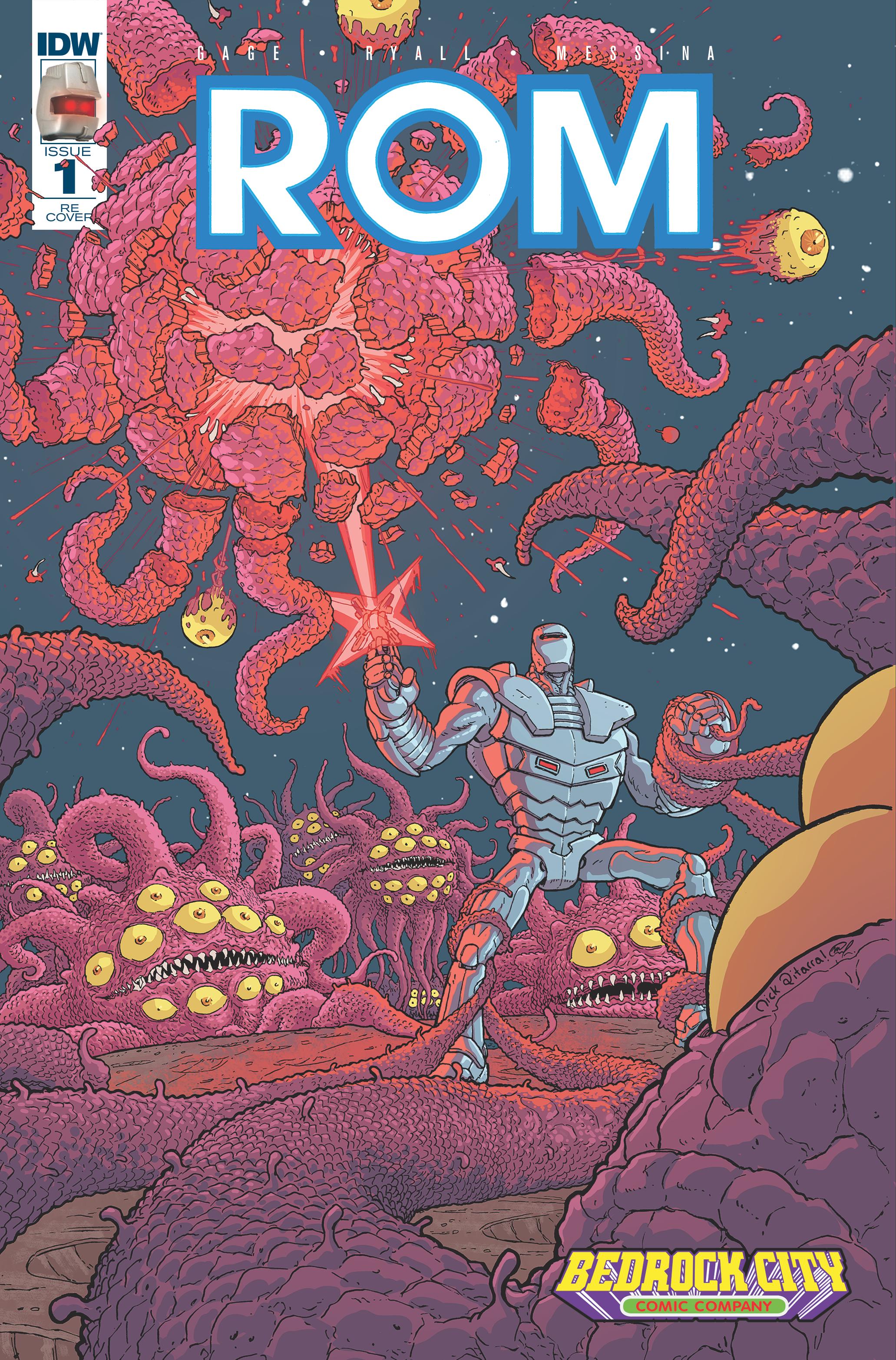 In a recent UTT, we showed you one of the shirts that Camilla d'Errico will have at SDCC, this time we have another to show. This one, entitled La Carpa, was recently shown on Camilla's Instagram account. Great colors!
https://www.instagram.com/p/BHyBjBtAPQO/
Speaking of Camilla d'Errico, you'll find the debut of Camilla's adult color book at SDCC. This Instagram photo gives you a sneak peek!
https://www.instagram.com/p/BHxUybtATwh/
Who likes free art? If you raised your hand then make sure to follow Ruben Rosas on Instagram who will be doing art drops all weekend at SDCC. Maybe you'll find this Gwen Kitty!
https://www.instagram.com/p/BHyA0f5gBpc/
https://www.instagram.com/p/BHx7DVMAViS/
The cool thing about SDCC is that you can find some really unique, non-superhero art, at many of the tables including this one debuting from Dan Quintana that he showed on Instagram.
https://www.instagram.com/p/BHx55lEBYDW/
One of the best collectables to find at SDCC that don't take up a lot of space in your bag are pins. You can find pins just like these, which will be found booth #4851 and AA-FF05 by Tom Neely.
https://www.instagram.com/p/BHx4foXDbeL/
Want to see the booth setup for Alex Ross Art? It looks pretty swanky and now you know what to look for thanks to this tweet from Alex Ross.
Alex Ross fine arts
New booth for #SDCC2016
#2415@SD_Comic_Con @headgeek666 @Comic_Con @morrowchris pic.twitter.com/2QbJwJgXGh

— Alex Ross (@thealexrossart) July 13, 2016
Fans of The Vampire Diaries (or maybe Lost ) will be glad to know that series regular Ian Somerhalder will indeed be at SDCC thanks to a recent tweet from WB TV.
#TheVampireDiaries star @iansomerhalder is getting ready for #WBSDCC! @cwtvd #SDCC #TVD pic.twitter.com/GzxMAjho1j

— Warner Bros. TV (@warnerbrostv) July 13, 2016
Anything we missed? Let us know in the comments, drop us a line or tweet us at @SD_Comic_Con.