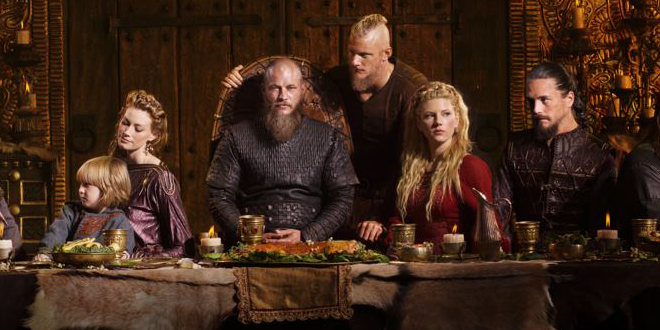 The cast of Vikings (and Bates Motel) are invading San Diego Comic-Con – with the previously announced panels, as well as a VERY limited Vikings autograph session and a chance to step into the action of Vikings at the booth.
For fans of Vikings, you've got a rare chance to meet the cast. They'll be signing autographs from 4PM-4:45PM on Friday, July 22 – and to attend, you'll need to head to the Sails Pavilion Autograph Area in the morning. A lucky 75 fans who draw a winning ticket will be able to attend the signing, so get there early for your chance to attend.
Then you can step onto the show floor, where Vikings will have the Vipers Den at Booth #4215. Fans will experience the fear of being surrounded by real snakes in a dark, dank abyss with no immediate escape – which sounds a bit like Hall H, but easier to get into.
You'll have the experience commemorated in a sharable gif, as well as receive a special Vikings viper cuff as a token of your triumph over death.
Attendees can also stop by the booth for chances to win tickets to the Vikingspanel and the autograph – as well as chance to snag a custom, Vikings limited edition comic book from a story by Michael Hirst, as well as a Vikings drinking horn.
If you hadn't already seen the details, here are their panel plans:
A&E's "BATES MOTEL" PANEL – Friday, July 22 from 3:30 – 4:30 p.m., Room 6A
A&E's hit drama series "Bates Motel" returns to SDCC on the heels of the pivotal Season 4.  Join the cast: Vera Farmiga ("Norma"), Freddie Highmore ("Norman"), Max Thieriot ("Dylan Massett") and Nestor Carbonell ("Sheriff Alex Romero") along with creators and executive producers Kerry Ehrin and Carlton Cuse as they reveal exclusive content from the new season. Come join us and find out what's in store for Season 5!
HISTORY's "VIKINGS" PANEL – Friday, July 22 from 5:45-6:45 p.m., Room 6BCF
"Vikings" returns to SDCC. Travis Fimmel ("Ragnar"), Katheryn Winnick ("Lagertha"), Clive Standen ("Rollo"), Alexander Ludwig ("Bjorn"), Gustaf Skarsgard ("Floki") and Michael Hirst (writer/creator) will reveal an exclusive sneak peek of the new season. Don't miss out – come join them and find out what the gods have in store!