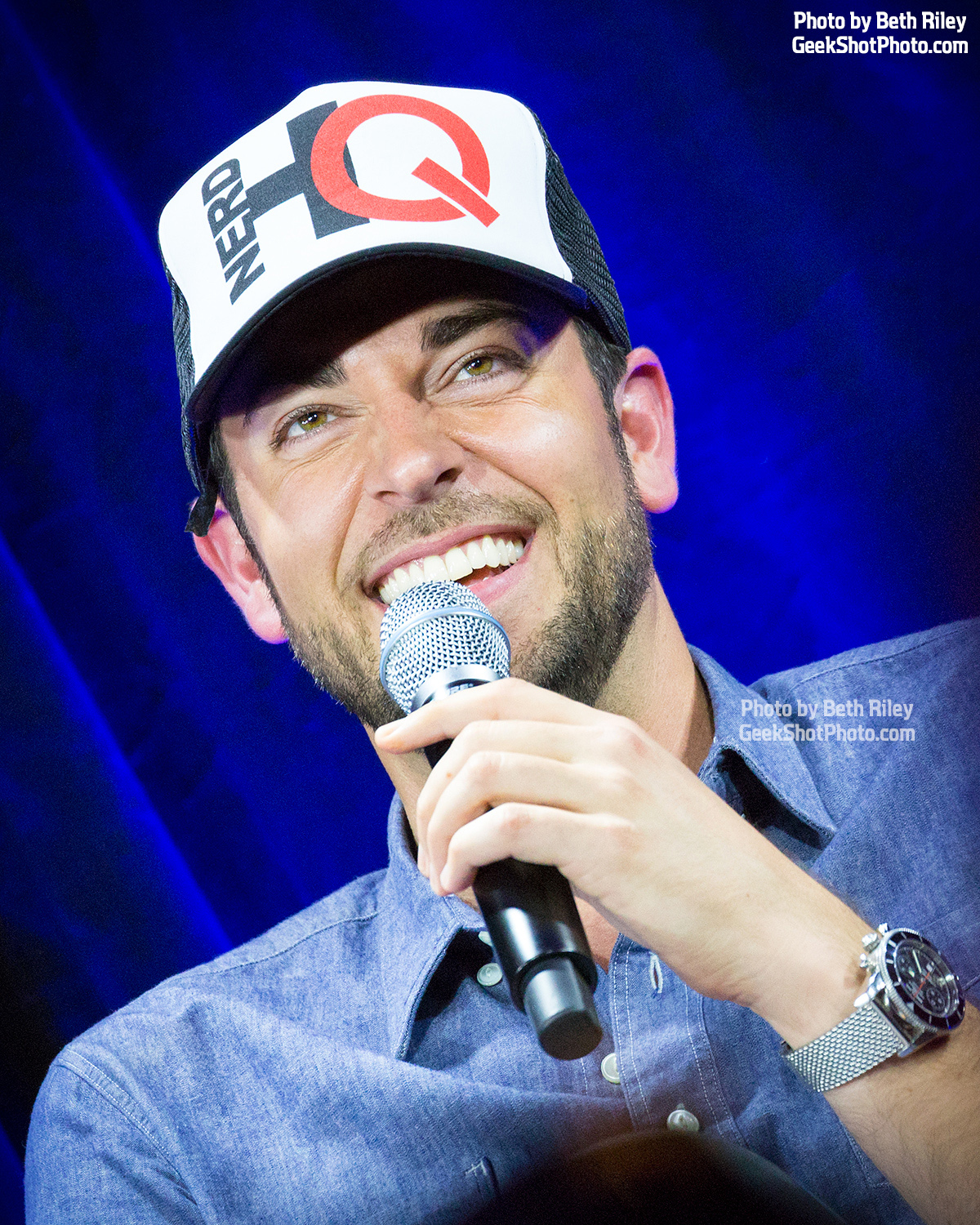 Nerd HQ is back, and we never know how they manage it year after year – but it's looking to be both bigger and better than ever, as they level up the experience with more gaming than ever before, amazing Conversations for a Cause panels, and one of the best experiences in San Diego. (And make sure that you register, to make check-in that much easier).
For the uninitiated, Nerd HQ is the incredibly popular offsite at San Diego Comic-Con, run by actor Zachary Levi and David Coleman, and their co-owned lifestyle brand The Nerd Machine. It's a culmination of everything we love about the convention: Fans get to hang out with celebrities in the intimate "Conversations for a Cause" panels, a chance to test drive the latest gaming and technology, and they can do it all while raising money for the charity Operation Smile.
In the six years that the event has been at Comic-Con, it's grown to an attendance size of more than 30,000 attendees – but it had humble beginnings, forming in 2011 out of basically the back room at Jolt'n Joe's.
"When we started The Nerd Machine, the purpose of it was to create a lifestyle brand for nerd culture and a community for nerd culture that I just didn't think was out there, like The Nerd Machine specifically," Levi said. "Obviously in order to promote the brand, Nerd HQ started. But then Nerd HQ kind of became really its own bigger life."
They've changed locations several times in those six years, but they're back at their 2015 home again this year – The New Children's Museum, where they'll be utilizing all three floors and 35,000 square feet to provide attendees with panels, dance parties, gaming activations from headline sponsors Xbox and AMD, and just a cool place to hang out (on sofas! They have sofas!).
"They're good people, and they're running a great venue that is for children and bringing smiles to their faces and the community," Levi said of the decision to return to the New Children's Museum. "So, we thought this seems like a really perfect fit for kind of our mission statement and our hearts, and also it's just an awesome building."
What To Expect This Year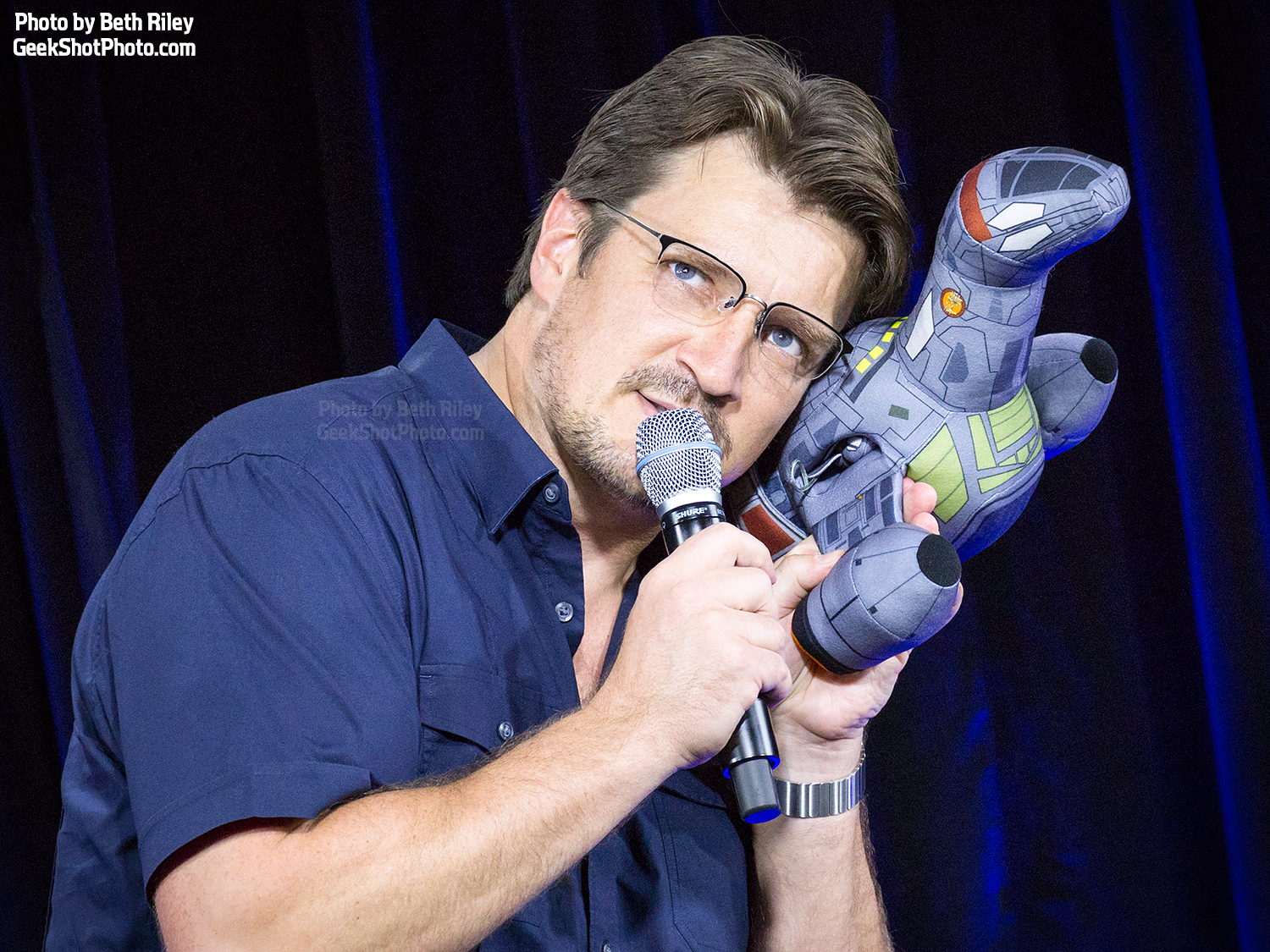 Attendees can look forward to the usual all-out dance parties on Thursday and Saturday, as well as gaming activations from Xbox and AMD, who will have playable versions of EA Battlefield 1 and Gears of War 4. There will also be activations for Hallmark (who will be debuting a pop-up shop experience, PopMinded, where fans can purchase Keepsake Ornaments and collect limited edition buttons) and Johnson & Johnson – whose Donate a Photo App will donate $1 every day for every attendee who uses either Johnson or Nerd HQ's app to post a photo from the event. Best of all? That money goes to Operation Smile, Nerd HQ's charity of choice.
"If we can get everybody at Nerd HQ to donate all four days, then we're looking at another $65,000," Coleman said. "Another pile of money for Operation Smile, which is great. So basically Johnson & Johnson will be sponsoring our photobooths, and it's another way we're going to be raising money for Operation Smile this year."
The other way that Nerd HQ donates money to Operation Smile is through their Conversations for a Cause – small, intimate panels with celebrities throughout the week, where proceeds go to Operation Smile. Tickets are $22 through Brownpapertickets.com closer to the event, but they're the hottest tickets in town, with guests like last year's line-up of William Shatner, Nathan Fillion, Stephen Amell, Joss Whedon, the casts of Marvel's Agent Carter and Marvel's Agents of Shield, Mr. Robot, Orphan Black, The Maze Runner: The Scorch Trials, Doctor Who, and more. They're snatched up in split seconds as thousands of fans try for one of the 200-or-so tickets per event.
Last year, though, there were some complaints that the panel area in the new location was difficult to see – and The Nerd Machine plans to address those concerns.
"We are going to create tiered level seating inside the panel room so the sightlines are better for everyone and adding more cooling to make the room more comfortable. We are adding a bank of monitors above the stage to make sure no one misses any of the action."
Along those same lines, they'll also be tweaking the RFID and apps for this year. This may be the first year that San Diego Comic-Con is using RFID at their convention, but Nerd HQ has been using it for several years.
Coleman promises a "more robust RFID system" this year with an easier to use app and bigger icons, and more opportunities to pre-schedule activations than ever before. You can already begin booking your gameplay now.
"We'll have all the great stuff from before with some new stuff as well," Coleman said.
Putting the Event Together
Ask almost any San Diego Comic-Con attendee, and they'll tell you that Nerd HQ has been consistently one of the best-run, most-fun offsite events at the convention, every single year.
But there's a lot of work that goes into putting on the massive event – especially as unlike the larger studios that put on offsites, The Nerd Machine is a private, smaller company.
"With how much joy that we know people feel coming to HQ, and when they leave San Diego and their experience at HQ with that joy, and the amount of money we've been able to raise for Operation Smile every year… Even when Dave and I are pulling our hair out, because there are so many hurdles and so many barriers and so many things that would probably tell smarter, wiser people 'stop doing this', we go 'no'."
That's in large part due to the fans and the relationship they've been able to foster and build with their own "Nerd HQ community".
"I think ultimately the reward is worth the cost. And it has been worth the cost every year, even if by only a little bit," Levi said. "To see people so stoked and the impact that it's had on a community of really awesome people in nerd culture and the relationships that it's built. And to be honest, that's probably one of the coolest things that we can point to, that literally complete strangers who have now become best friends through The Nerd Machine. Giving people experiences that they just never get to have anywhere else. It's a cool thing to point back to in your life later on and say, you know what, we did this. And we didn't give up on it, even in the face of major adversity, we kept striving and we kept pushing forward."
HQ-mmunity
Part of what keeps the Nerd Machine going each year is the fans, and the volunteers in particular – who work hard to keep the event running smoothly all week, whether that's through greeting attendees, directing them to the right place, or even just telling someone where the bathroom is.
"It is such a massive undertaking, just to plan it and to put it all up. [Our volunteers] are like the white blood cells. They're floating around, shaking hands, high-fiving, smiling and giving love to everybody who comes in and out of that door," Levi said. "It's been incredible to hear their reactions and how fulfilled they feel when they leave. It's super emotional. Every year at the end, we all cry. It's like the most intense summer camp you've ever been to."
Coleman added, "When Zac talked about touching people's lives, I think yes, we do that a lot for people who get to come to the event. I think it's especially true for the volunteers, because I get letters from people every year who volunteer and it absolutely humbles me to no end that people have such a sense of community and the feeling of belonging to something. Where, sometimes they feel like they don't belong to anything. And we read these letters and it's just like, man… Yeah, we raise a bunch of money for charity which is awesome and we change a lot of lives that way, but this experience and all the people involved in it changed people's lives in a ton of different ways that we don't even think about."
They have hope that this may be the year where they can finally sit back and know that everyone – from the fans, to the world at large – get what they're trying to do.
"When we have guys like Xbox and AMD and Johnson & Johnson, that's like everybody gets it," Coleman said. "They want to be a part of [this] because you built something and committed to something because you believed in it so much that you knew that one day it would be the thing that everybody wants to be a part of. And I think that we're actually getting to that point now where people recognize its value, they recognize the kind of experience the people have.  They're on board with Nerd HQ, its message, what it does for the fans, what it does for the brands that come and be a part of it, for the volunteers that come and really do create lifelong connections not only to us but to each other."
"That really does go to the point of loving as many people as you can," Coleman added. "Showing them that you care about them. No pretense about 'it's our thing', because it's all of our thing. Because without everybody who helps us – from the fans and the sponsors and the celebrity friends who come and do panels, and signings and all that, none of that would be possible. This really is a big HQ-mmunity."
"Did you just coin a phrase? HQ-mmunity?" Zac asked.
"I think I did on accident!" Coleman said.