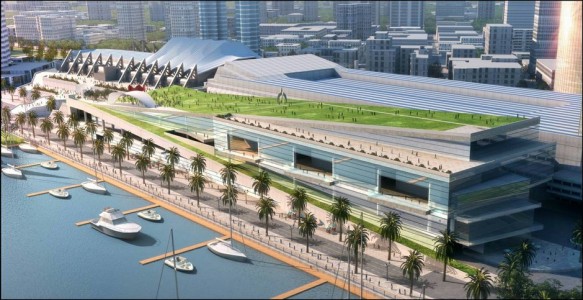 There's more good news this year for the San Diego Convention Center expansion, as it cleared another major hurdle.
While the Chargers announced a move to Los Angeles earlier this month – effectively ending all future discussions of any combined 'convadium' – there still were, and still are, plenty of other obstacles in the way for a contiguous San Diego Convention Center expansion. One of the biggest was a lawsuit (from Citizens' Plan co-creator Cory Briggs) arguing that the expansion does not comply with the California Coastal Act.
Yesterday, Superior Court Judge Joel Wohlfeil ruled that the waterfront convention center expansion is legally sound and compliant with the California Coastal Act and the California Environmental Quality Act. The ruling won't be finalized until after a March 3 hearing, but this is still a victory for those hoping to see a contiguous expansion.
Mayor Kevin Faulconer has been making another push for the expansion. "Today's strong ruling is tremendous news for San Diego's economy and removes one of the biggest hurdles to expanding the convention center," Faulconer said in a statement. "This expansion is all about creating jobs and growing tourism as well as keeping and attracting large conventions like Comic-Con."
Even if the judge does finalize yesterday's ruling, that doesn't mean that ground can be broken immediately. Although it got the okay from the California Coastal Committee all the way back in 2013, the plan at the time was to raise hotel taxes to cover the cost, with an increase of up to 3% for hotels closest to the Convention Center (right now the hotel tax is set at 10.5%, with an additional 2% that goes to the Tourism Marketing Department or TMD — this article from the Voice of San Diego does a great job explaining the complexities).
Because this decision was made without a vote of the people of San Diego, Briggs sued in a separate case and that judge ruled the plan unconstitutional because it wasn't voted on by the electorate. The San Diego City Council voted to abandon the plan, and it's been stalled ever since. Any new financing plan would need to go to the people of San Diego for a vote, requiring a 2/3 majority.
That original plan, from back in 2013, was hoping to see the expanded convention center open in 2017.
So we're not there yet, but this is good news.