Yesterday, we were pleased to bring you a double-shot of yummy UTT goodness. Today's UTT isn't quite as jam-packed as yesterday's, but it certainly has good stuff in it. Today's SDCC news runs the gamut from adorable to downright weird. Either way, we think you'll enjoy what we have for you.
Here's a look at what you might have missed:
By now, you've probably heard that Disney is bringing back one of its most beloved cartoons, DuckTales (Woo-oo!). Ahead of its premier in late August and September, IDW will have new DuckTales comics as SDCC exclusives, followed by a mass roll-out.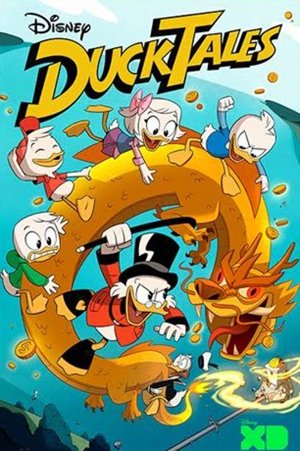 Patrick Ballesteros latest new 25 Cent Wonder is Supercalifragilisticexpialidocious (and James Gunn thinks so too!). The Mary Poppins and Guardians of the Galaxy Vol. 2 mash-up is amazing, and will be available for sale at San Diego Comic-Con at Ballesteros' table in Artist Alley.
SUPERGALAYONDUISTICMARYPOPINDOCIOUS! 1 of my fav movies to date. Dang it @JamesGunn, I didn't expect to tear up at the end! #SDCC #vol3 pic.twitter.com/fjnJ9ShEEb

— Patrick Ballesteros SDCC DD-08 (@PatrickBallest) June 14, 2017
Comic book retailer KRS Comics is hosting bestselling artist Tyler Kirkham at their SDCC Booth #5559. He'll only be there Friday and Saturday, so if you'd like him to sign something for you, stop by then.
Be sure to stop by #krscomics booth 5559 at #SDCC2017 and get your comics signed by @TylerKirkhamArt! pic.twitter.com/NWUtz8L42E

— KRSCOMICS (@krscomics) June 13, 2017
Local San Diego artist Gabriel Eltaeb is supporting The Hero Initiative's fundraiser by donating this piece. You can find and bid on it at Basic Bar/Pizza on Preview Night from 9PM to 1AM PT. Don't forget to stop by the UBlog's meet-up, 2Blog 2Furious, at McFadden's, too.
https://twitter.com/GabeEltaeb/status/874740963662471168
https://www.instagram.com/p/BVS4pAyjlk9/
https://www.instagram.com/p/BVS4XJxls84/
Artist Camilla d'Errico added a new creature to her "Surreal Safari" series for SDCC. Meet Dandy Lion. She'll have Dandy and the rest of her safari available at Booth #4723.
https://www.instagram.com/p/BVS_o-sjESS/
https://www.instagram.com/p/BVSY4C7hAMz/
There are some things, good or bad, you just can't unsee. Dave Dwonch's Game of Justice poster is one of those things. This mash-up of Justice League of America and Game of Thrones is set to debut at SDCC this year. He's only bringing 50 of these 18×24 posters with him, so order now to snag your very own Joffrey the Monkey for just $40.
Check out my 18×24 Game of Justice poster set to debut at #SDCC. Limited to 50. Don't miss out… pre-order NOW!! https://t.co/ET7azvQApK pic.twitter.com/auwNq6tqwM

— Dave Dwonch makes stuff! (@davedwonch) June 14, 2017
You ask, they answer (sometimes). Best selling author and artist Tony S. Daniel was asked if he's attending SDCC this year, and he responded with a resounding yes. Look for panels and signings at the DC Booth from him.
Yes. I will be at #SDCC this year, Donna!

— Tony S Daniel (@TonyDanielx2) June 14, 2017
https://twitter.com/heyjenbartel/status/874801017526910976
Local San Diego artist Scott Hattox is pretty excited about SDCC (we don't blame him). He'll be at Booth #1829, where he's offering a free print to all members of the 501st Legion organization.
https://www.instagram.com/p/BVTJI3fh_TO/
Disney artist Lorelay Bove added another piece she'll have available at SDCC. Her mini paintings of Poison Ivy can be found with her at the Gallery Nucleus booth.
https://www.instagram.com/p/BVT0qP-g8FX/
Wayward Raven teased a few images from their new one-shot set to release at SDCC this year, inFusion, a sci-fi oddity. This will be their first year at San Diego Comic-Con International, so let's welcome them warmly and show them some love.
From an upcoming one-shot to be released at #SDCC #comics
inFusion, a scifi oddity. pic.twitter.com/TK1mZjffiU

— Wayward Raven (@waywardraven) June 14, 2017
Randy Green is now accepting commissions for Pick-Up in SDCC.
Email us at mga1wars@aol.com or at… https://t.co/kkw2hPWDm1

— Mike (@MOREGREATART) June 14, 2017
Catch up on all of Raven Moon's adventures in Kymera Press's Gates of Midnight series before her triumphant return in issues #7 and #8 to debut at SDCC.
Raven Moon returns in all new issues of 'Gates of Midnight' at #SDCC2017 Catch up on the story here: https://t.co/jZfzaxCHbY pic.twitter.com/JOlMZK2d5k

— Kymera Press (@KymeraPress) June 14, 2017
Another sneak peek at our #SDCC2017 exclusive! Are you ready to prove your worth to Lord Saladin? pic.twitter.com/9LM1VmdbkP

— Mega Construx (@MegaConstrux) June 14, 2017
https://twitter.com/RandyMartinez40/status/875034465910706177
First #KindredsFigure Artist Series to debut @ #SDCC2017. Featuring @emmasancartier @smallandround @nimasprout @maxtoyco @kozykitchens + me! pic.twitter.com/pvb5R2ohE6

— Martin Hsu 徐 👨🏻‍🎨 (@MartinHsu) June 14, 2017
Wayward Raven isn't the only newbie at SDCC this year. Shelly from inki-Drop announced she will have a booth at SDCC this year for the first time as well. Let's welcome her and show her some SDCC love, too.
Happy to announce that I have a booth at #SanDiegoComicCon for the first time EVER! 😀 You can find me at dealer's booth 1703! #sdcc2017 pic.twitter.com/AFmVC6VjfY

— shelly @ Dokomi (@inki_drop) June 14, 2017
https://www.instagram.com/p/BVVQTL6lY4A/
Because. CARTOONS! #shera #teela #sorceress done w/ @copicmarker on @cansonpaper ( cream paper ) @Comic_Con table FF03 @DenverComicCon C09 pic.twitter.com/k2ZmE2Uu22

— Rhiannon Owens (@RhiannonDrewIt) June 14, 2017
Anything we missed? Let us know in the comments, drop us a line, or tweet us at @SD_Comic_Con.