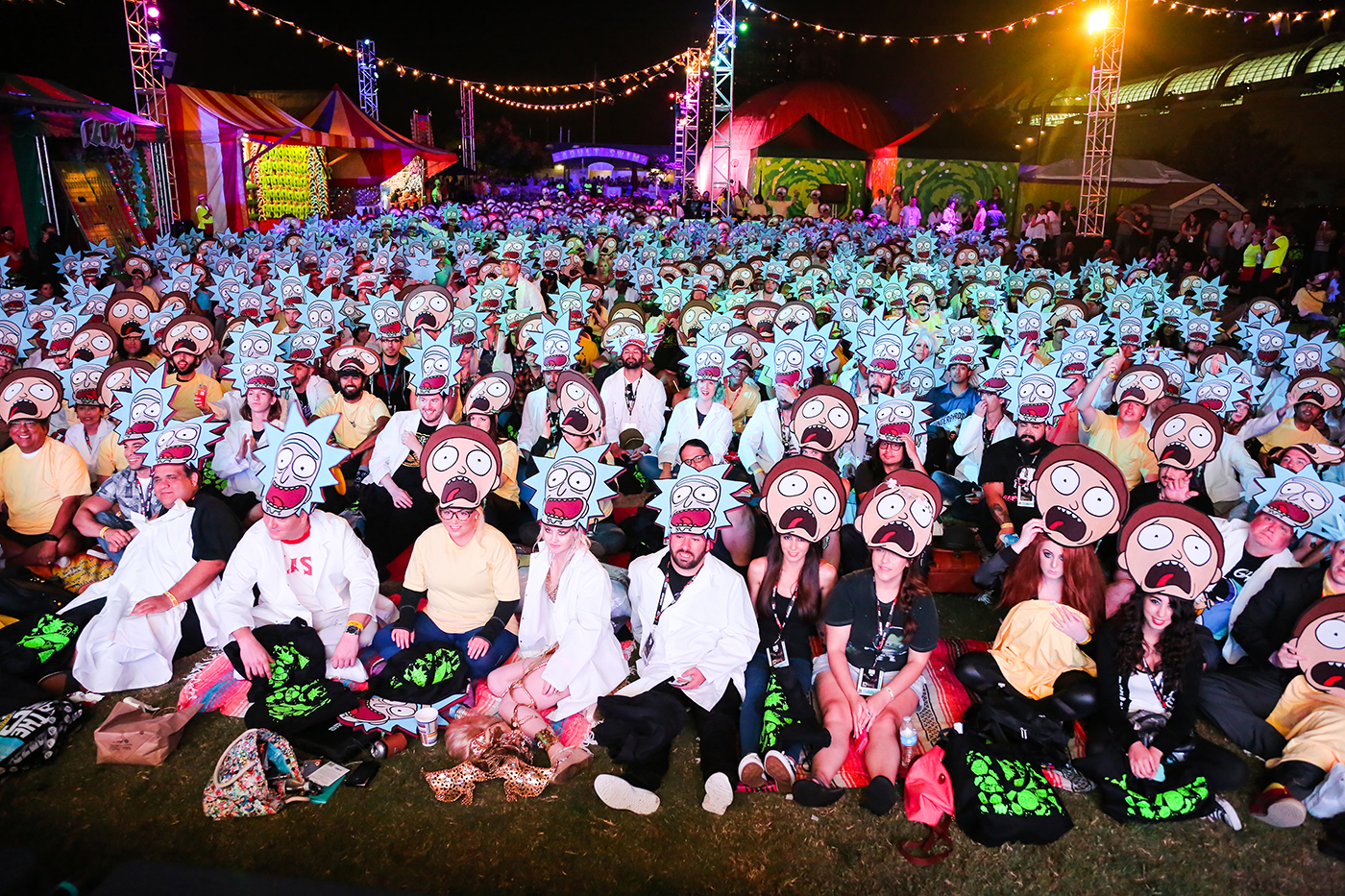 The wait is finally over – Adult Swim is back at San Deigo Comic-Con this year with their Adult Swim On the Green Experience, which features free games,  activities, tons of giveaways, live-streaming, and more.
The free, fun offsite located right behind the convention center at 5th Avenue Landing and Convention Way will be open daily from Thursday, July 20 – Sunday, July 23 from 1PM-6PM. Come relax on the back of a ferocious beast gallivanting through It's A Fish Hole, get a six-minute mind massage from the upgraded Meatwad Dome 4D Experience (because it's not a Comic-Con without the Meatwad Dome!) – now with motion seats, or visit the oversized Claw Machine sponsored by State Farm, which dispenses endless goodies geared towards maximizing the Con experience. This year's green also features all-new games, friends, prizes, fun, streams (of the live variety), motorized animals, a tarot card reader, dart throwing, and a must-have on the sun-drenched bay – shade. It's a live choose-your-own-adventure in real life and all events are free for those that are 18+. And, just like in previous years, you can sign up now to fast-track your entrance and RSVP.
When the sun goes down, fans can come and unwind with free screenings. Nighttime is the right time to stare into the future at Adult Swim's Nighttime on The Green with screenings featuring the latest series and pilots from 8PM-10PM, and the lineup starting at 7PM. On Thursday night, you can enjoy Toonami Pre-Flight, previewing behind-the-scenes content of our popular anime programming block alongside hosts Jason DeMarco, Gill Austin, Steve Blum (Voice of TOM), and Dana Swanson (Voice of SARA). On Friday, the unknown will be revealed at "Things You've Never Seen," a night of specials and original pilots, brought to fans by SNICKERS. Blankets, chocolate and surprises provided!
And for fans of Rick and Morty? Old Spice is bringing fans a special evening featuring creators Dan Harmon and Justin Roiland at Petco Park on Saturday, July 22 from 7:30PM-11PM – where they will also be answering questions. For even more Rick and Morty goodness, the custom mobile pop-up shop The Rickmobile will be "rolling all over San Diego all week long" with exclusive Rick and Morty merch.
New this year, AdultSwim.com will be live broadcasting your favorite streaming shows, including FishCenter, Stupid Morning Bullshit, Williams Street Swap Shop, Development Meeting, and more all from Adult Swim On the Green. Celebrity guests will be stopping by throughout the convention to chat all weekend long. The streams will be live from Thursday – Saturday 1PM-6PM, and 8PM-10PM – as well as Sunday from 12PM-5PM.
On Friday, State Farm helps the Williams Street Swap Shop host give a VIP experience to a few lucky fans during a special live streamed episode. SNICKERS will sponsor a live stream of FishCenter, which will include a custom segment of "Coin Quest," where the fish will swim through branded, superimposed graphics to win points as the hosts comment on all the action.
Adult Swim is also joining forces with SNICKERS to unveil a fleet of vehicles wrapped with custom artwork from our hit streaming show FishCenter. The cars will be deployed throughout the Gaslamp district as part of our Free Rides Program on Thursday-Sunday from 11AM-7PM – so sit back and relax, as passengers will be able to snack on SNICKERS Crisper bars and experience the best of Adult Swim content via rear headset monitors. But before you grab a ride, don't miss the State Farm branded prize cycles that will be rewarding con-goers with free swag throughout the Gaslamp.
Additionally, Adult Swim will be doing autograph signings both at the WB booth and at Adult Swim on the green. For the offsite autographs, a limited number of wristbands will be given out on The Green the day of the signing – and are first come/first serve. Here's a look at their signing schedule:
FRIDAY, JULY 21
1:30 p.m. – 2:00 p.m. Mike Tyson Mysteries
Warner Bros. Booth (#4545)
SATURDAY, JULY 22
12:00 p.m. – 1:00 p.m. Rick and Morty
Adult Swim on The Green
1:30 p.m. – 2:30 p.m. Robot Chicken
Adult Swim on The Green
3:00 p.m. – 4:00 p.m. The Jellies!
Adult Swim on The Green