We've got a whole calendar full of events and offsite installations happening around San Diego Comic-Con, but there's still so much more to come.  Comic-Con International has just unveiled tons more happenings around the Gaslamp.
As we reported previously, Amazon (with The Tick Takeover), The Her Universe Fashion Show, The Netflix Experience, and Kong: Skull Island all head to the convention. New announcements include the return of FXhibition (this year with a Legion Mixed Reality Experience, an Atlanta Shop Shot, and some American Horror Story offerings), as well as a Vikings Funeral (be on the lookout for a clan of warriors on Friday), and AMC's "DeadQuarters" (the official fan zone of The Walking Dead and Fear the Walking Dead).
There are a whole lot of other offerings, which you can read about below — but notably absent is details on The Nintendo Lounge, which we know is returning. Also not listed is the Xbox Lounge, which as we reported earlier, won't be happening this year.
Here's the full post, from Comic-Con International's Toucan Blog: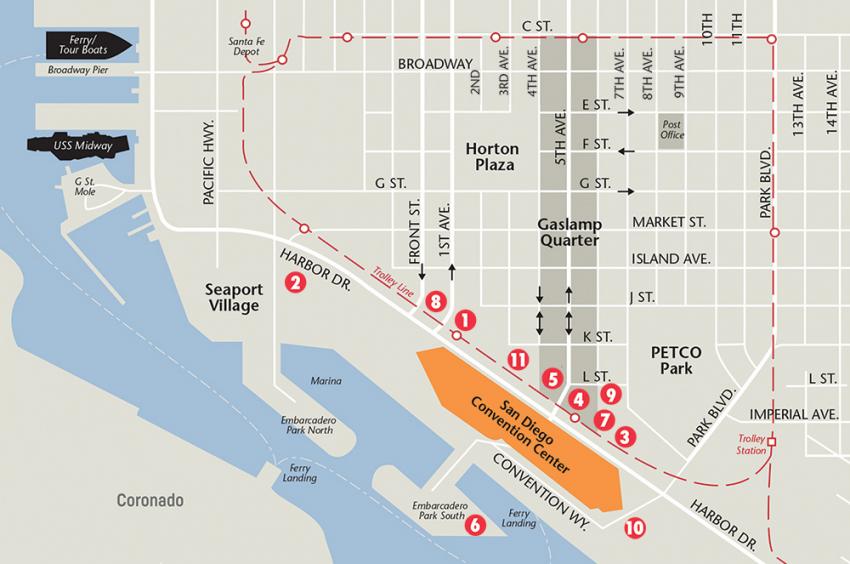 1. Amazon Prime Presents: The Tick Takeover
Every hero must face their destiny. Are you ready to face yours? Embark on a multi-room immersive experience that brings the world of The Tick to life! Whether you're in the mood for an action-packed adventure or you'd rather relax, charge your phone and stream, Amazon Prime's The Tick Takeover has you covered. Join us for custom created promotional items, unique photo takeaways, an interactive 20-ft. animatronic Tick head and an overall experience that's sure to be NEAT!
WHERE Corner of 1st Avenue & Martin Luther King Promenade
WHEN: Thu., Fri., Sat., 7/21–7/22: 9:00 AM–6:00 PM • Sun., 7/23: 9:00 AM–5:00 PM
2. The Her Universe Fashion Show
The fourth annual Her Universe "Geek Couture" Fashion Show, hosted by actress and Her Universe founder Ashley Eckstein, returns to Comic-Con International on July 20 at 6:00 PM at the Manchester Grand Hyatt Hotel in the Harbor Ballroom on the Second Level. This year, 26 designers will compete for a chance to win the opportunity to co-design a fandom inspired fashion collection with Her Universe to be sold exclusively at leading pop culture retailer, Hot Topic. Don't miss this must-see event!
WHERE: Manchester Grand Hyatt Hotel, Harbor Ballroom, Second Level
WHEN: Thursday, 7/20 at 6:00 PM
3. Knightfall on HISTORY Presents: Guardians of the Gear
The Holy Grail is the most sought-after treasure in history, requiring the constant protection of the legendary Knights Templar. At Knightfall: Guardians of the Gear, Comic-Con badge-holders are invited to store their personal treasures under the same protection: the watchful eyes of the templar knights. Stop by to store your swag and steal a glimpse of the elusive Holy Grail.
WHERE: Along MLK Promenade near the Omni Hotel and Petco Park
WHEN: Thu.-Sat., 7/20–7/22: 11:00 AM–7:00 Pm • Sun., 7/23: 11:00 AM–5:00 PM
4. NBC's Midnight Texas
Don't miss NBC's interactive outdoor experience, where fans can take a supernatural journey into the dark, thrilling town of Midnight, Texas! Enjoy a 4D experience guaranteed to ignite all your senses. Open Thursday through Sunday, located across from the Hard Rock Hotel near the Tin Fish restaurant.
WHERE: Gaslamp Square next to Tin Fish Restaurant
WHEN: Thu. & Fri., 7/20 & 7/21: 11:00 AM–7:00 PM • Sat. & Sunday, 7/22 & 7/23: 10:00 AM–6:00 PM
5. The Netflix Experience
Step into the world of Netflix at the Hilton Gaslamp for a one-of-a-kind experience with a sneak peak of upcoming original films and series, exclusive giveaways, and more! Visit the Upside Down with Stranger Things,get immersed into the world of the new film Bright, and dive into the streets of New York City with the Defenders.
WHERE: Hilton Gaslamp Hotel
WHEN: Thu.–Sat., 7/20–7/22: 11:00 AM–8:00 PM • Sun., 7/23: 11:00 AM–3:00 PM
6. Vikings Funeral
An event to honor Ragnar Lothbrok and other beloved characters who have recently risen to Valhalla: Be on the lookout Friday afternoon for a clan of warriors from the hit series Vikings on HISTORY. They'll carry the corpse of a fallen warrior through the Gaslamp Quarter to his funeral, from Noon to 5:45 PM. The funeral ceremony will then commence at 7:00 PM in Embarcadero Marina Park South, featuring an appearance by the cast and a burning 45′ Viking longship in the bay!
WHERE: Embarcadero Marina Park South
WHEN: Friday, 7/21: Ceremony Starts at 7:00 PM
7. Kong: Skull Island
Warner Bros. Home Entertainment and Legendary invite you to experience firsthand the primordial wonders of Kong: Skull Island. The MonsterVerse comes to life as fans get to visit a Monarch Containment Zone which houses the gigantic bones of Kong's ancestors, enter the Iwi temple to uncover the ancient secrets of Skull Island, and navigate the beast-infested jungles of the island for a close encounter with the mighty Kong himself!
WHERE: Behind the Omni Hotel on MLK Promenade
WHEN: Thu.–Sun., 7/20–7/23: 8:30 AM–7:00 PM
8. Cartoon Network Character Balloons
Come see your favorite Cartoon Network characters in a way you've never seen them before—flying above the Children's Museum Pool! Can you find them all?
WHERE: Martin Luther King Promenade, between Front St. and 1st Ave.
WHEN: Wed., 7/19: 5:00 PM through Sunday, 7/23: 5:00 PM
9. The Futurism & Tech Pavilion
The Futurism & Tech Pavilion is excited to show off the latest in tech and innovation at this year's Comic-Con. Augmented Reality takes center stage with the exclusive launch of Mira Lab's new headset, accompanied by some exciting new content. We have a wide range of Virtual Reality with incredible companies providing it: Survios' Raw Data, VR Werx' Paranormal Activity, Steel Wool's Mars Odyssey, Project Cars from Bandai, Star VR's John Wick, The Power Rangers presented by Qualcomm, Arcslinger from Big Red Button, something cool from Framestore (The Avengers and Fantastic Beasts and Where to Find Them), VR cubes courtesy of Exit VR, Augmented Reality, as well as mixed reality and 360 domes courtesy of FulldomePro (a relaxing way to enjoy fully immersive entertainment). Sega is presenting an AR Sonic experience and a special concert with the awesome Shota Nakama on Thursday evening, and dome takeover on Friday! We welcome the "A.I. Innovation Fair "with its focus on artificial intelligence, sustainable tech and advanced robotics; Hanson Robotics will be sharing Einstein and their remarkable ground-breaking robots. With more than 9,000 square feet of futurism and cutting edge innovation and immersive entertainment, the Futurism & Tech Pavilion hosted by VRCon is a must-see event at Comic-Con 2017!
WHERE: Omni San Diego Hotel, Grand Ballroom, 4th Floor
WHEN: Wed., 7/19: Developer & Public Preview, 6:00–9:00 PM • Thu.–Sat., 7/20-7/22: 9:30 AM–7:00 PM • Sun., 7/23: 9:30 AM–5:00 PM
10. FXhibition 
This Summer, FX bends the boundaries of Comic-Con's reality and invites fans to enter FXhibition 2017. Visitors will immerse themselves in the mind-altering world of Legion in the Sessions Mixed Reality Experience, suspend the rules of normal in the Atlanta Shop Shot, and succumb to the twisted terror of American Horror Story as they stare deep into the hypnotic AHS Zoetrope.
WHERE: Hilton San Diego Bayfront Lawn, 1 Park Blvd.
WHEN: Thu., 7/20: 12:00–6:00 PM • Fri., 7/21: 10:00 AM–6:00 PM; Evening Programming: 8:00–10:00 PM •Sat., 7/22: 10:00 AM–6:00 PM • Sun., 7/23: 10:00 AM–2:00 PM
11. AMC's DEADQUARTERS
Don't miss AMC's DEADQUARTERS, the official fan zone of The Walking Dead and Fear The Walking Dead at Comic-Con International. Located directly across from the Convention Center (just off 4th Ave.) and open daily Thursday-Sunday. Stop by and test your swing at the Negan Batting Cages, score a chance to meet cast members, and so much more!
WHERE: Martin Luther King Promenade, in front of the Hilton Gaslamp Hotel (4th Ave. and L St.)
WHEN: Thu.–Sat., 7/20-7/22: 11:00 AM–6:00 PM • Sun., 7/23: 11:00 AM–4:00 PM