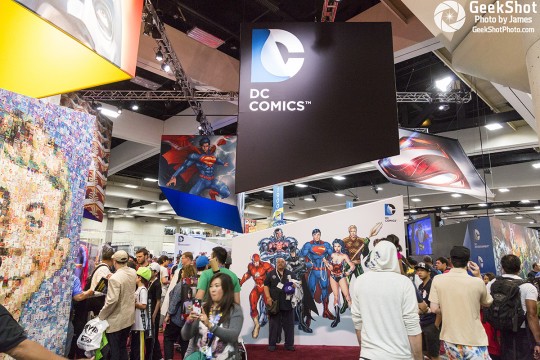 DC Comics is a perennial must stop destination on the exhibit floor of San Diego Comic-Con. That looks to continue in 2017 as DC offers a plethora of events, signings, exclusives, prop and product displays, and activities for fans. Including for the first time ever, live broadcasts straight from the booth. Here's what you'll find at the DC booth (#1915) this year.
Likely to be the biggest single event at the booth, or possibly the whole con, will be the cast of Justice League signing on Saturday. In addition there will be costumes and props on display all weekend from the upcoming Warner Bros. film.
For the first time DC All Access will broadcast live from the booth on Thursday and Friday once every hour during the convention. DC All Access Live will feature interviews, breaking news, and highlights from around the con as it happens.
Also on display will be an array of never before seen products and collectibles, including DC Collectibles new DC Artists Alley series of vinyl statues. The interactive green screen returns and will let fans pose with backgrounds featuring a wide range of DC characters from DC Universe: Rebirth, Batman: The Animated Series, DC Super Hero Girls, the Justice League movie cast and a surprise reveal on Friday. You can also be there for cosplay meet ups every day of the convention. For gamers, DC is hosting a tournament for Injustice 2 on stage Thursday, Friday, and Saturday at 6PM. And don't forget Graphitti Designs will have exclusive variant comics on sale right next door at booth #2314.
Not only can you experience all these events and displays, but there will be appearances and autograph sessions with comic artists and writers nearly every hour of the con. You can find all the signings we know about on our Announced Autograph and Signing page.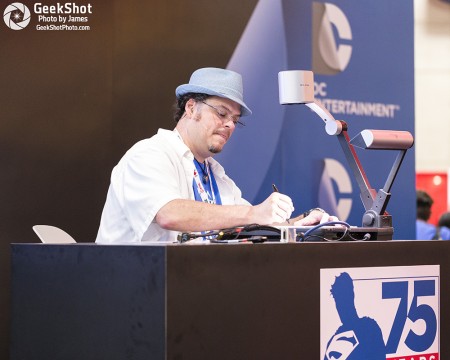 If you can't make it to the booth, want to see behind the scenes coverage and interviews from DC All Access, or would like more information on DC panels and their schedule of signings, check out their mobile app. (Apple App Store) (Google Play Store)
What are you looking forward to most at the DC Booth? Let us know in the comments.