We're now 33 days away from San Diego Comic-Con, and signs that the convention are just around the corner are starting to pop up, starting with the San Diego trolleys, which have just received their annual makeover.
[UPDATE July 11]
The final trolley wrap is now up — and it's for Syfy's Live From Comic-Con, the three-night extravangza being hosted by Zachary Levi.
From Cool San Diego Sights, here's a look: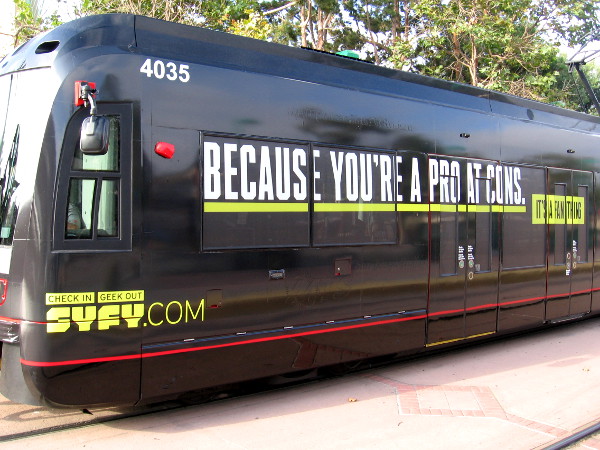 [UPDATE June 29] Another new trolley wrap has appeared on the street — this time for ABC's The Crossing. The new series, about refugees in a war-torn country who seek asylum in an American town — 250 years in the future — stars Steve Zahn, Natalie Martinez, Sandrine Holt, and Tommy Bastow. Again, while it's possible that it won't be at Comic-Con with a panel, the fact that it's on the trolley is a pretty good indication.
From Cool San Diego Sights, here's a look:
[UPDATE June 23] We have a new trolley wrap! FOX has taken (at least) two trolley spots this year, with their second wrap dedicated to The Gifted, the upcoming X-Men mutants series debuting this fall. The trolley says "Mutant Transport" and "Sentinel Services" – and we're still hoping to get some of the street teams of Sentinel Services agents and vans that were roaming the Upfronts back in May. While this doesn't completely guarantee a panel presence – it was already very likely to attend, and this should pretty much lock its status.
Thanks to reader Rob Bishop, here's a look at the trolley:
@SD_Comic_Con @OutsideComicCon new wraps for "The Gifted" pic.twitter.com/1AnResH00b

— Sex Luger (@RobBishopSD) June 23, 2017
And here's a closer look, from Cool San Diego Sights:
[UPDATE June 18] It looks like another trolley is wrapped, and this time it's for Conan. As in the past couple years Comic-Con themed Conan Funko Pop!s are once again rolling on the trolley. This also gives us a first look at the four Funko Pops (Spider-Man, The Flash, White Walker, and a Jedi) that we can expect to be given out at the Conan shows. Here is a video of the Conan wrap from Curtis S on Instagram:
https://www.instagram.com/p/BVfFit5lg6Y/
[Previous] This year, the San Diego Metro Transit is wrapping more trolleys than ever for the convention – a record-breaking 36. While there won't be quite that many different designs, the first wrap to hit the street is for the upcoming FOX series Orville. SDMTS shared this image of the first trolley wrap:
First @Comic_Con Trolley wrap about to hit the rails and looks great! @TheOrville pic.twitter.com/LrgqCSKy9B

— San Diego MTS (@sdmts) June 16, 2017
While this doesn't guarantee an appearance for either show, it strongly suggests one. Previous trolley wraps have included Marvel's Agents of S.H.I.E.L.D., Son of Zorn, Gotham, Conan, Scream Queens, and more — all of which have had a presence at SDCC. And Orville seems ready-made for San Diego Comic-Con: The 13-episode dramedy comes from frequent FOX collaborator and SDCC favorite Seth MacFarlane, is set 300 years in the future, and follows the adventures of Orville (MacFarlane) and a motley crew of space explorers.
What will be the next trolley wrap? Let us know your guess in the comments.