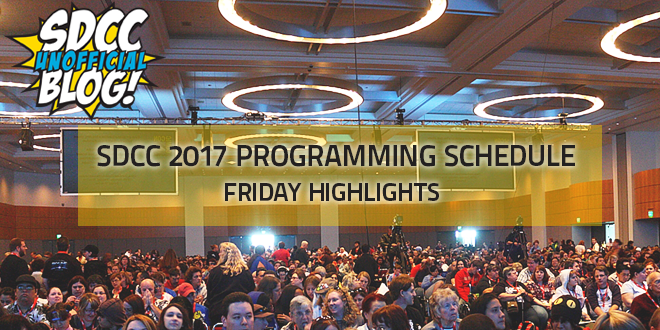 It's two weeks away from Comic-Con, and CCI is releasing the programming schedule for Comic-Con 2017 in its annual fashion. We'll be bringing you the highlights of each day as they're announced.
We'll also be discussing our thoughts on this year's lineup, including our top picks, in a special series of live podcasts this weekend. The first of which will cover Preview Night, Thursday's and Friday's lineup, and will be on Friday July 7 at 9:30PM ET/6:30PM PT (which is tonight!)
With that said, let's dive right into Friday.
If you were hoping for any last-minute, big Hall H movie announcements today — you are squarely out of luck. Hall H is all TV, all day, on Friday — with previously announced panels for The Big Bang Theory, Fear the Walking Dead, The Walking Dead, Game of Thrones, Twin Peaks, Preacher, and Marvel's The Defenders. It may be TV, but this is still going to be a rough day to get into the hall, with that much awesomeness — so plan accordingly.
There are still some interesting movie-related panels, though, like a Vulture-hosted chat with Arrival's screenwriter Eric Heisserer in Room 29AB at 6PM, and the screening of the first ever Russian superhero film Major Grom at 9PM in 23ABC (and you get a free art book for attending!).
On the non-Hall-H-TV side of things, attendees can look forward to an awesome day of programming in Ballroom 20. Things kick off at 10AM as Psych heads back to its Ballroom 20 home for a reunion and a sneak peek at the upcoming Christmas special, followed by iZombie and The 100. Then at 1:45PM, it's Entertainment Weekly's annual Brave New Warriors Panel (this year with actors David Harbour, Christopher Meloni, Colin O'Donoghue, Richard Rankin, Rodrigo Santoro, and Ricky Whittle), and a "TBA" Syfy panel that we're very curious about. After that, it's The Gifted for an exclusive "extended" sneak peek at the FOX Marvel series, Outlander, and the world premiere of the hotly anticipated Batman and Harley Quinn animated feature. That's an insanely packed day, full of some awesome offerings for TV fans.
There's plenty of other TV around the rest of the convention as well. Vikings is over in 6BCF. In 6A, you can find panels for Teenage Mutant Ninja Turtles, Hey Arnold!, DuckTales, The Tick, People of Earth, and more (as well as an exclusive premiere of a new Twin Peaks episode at 10PM). The annual Cartoon Network/Adult Swim takeover of Indigo Ballroom returns with everything from Steven Universe to Robot Chicken and Rick and Morty. There's also Archer and Bob's Burgers in Indigo as well. And while we're not getting a real Sense8 panel this year, we always recommend series co-creator J. Michael Straczynski's annual Spotlight panel, as it's both fun and informative (and sometimes he is late because he tackled a mugger, like a real life superhero).
For fans of comics, Friday is a very strong day – with the biggest news clearly being that Gerard Way is back at the con this year, to talk about his  DC Imprint Young Animal in 5AB at 5:30PM. You can also get the latest news on Marvel's big crossover in Marvel: Secret Empire at 12:30PM in 5AB, or hear Watchmen's Dave Gibbons talk about his work for an hour in Room 4 at 3PM. Come find out more about the new comic book imprint Apex Comics in a panel that includes Fabian Nicieza, Tim Walsh, and more at 6:30PM in Room 5AB. Join Stan Lee and some extra special friends (including Felicia Day and Adam Savage) as they recount the icon's legacy at 12:30PM in 6DE.
Then there's the DC Universe Rebirth panel in 6DE at 11:15AM for a look at the biggest thing in comics right now, as well as a Vertigo creator spotlight focused on John Ridley "with a few huge surprise guests" later in the same room at 3PM. Jim Lee returns with his (mostly) annual "How-To-Draw" at 4:30PM in Room 2, and we highly recommend swinging by. Comics legend Adam Hughes will also be holding a How-to-Draw session at 3PM in Room 2, just before Lee.
Fans of toys are definitely going to want to check out the Star Wars Collectibles Update in 7AB. You can also find updates on Hasbro's My Little Pony and Star Wars lines, plus the annual Simpsons Collector Group.
Catch up with some of your favorite childhood writers (including R.L. Stine) in 23ABC at 4PM, or celebrate 30 years of Street Fighter in 6BCF with "some fun and games" — plus Yoshinori Ono at 1:45PM in 6BCF. You won't want to miss the annual Geek & Sundry panel in 5AB at 2:30PM as founder Felicia Day brings her friends along to talk all things geeky and sundry. There's also "An Hour with Adam Savage" in Room 5AB at 7:30PM that seems like it's in entirely too small a room.
We also recommend you check out the Cards Against Humanity panel in 6A at 7:15PM for an inside look at the greatest/worst card game ever, and the Buffy the Vampire Slayer Art Department Reunion in 29AB at 7PM to celebrate the series and also learn more about how it was made. Fans of Shonen Jump should head to 5AB at 3:30PM for Boruto voice actors, announcements, prizes, and more.
You can view the full Friday programming schedule on the MySched website.
What will you be lining up for on the first full day of Comic-Con? Let us know in the comments.