Parks and Cons
is on the ground to catch it.
[UPDATE #14] 
Night has fallen, but that's not stopping us from giving you a look at the progress of the Knightfall, Mr. Robot, Game of Thrones (RFID slap bracelets!), and Ninjago (beach towels!) offsites:
[UPDATE #13] 
The Cartoon Network
Steven Universe
balloons are up and bit more is done for Syfy at the New Children's Museum:
[UPDATE #12] 
Here's a better look at the facade for the 
LEGO Ninjago
"Ninjoga" workout space: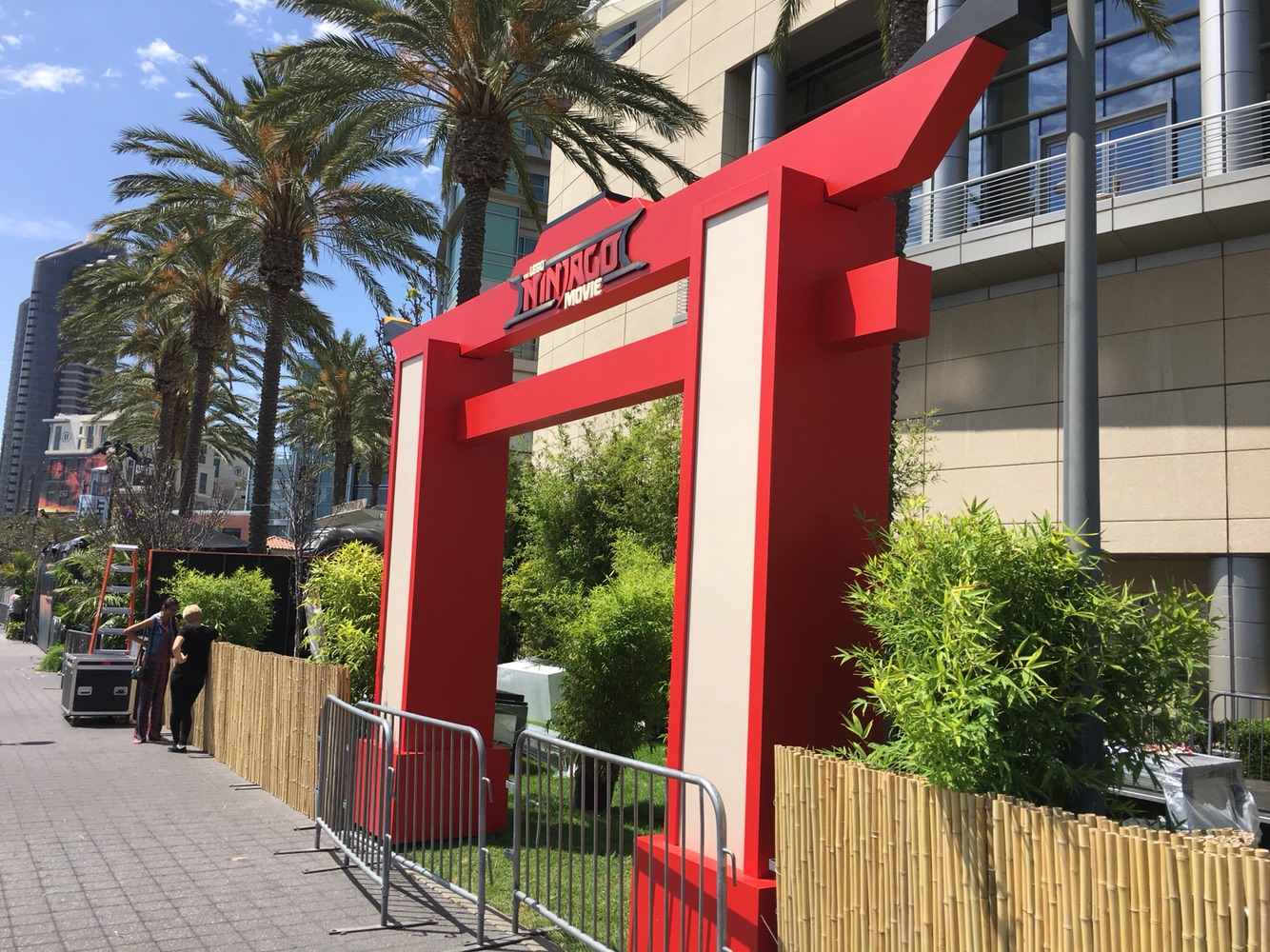 And here's a look at what surely must be the 
Knightfall
offsite, where they will helpfully store your swag in storage lockers for you within their fortress:
[UPDATE #11]
 The 
Mr. Robot
offsite is quickly coming together — with signage out now for both a Mr. Robot computer shop that looks run down, and the Red Wheelbarrow BBQ.
[UPDATE #10] 
As if the line for the 
Game of Thrones: Winter Is Here
 offsite wasn't long enough already. The experience — across from the Omni hotel — is where fans can enter through a "winterized" entrance and register with their own Dragonglass RFID wristband that will capture each touch point of a fan's journey throughout the activation, producing individual links with ready-to-be-shared pieces of content. The journey will take fans through Winterfell, Dragonstone, King's Landing and North of the Wall. Every guest that goes through the experience will be given a custom SDCC Night King Funko Pop! Figure, a t-shirt featuring the Night King key art, and an exclusive Robert Ball Episode 701 mini-post. But what exactly did they mean by "SDCC Night King Funko Pop!"? Well, looks like attendees are getting the Conan version, as we spotted some boxes: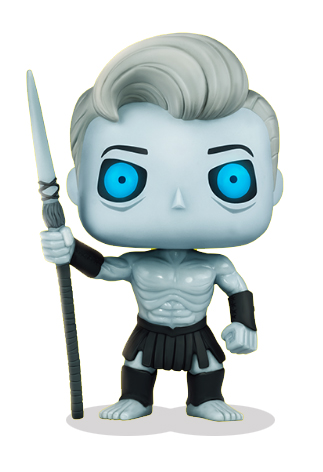 [UPDATE #9] 
We're pretty sure we've discovered what the little area over by Dick's Last Resort (RIP) is. There are now signs up identifying it as Syfy — and, given that it looks serene and very un-Comic-Con-like, surely means that this is where Orlando Jones will be marrying people during the con! Here's a look:
Mr. Robot
sign up over by that offsite, though more work still needs to be done:
[UPDATE #8] 
More overlay work on the Hilton Gaslamp for The Netflix Experience is done now: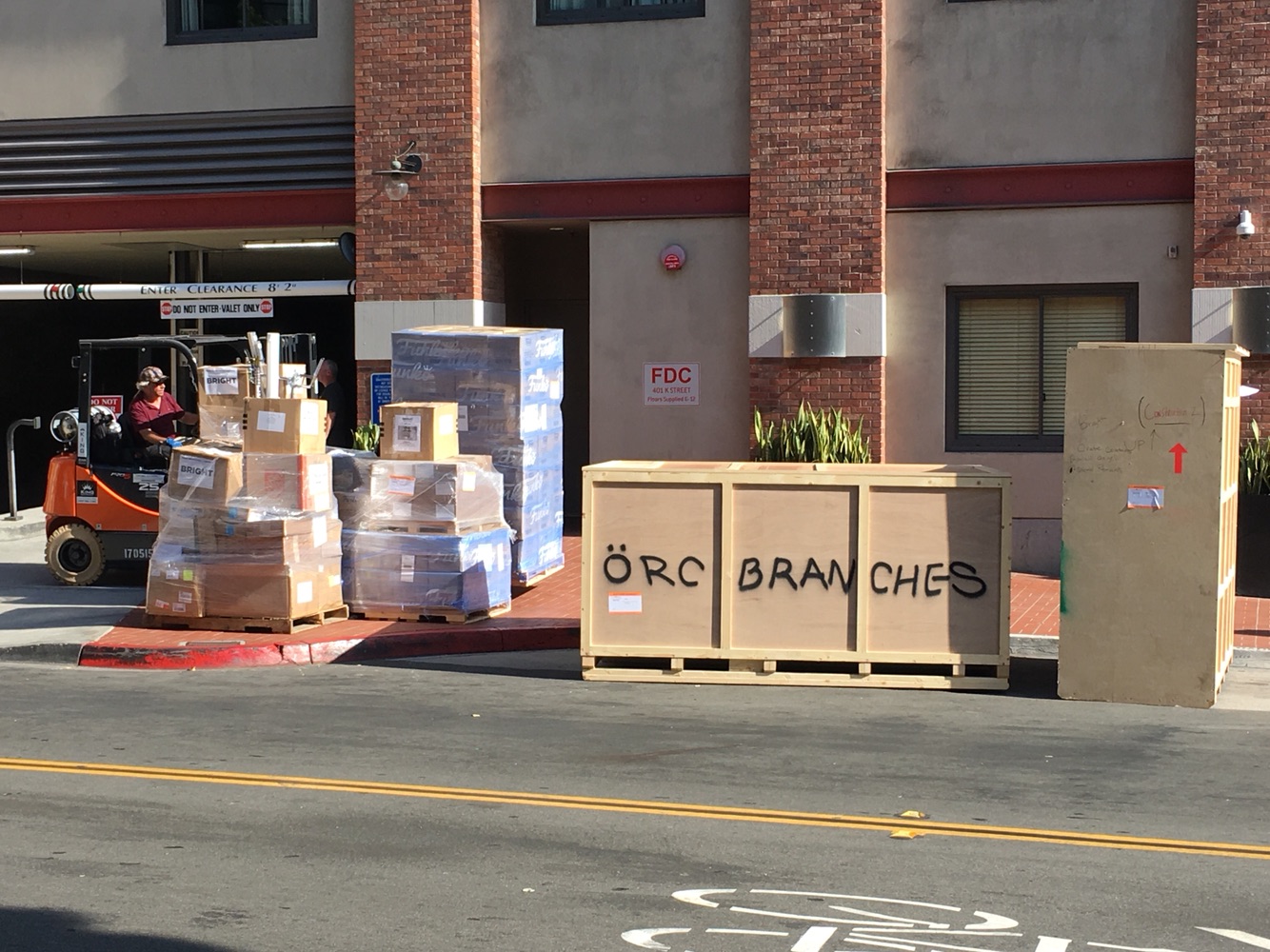 We also spotted what appear to be 
Stranger Things
bicycles and perhaps an Upside Down portal?
[UPDATE #7]
Peanuts Worldwide is bringing their Snoopy & Belle in Fashion exhibit to San Diego Comic-Con this year. The exhibit, which features more than 40 pairs of dolls of Snoopy and his sister Belle decked out in iconic fashions from the ages, will be hosting a special Peanuts pop-up store back to the Bubbles Boutique (226 Fifth Avenue) in the Gaslamp beginning on Thursday, July 20. Here's a look at the construction on the pop-up site:
[UPDATE #6]
Ninjoga — 
LEGO Ninjago
inspired yoga — located near the 
Kong: Skull Island
offsite, is also coming together. The area, which is located in the small park area near the Omni, has an ancient Asian-style overlay on it. Those looking for a good strech can stop by each morning at 10AM for a chi/yoga workout.
[UPDATE #5]
Work has started on the 
Mr. Robot
offsite, which includes not only a Bank of E, but also a Red Wheelbarrow restaurant where you can redeem a free BBQ lunch with your Bank of E card.
[UPDATE #4]
Here's a closer look at some of the wrap work on the Hilton Gaslamp, where The Netflix Experience offsite will be taking place:
[UPDATE #3] 
While Parks and Cons is busy at D23,
Outside Comic-Con
has taken over on-the-ground duties – and there's a lot going on! First up, things are slowly starting to come together over at the Tin Fish, which will be transforming into NBC's 
Midnight, Texas
.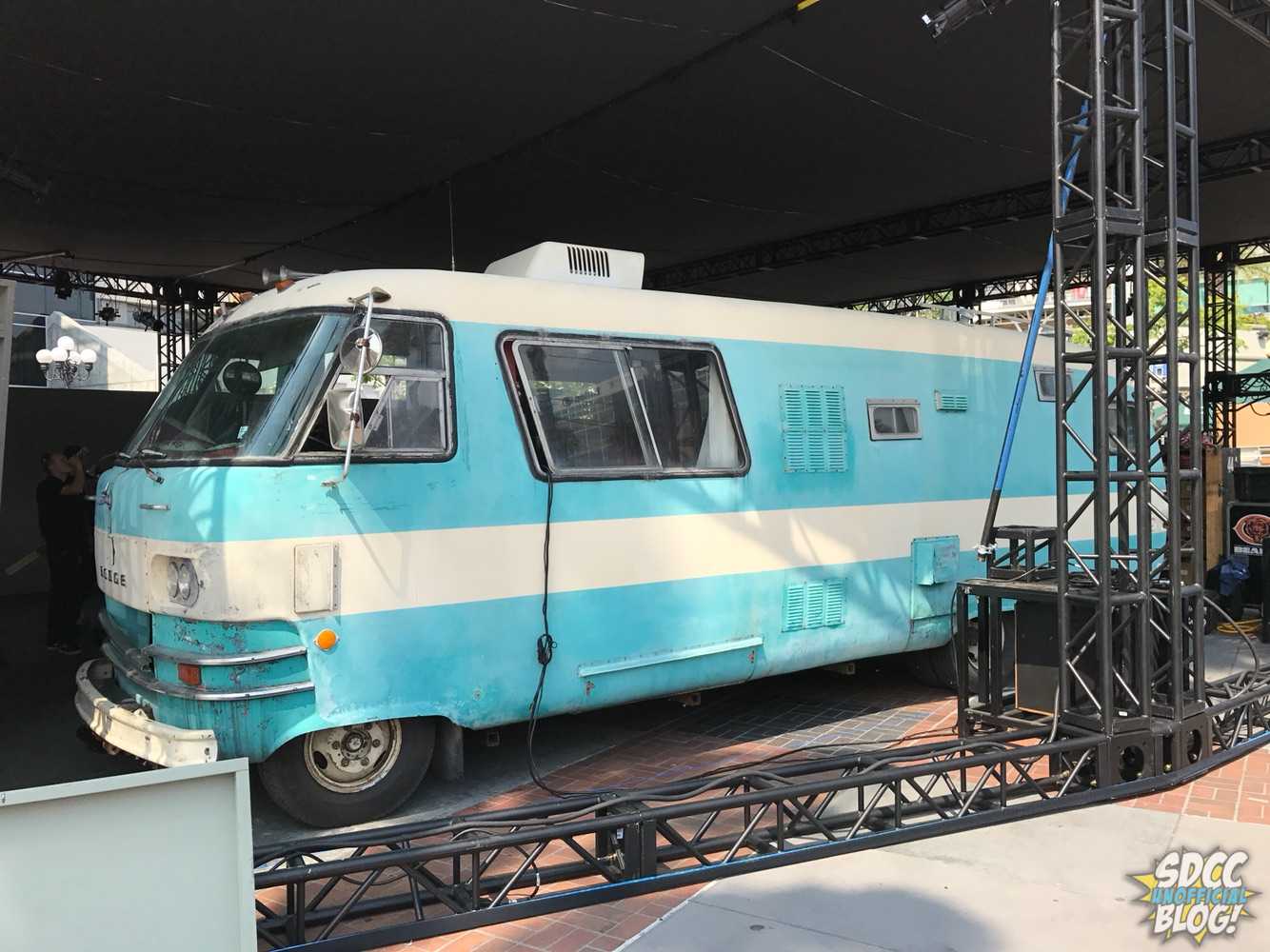 For anyone looking for free rides – 
Mr. Mercedes
will have cars in the Gaslamp offering them: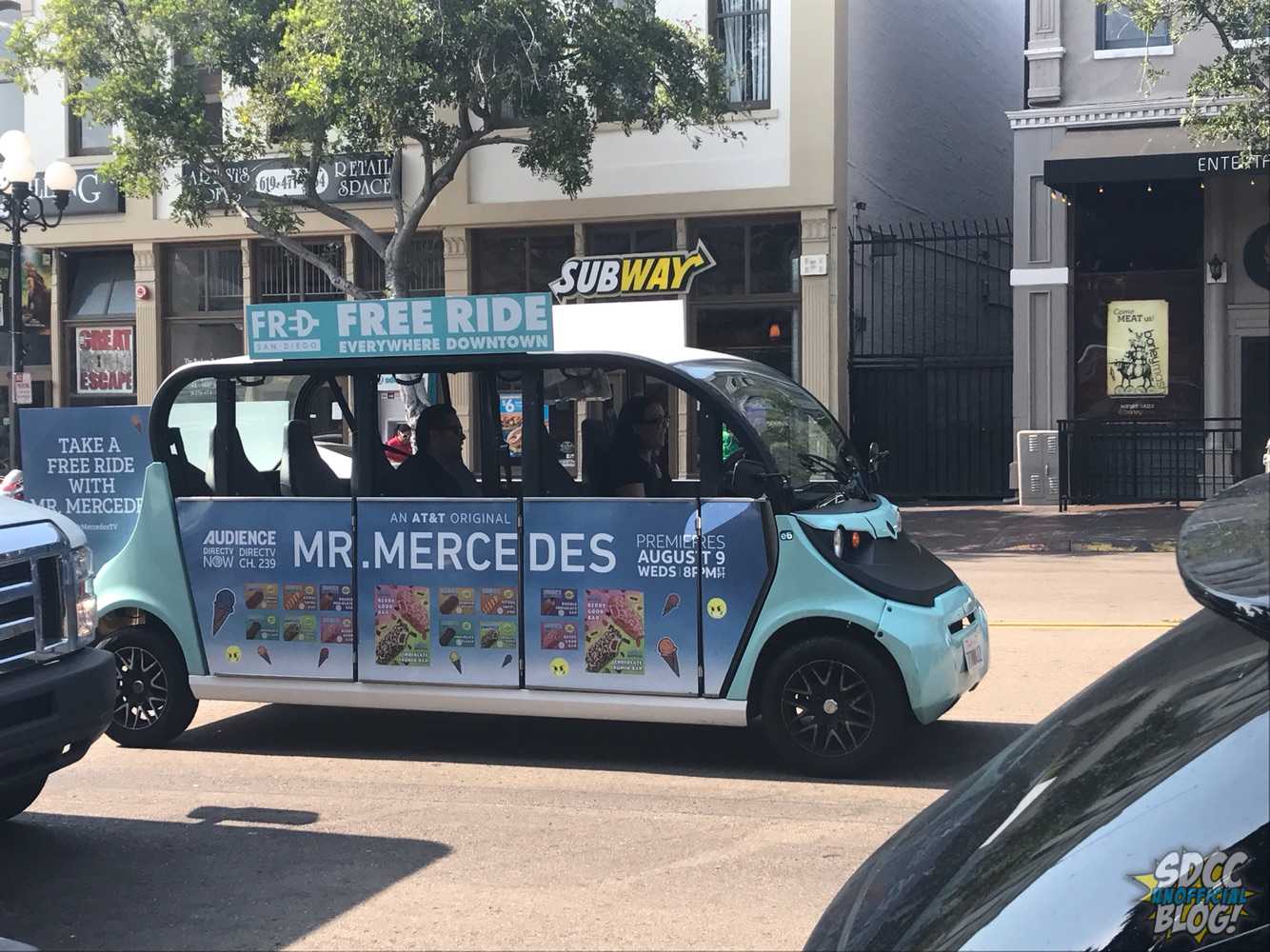 For 
The Tick
Takeover in the MLK Promenade, the exterior work at least is pretty much complete: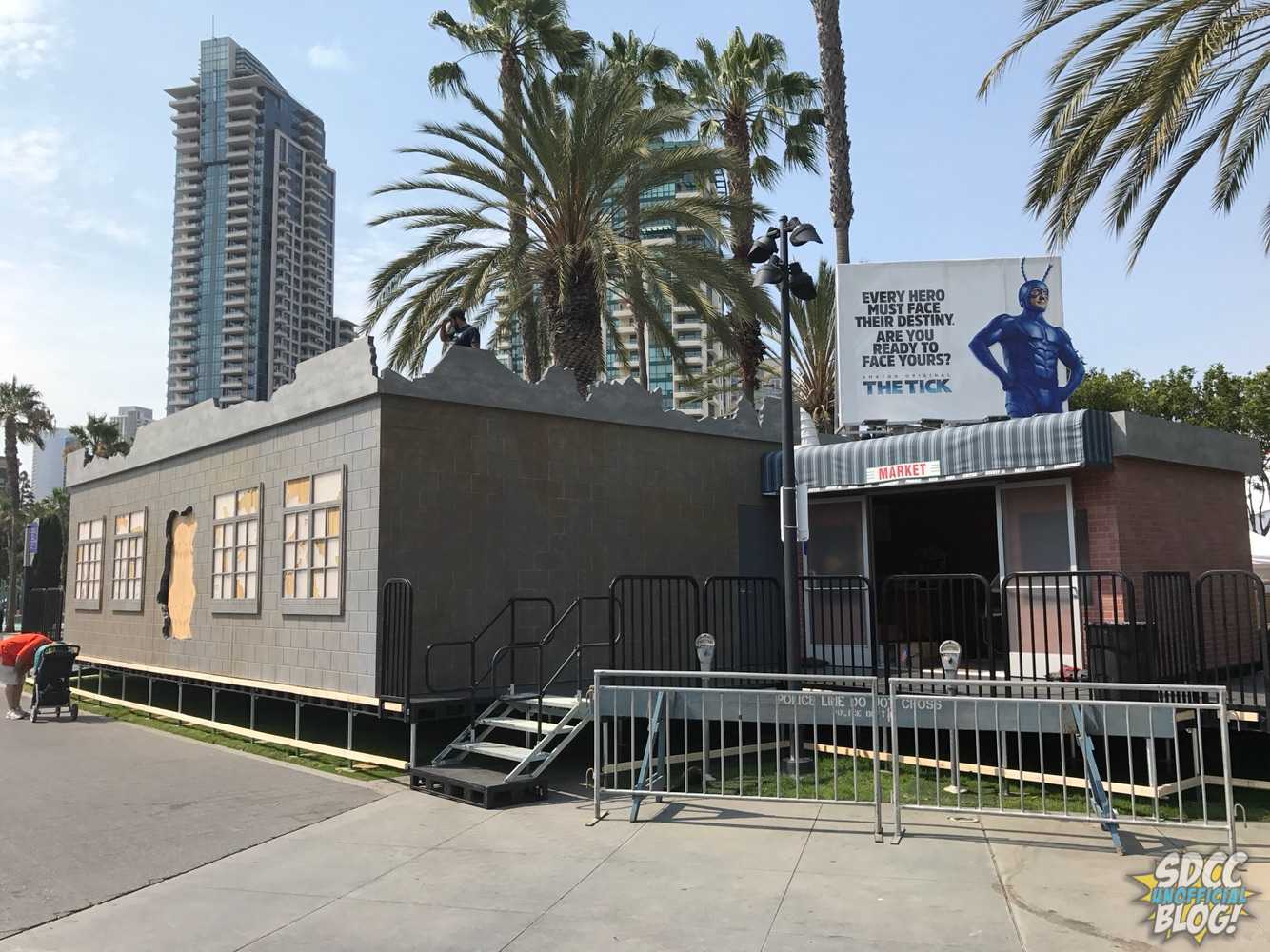 Then, in the rest of the Gaslamp, Netflix is taking over with lots of banners for 
Bright
, 
Stranger Things
, and 
Marvel's The Defenders
.
Wrecked
Pop-Up Island is already in full swing: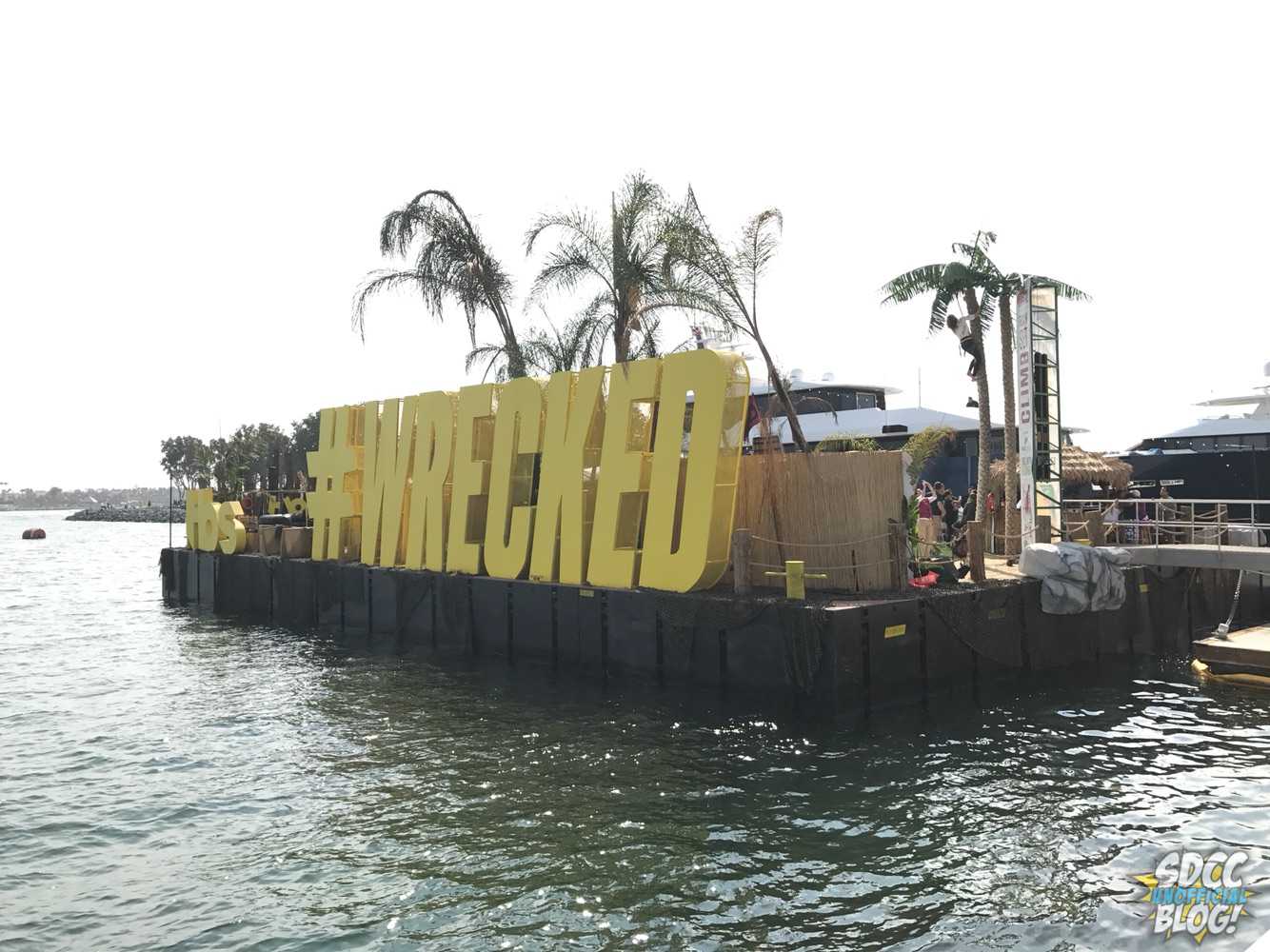 And finally, what's going to be on the front of the Marriott Marquis & Marina? 
People of Earth
,
with the same BOOP. artwork that's over at the airport
. For anyone disappointed that it isn't
Conan
again, we've heard to make sure you tune 
back
in. As in, to the back of the Marriott. Look, Comic-Con is in four days, our puns are not great right now, okay? Here's a look at the in-progress work: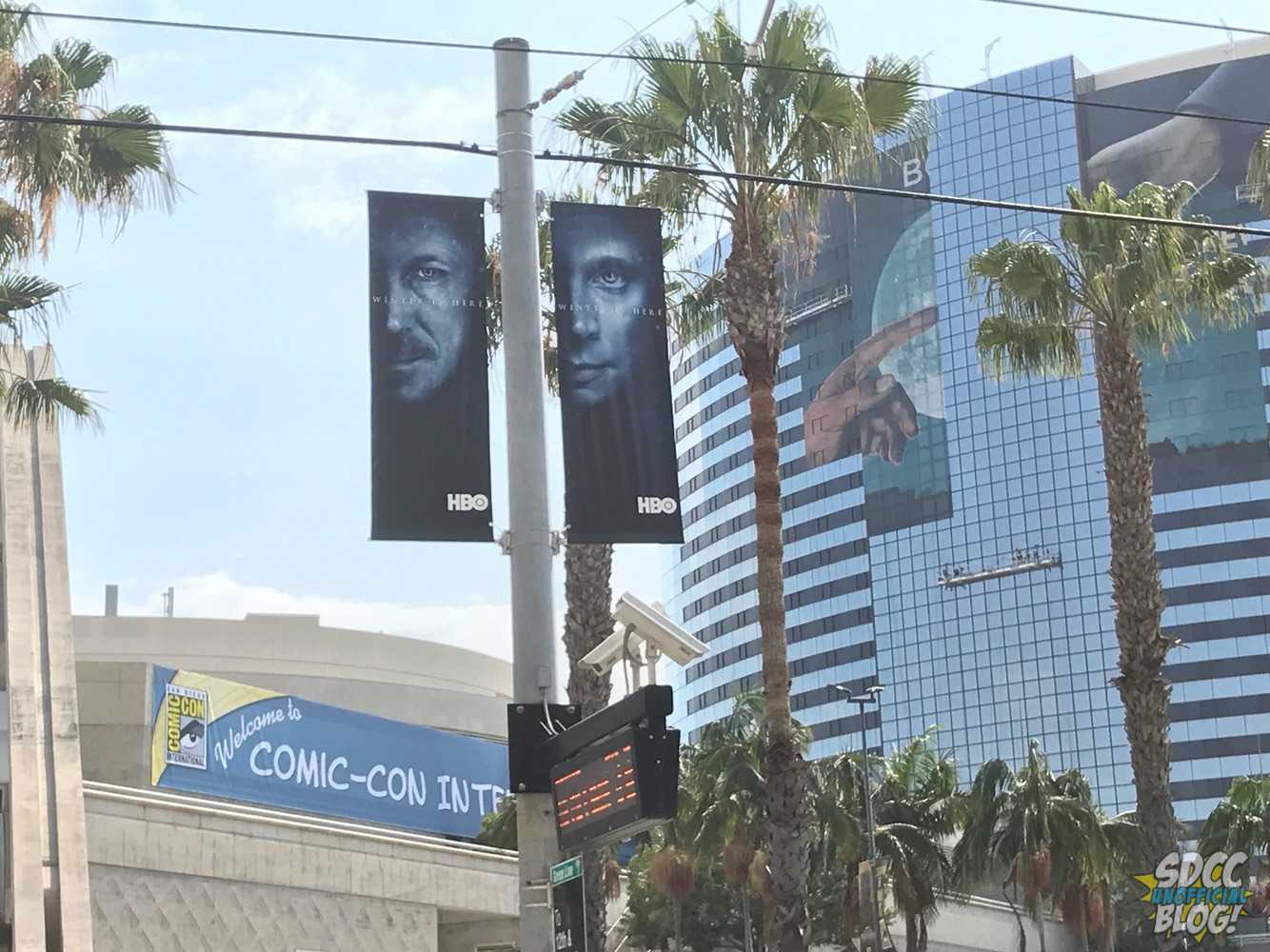 [UPDATE #2] 

Funko South, home of the Funko Pop! Up Shop (directly across from the Grand Hyatt Manchester), is getting all dressed up for Comic-Con. While there was previously some art in the windows, they were taken down for a time — but with Comic-Con just one week away, they're back with some new additions.

[UPDATE] 

The windows outside the Hilton Bayfront's Starbucks are getting a pop-culture makeover, that's a little magical.

[PREVIOUS] 

Behind 

The Tick

, there is a metal structure currently going up – though we're not entirely certain which event it's for. Could this be the fabled 

Blade Runner 2049

activation happening "across the street from the Convention Center"?

Everything's coming up Comic-Con, as the pop culture juggernaut kicks off next week. Our own