Everything's coming up Comic-Con, as the pop culture juggernaut kicks off next week. Our own Parks and Cons is on the ground to catch it.
[UPDATE #14] Night has fallen, but that's not stopping us from giving you a look at the progress of the Knightfall, Mr. Robot, Game of Thrones (RFID slap bracelets!), and Ninjago (beach towels!) offsites:
[UPDATE #13] The Cartoon Network Steven Universe balloons are up and bit more is done for Syfy at the New Children's Museum:
[UPDATE #12] Here's a better look at the facade for the LEGO Ninjago "Ninjoga" workout space: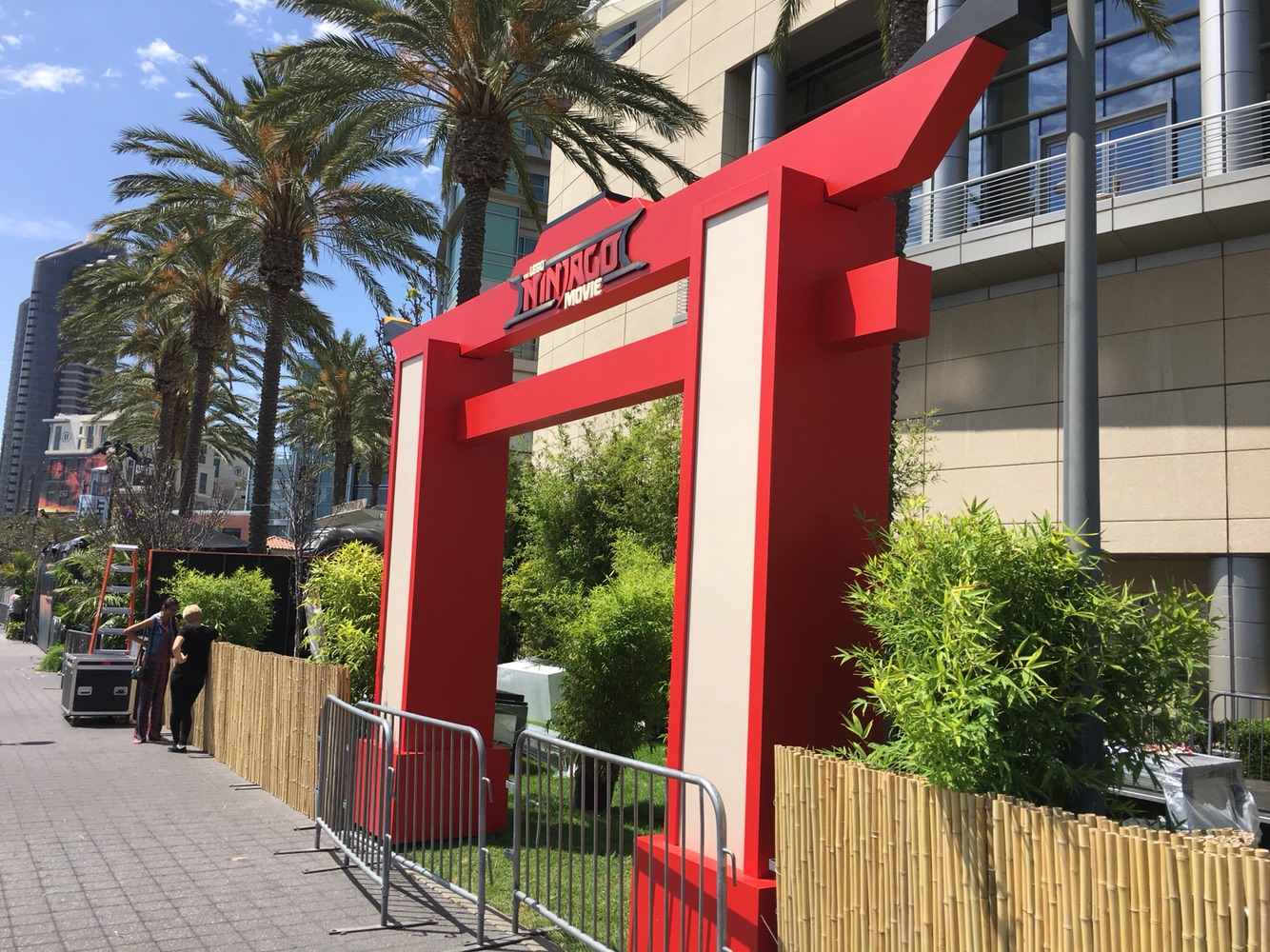 And here's a look at what surely must be the Knightfall offsite, where they will helpfully store your swag in storage lockers for you within their fortress:
[UPDATE #11] The Mr. Robot offsite is quickly coming together — with signage out now for both a Mr. Robot computer shop that looks run down, and the Red Wheelbarrow BBQ.
[UPDATE #10] As if the line for the Game of Thrones: Winter Is Here offsite wasn't long enough already. The experience — across from the Omni hotel — is where fans can enter through a "winterized" entrance and register with their own Dragonglass RFID wristband that will capture each touch point of a fan's journey throughout the activation, producing individual links with ready-to-be-shared pieces of content. The journey will take fans through Winterfell, Dragonstone, King's Landing and North of the Wall. Every guest that goes through the experience will be given a custom SDCC Night King Funko Pop! Figure, a t-shirt featuring the Night King key art, and an exclusive Robert Ball Episode 701 mini-post.
But what exactly did they mean by "SDCC Night King Funko Pop!"? Well, looks like attendees are getting the Conan version, as we spotted some boxes:
For those that haven't seen the real product, here's a look at that: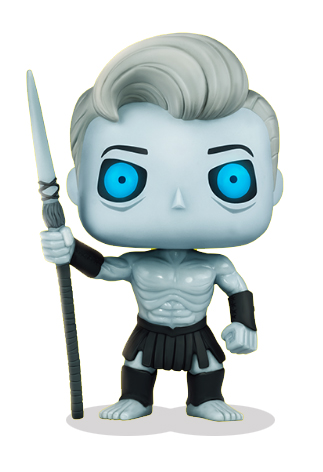 [UPDATE #9] We're pretty sure we've discovered what the little area over by Dick's Last Resort (RIP) is. There are now signs up identifying it as Syfy — and, given that it looks serene and very un-Comic-Con-like, surely means that this is where Orlando Jones will be marrying people during the con! Here's a look:
Additionally, there's now a Mr. Robot sign up over by that offsite, though more work still needs to be done:
And finally, we got a look at one of the LAIKA characters, a Boxtroll free-roaming in the Gaslamp:
[UPDATE #8] More overlay work on the Hilton Gaslamp for The Netflix Experience is done now:
But that's not all! We also spotted them unloading some boxes of Funko — though it's unclear if they will be given away for free or available for purchase.
Additionally, there are boxes for some "Orc Branches". Your guess is as good as ours.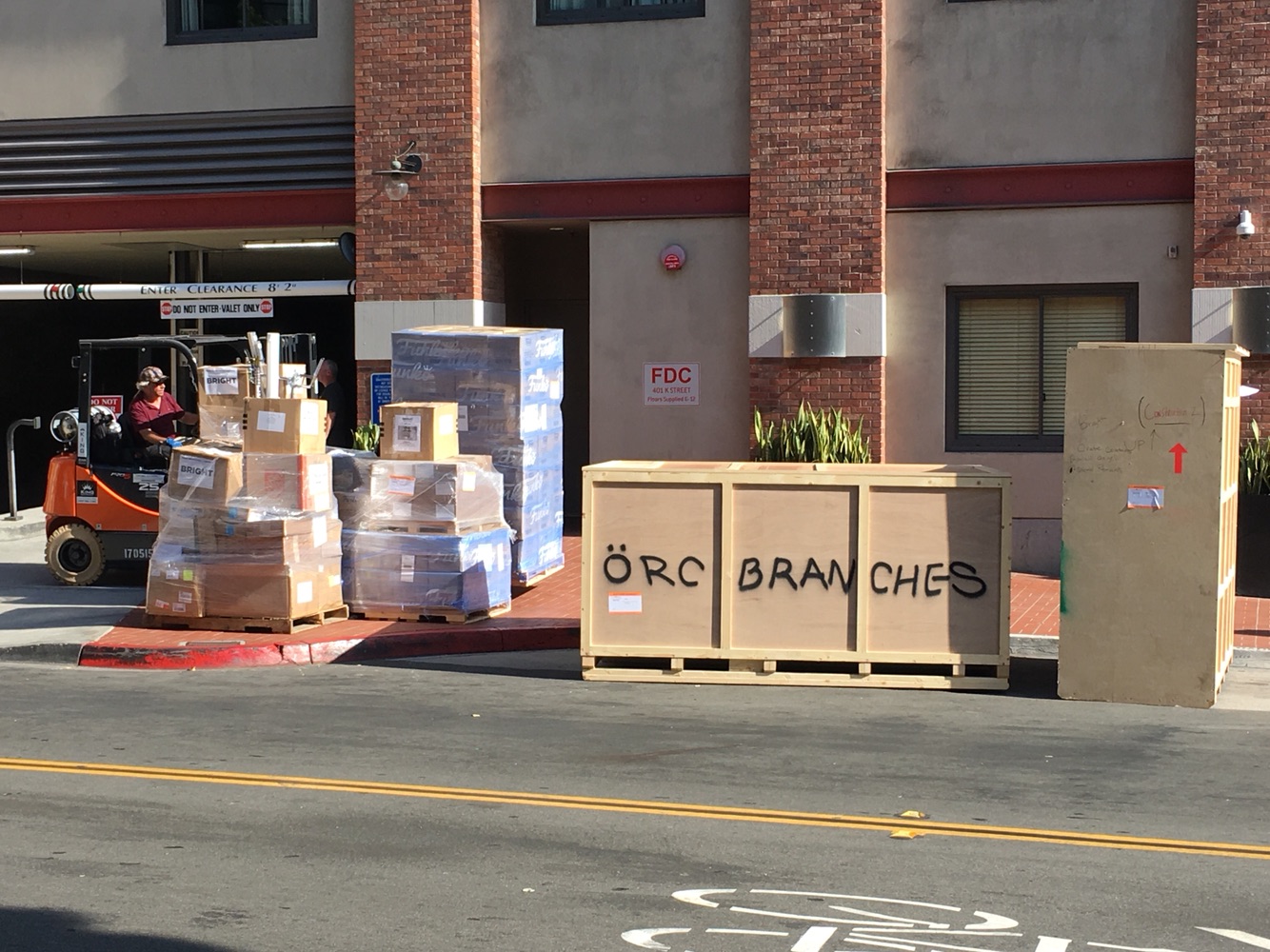 We also spotted what appear to be Stranger Things bicycles and perhaps an Upside Down portal?
[UPDATE #7]
Peanuts Worldwide is bringing their Snoopy & Belle in Fashion exhibit to San Diego Comic-Con this year. The exhibit, which features more than 40 pairs of dolls of Snoopy and his sister Belle decked out in iconic fashions from the ages, will be hosting a special Peanuts pop-up store back to the Bubbles Boutique (226 Fifth Avenue) in the Gaslamp beginning on Thursday, July 20.
Here's a look at the construction on the pop-up site:
[UPDATE #6]
Ninjoga — LEGO Ninjago inspired yoga — located near the Kong: Skull Island offsite, is also coming together. The area, which is located in the small park area near the Omni, has an ancient Asian-style overlay on it. Those looking for a good strech can stop by each morning at 10AM for a chi/yoga workout.
[UPDATE #5]
Work has started on the Mr. Robot offsite, which includes not only a Bank of E, but also a Red Wheelbarrow restaurant where you can redeem a free BBQ lunch with your Bank of E card.
Something is also happening in the space formerly used by Dick's Last Resort — but we don't know what:
[UPDATE #4]
Here's a closer look at some of the wrap work on the Hilton Gaslamp, where The Netflix Experience offsite will be taking place:
[UPDATE #3] While Parks and Cons is busy at D23, Outside Comic-Con has taken over on-the-ground duties – and there's a lot going on!
First up, things are slowly starting to come together over at the Tin Fish, which will be transforming into NBC's Midnight, Texas.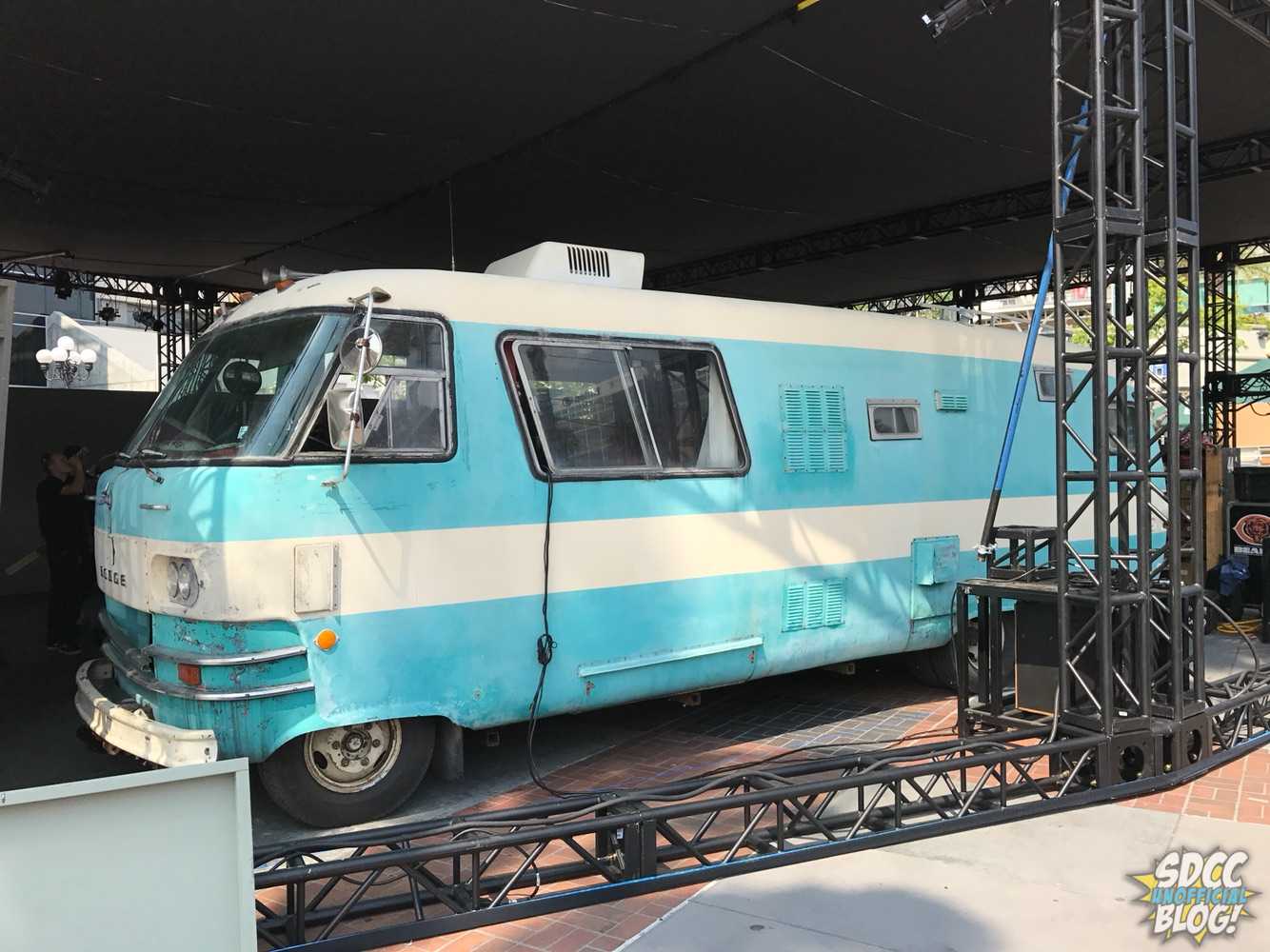 For anyone looking for free rides – Mr. Mercedes will have cars in the Gaslamp offering them: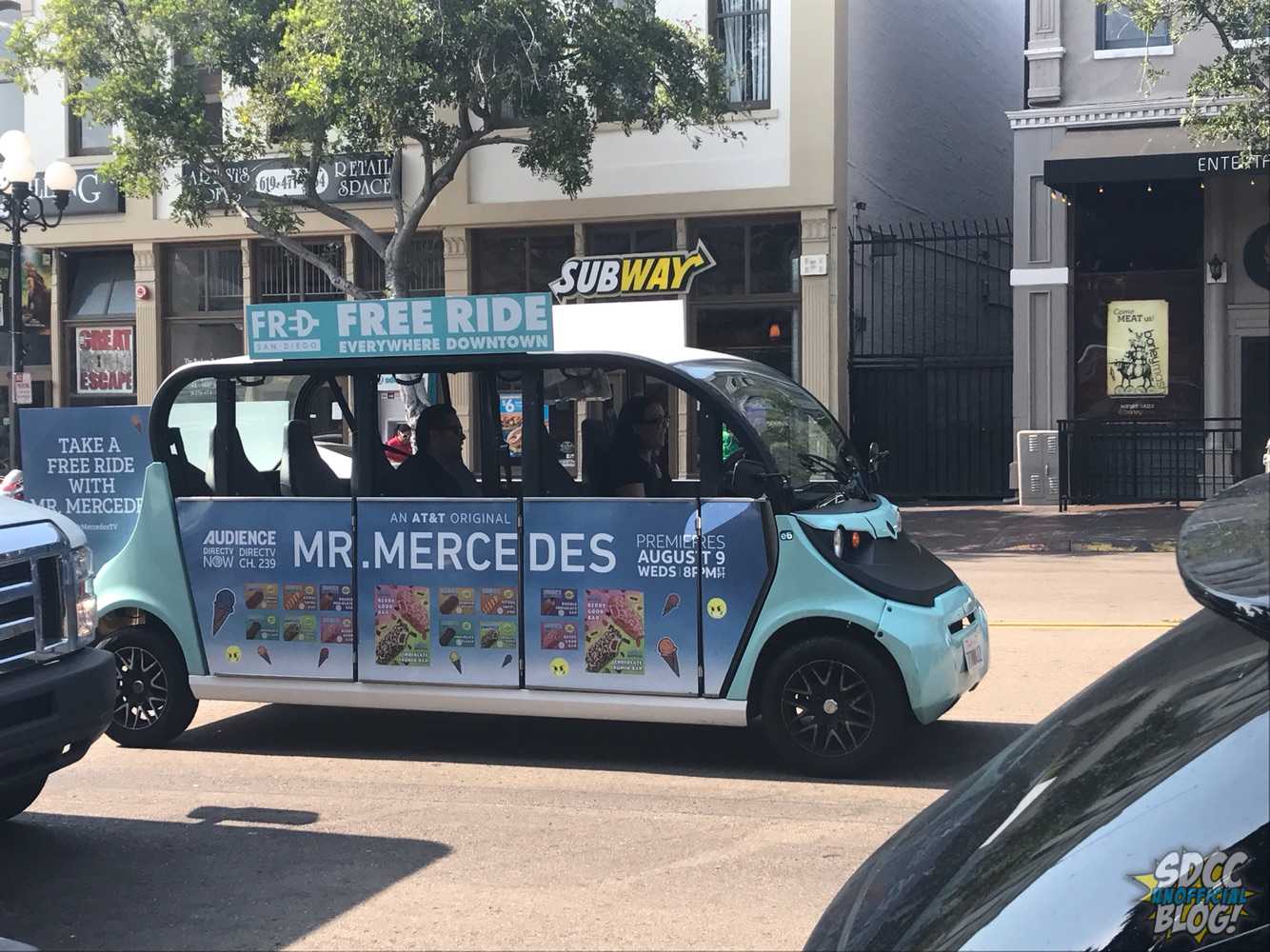 For The Tick Takeover in the MLK Promenade, the exterior work at least is pretty much complete: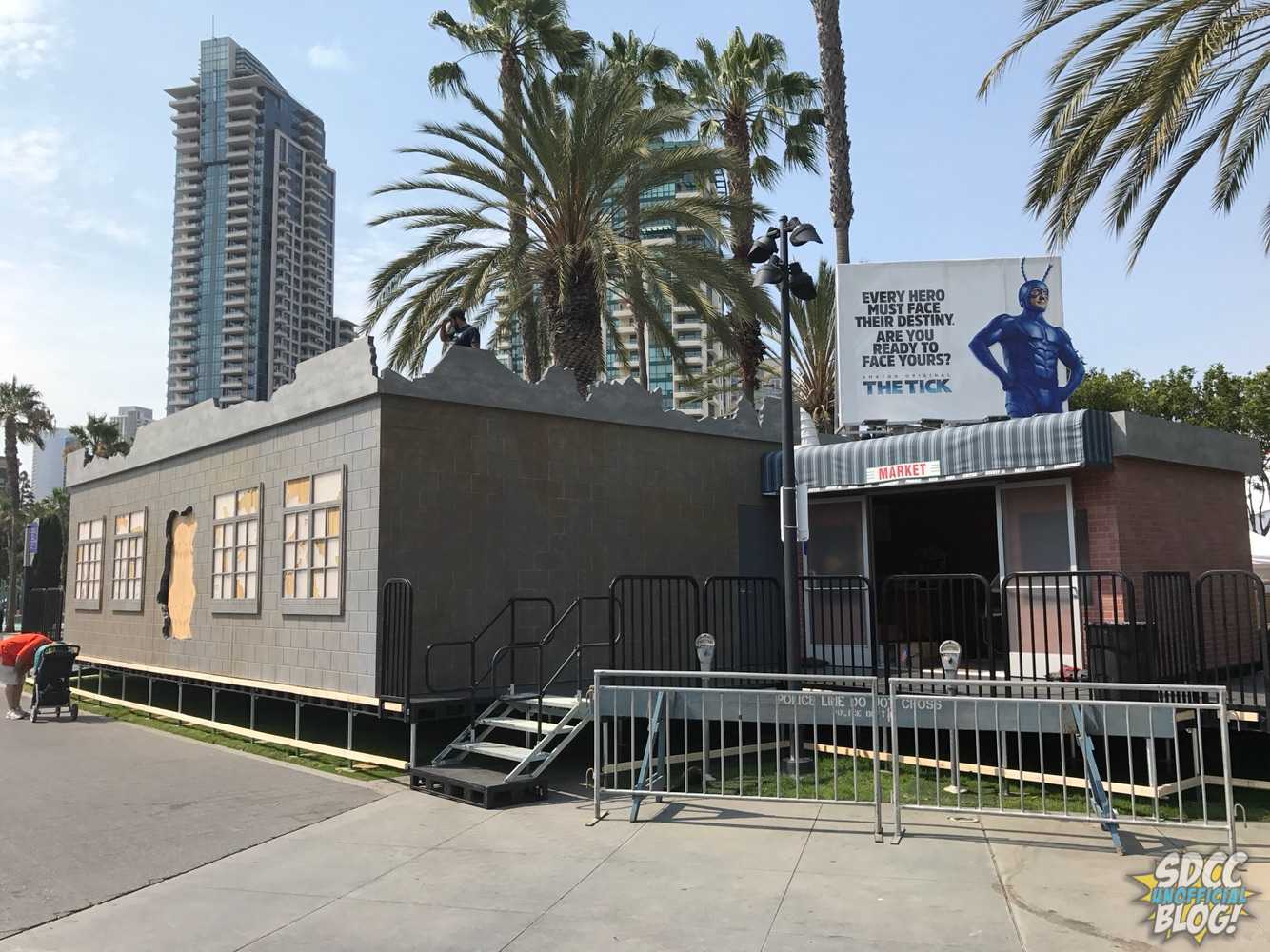 Then, in the rest of the Gaslamp, Netflix is taking over with lots of banners for Bright, Stranger Things, and Marvel's The Defenders.
Behind the convention in the Marina, the Wrecked Pop-Up Island is already in full swing: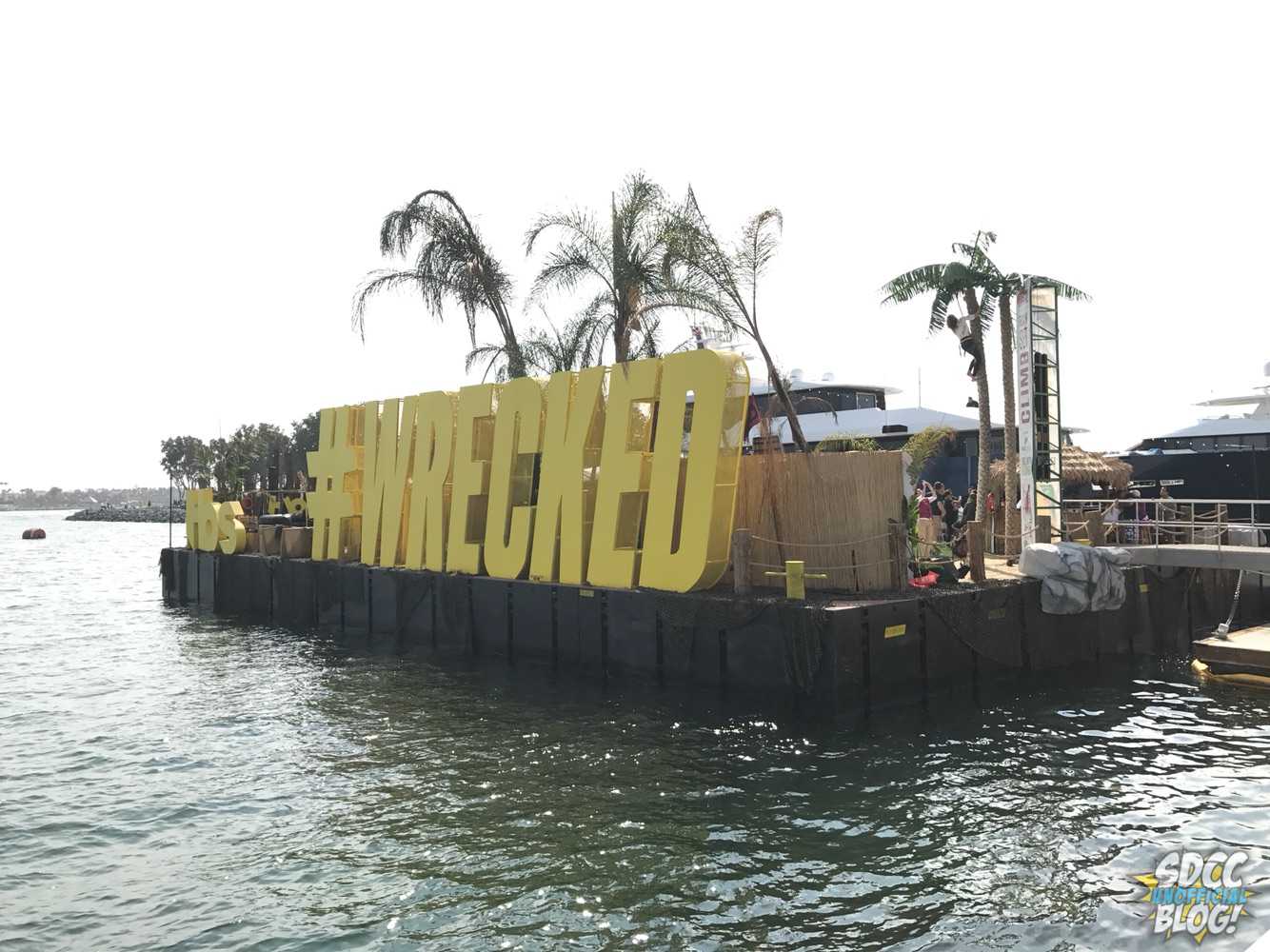 And finally, what's going to be on the front of the Marriott Marquis & Marina? People of Earth, with the same BOOP. artwork that's over at the airport. For anyone disappointed that it isn't Conan again, we've heard to make sure you tune back in. As in, to the back of the Marriott. Look, Comic-Con is in four days, our puns are not great right now, okay? Here's a look at the in-progress work: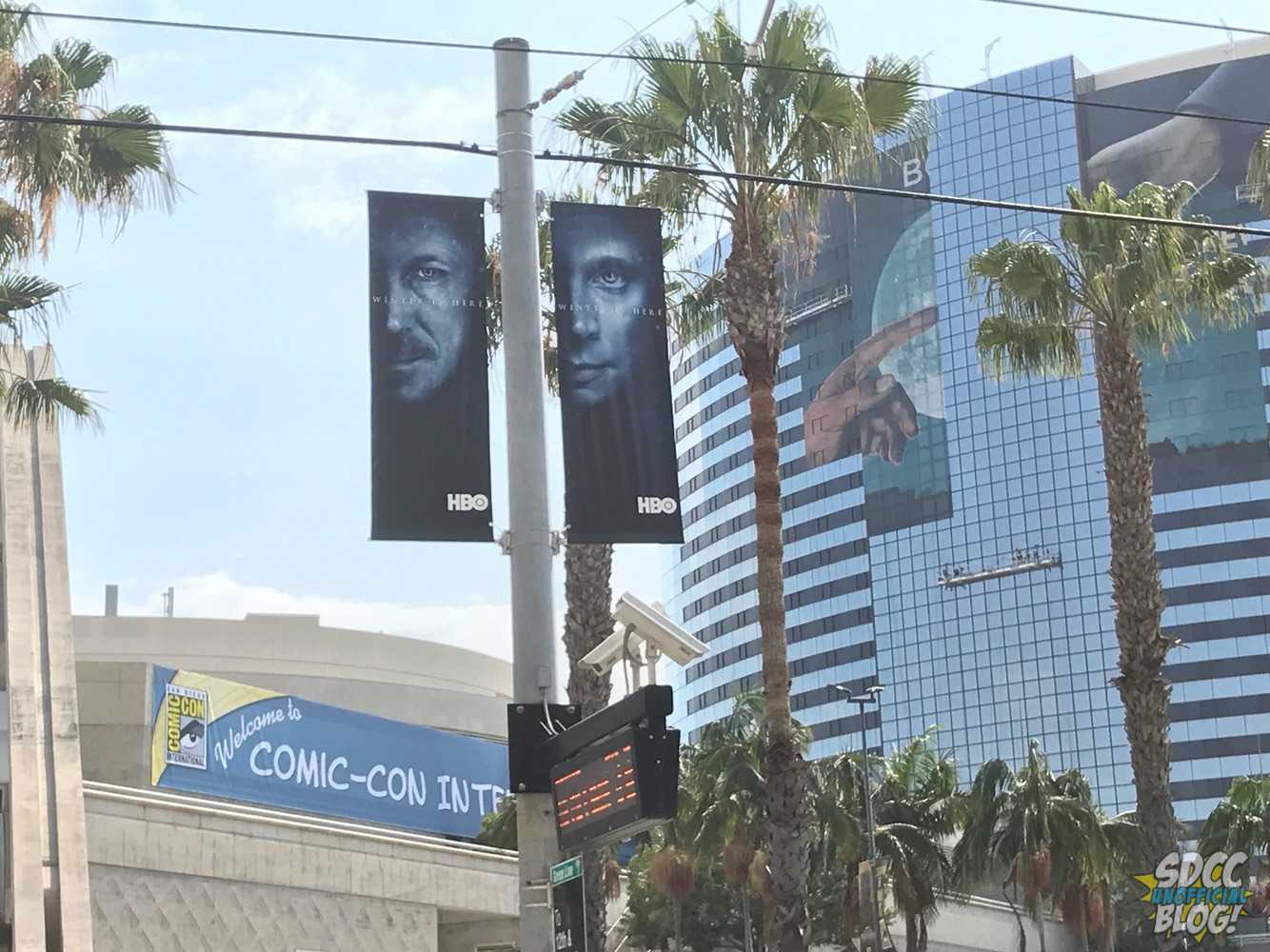 [UPDATE #2] Funko South, home of the Funko Pop! Up Shop (directly across from the Grand Hyatt Manchester), is getting all dressed up for Comic-Con. While there was previously some art in the windows, they were taken down for a time — but with Comic-Con just one week away, they're back with some new additions.
[UPDATE] The windows outside the Hilton Bayfront's Starbucks are getting a pop-culture makeover, that's a little magical.
[PREVIOUS] Behind The Tick, there is a metal structure currently going up – though we're not entirely certain which event it's for. Could this be the fabled Blade Runner 2049 activation happening "across the street from the Convention Center"?