It's coming down to the wire, fellow con-goers, and we're still hard at work bringing you all SDCC-related news. In this Under the Tents, look for sweet deals from Monkey Minion Press, J!NX, and Nooligan, not to mention beautiful art from Brittney Lee and Camilla d'Errico, and many, many more.
Here's a look at what you might have missed:
Are you a fan of something? (I mean, you're reading this website and you're going to Comic-Con, so this is probably redundant). Syfy is looking for your "fan origin stories" if you're attending San Diego Comic-Con, for something they're looking to unveil this year. Interested? Follow the instructions on their site.
Origin stories are always the best. We want to hear yours at #SDCC! #ItsAFanThing https://t.co/6ioHtiF7vf

— SYFY (@SYFY) July 11, 2017
Monkey Minion Press is doing things a little differently this year for SDCC. If you stop by Booth #5531 (usually hidden behind the Funko line) and ask for their exclusive buttons, they have two for you. However, if you want all four of their exclusive SDCC 2017 set, you'll have to follow them on Instagram and Facebook, prove it to them, and you'll get their super secret extra two buttons to complete your SDCC 2017 set.
https://www.instagram.com/p/BWYL2DRjRPh/
If you're a fan of the monthly goodie box that is Loot Crate, you'll be happy to see them back at SDCC. They'll be in a different spot this year at Booth #3635 (next to Cartoon Network and Netflix). But that's not their only location! They'll also be downtown at Horton Plaza as part of FYE's Pop-Up Shop. Keep an eye on their blog and their Twitter feed for updates throughout the con.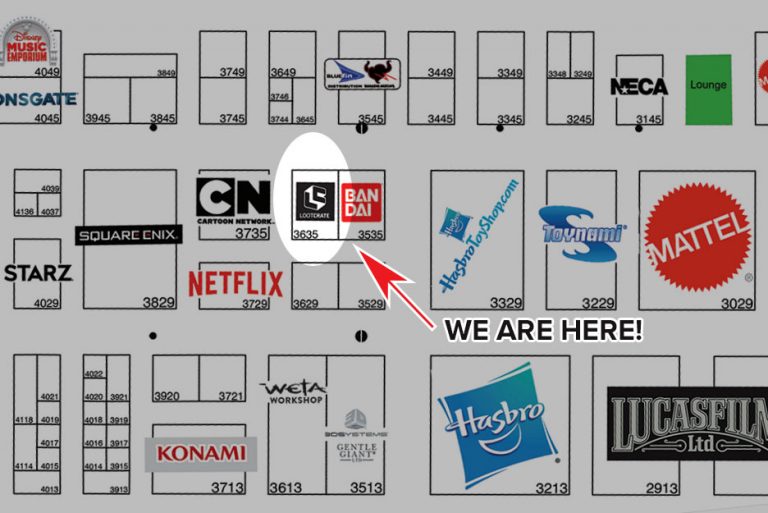 Artist Justin Harder's CLAUS Studios is bringing the weirdness to Table #O-08 in Small Press. But it's a good weirdness, we promise.
Afternoon #COLLAGES leading up to @Comic_Con. Can you tell I'm excited? Let's get weird next week. Well, weird-er, anyway. pic.twitter.com/MHd9BrnxwK

— Justin Claus Harder (@clausstudios) July 10, 2017
If you visit Green Hills Entertainment Booth #1829 on Preview Night to see Scott Hattox, he's going to have some pretty great stuff for you. He's going to have select prints available for free, and others on sale Preview Night only.
https://www.instagram.com/p/BWYOZBKh07y/
Artist Robert Tsai is busy making handcrafted toys for Booth #1804. He posted this work-in-progress to his Instagram. What do you think it could be? A narwhal? Because they're totally real.
https://www.instagram.com/p/BWYqwF2hV7F/
Artist/animator Brittney Lee is bringing Themyscira's favorite daughter to SDCC with her Wonder Woman piece. Look for her at Booth #5551.
https://www.instagram.com/p/BWY6ap5gPO3/
Artist Hai-Na-Nu Saulque, aka Nooligan, will debut this Astro Boy print at his Small Press Area Table #Q-09. He's opened pre-orders for his print, and if you do pre-order, you get entered into a raffle for one of his sketches.
https://www.instagram.com/p/BWYzsqQloUE/
You've seen Greg Grunberg in Star Wars and Heroes, heard his voice as Kirk's mean stepdad in Star Trek (2009), but did you know he's an author, too? Grunberg will be around SDCC this year promoting his book, Dream Jumper Book 2: Curse of the Harvester. Oh, and today is even his birthday.
Excited for #SDCC2017 to promote #DreamJumper Book 2 CURSE OF THE HARVESTER! Look what found on @amazon pic.twitter.com/K4Zza9N5wf

— Greg Grunberg (@greggrunberg) July 11, 2017
Local San Diego J!NX is previewing its new officially licensed gaming lifestyle apparel at Comic-Con. Gamers can stop by Hot Topic in Horton Plaza on Thursday, July 20 to get a first look at J!NX's new line, sold exclusively at Hot Topic.

BIG news! I'm giving out 75 early copies of my sci-fi adventure novel BLACK STAR RENEGADES at #SDCC. Come to a signing to get yours! pic.twitter.com/hU9WgWC8J8

— Michael Moreci (@MichaelMoreci) July 11, 2017
Artist Camilla d'Errico has had a busy, productive year so far, and we're just over halfway through it. Not only will she have her artwork on display and for sale, she'll also be at Dark Horse's Booth #2615 on Thursday, July 20, from 4PM-5:30PM signing copies of her new book, Femina and Fauna alongside tokidoki creator, Simone Legno.
I'm signing at the @DarkHorseComics booth 2615 July 20th from 4- 5:30pm @ #sdcc📚 @tokidoki creator @simonelegno will be signing with me 💖 pic.twitter.com/rRA5cKUHOg

— helmetgirl (@Helmetgirl) July 11, 2017
Fox Fanfare has a great deal to offer SDCC con-goers this year. For those who pre-order the found footage film Phoenix Forgotten at Fox Fanfare's Booth #4229, they'll get to walk away with a limited edition glow-in-the-dark poster (shown below).  Only the first 500 visitors to their booth can snag this deal, so you need to get there early if you want one.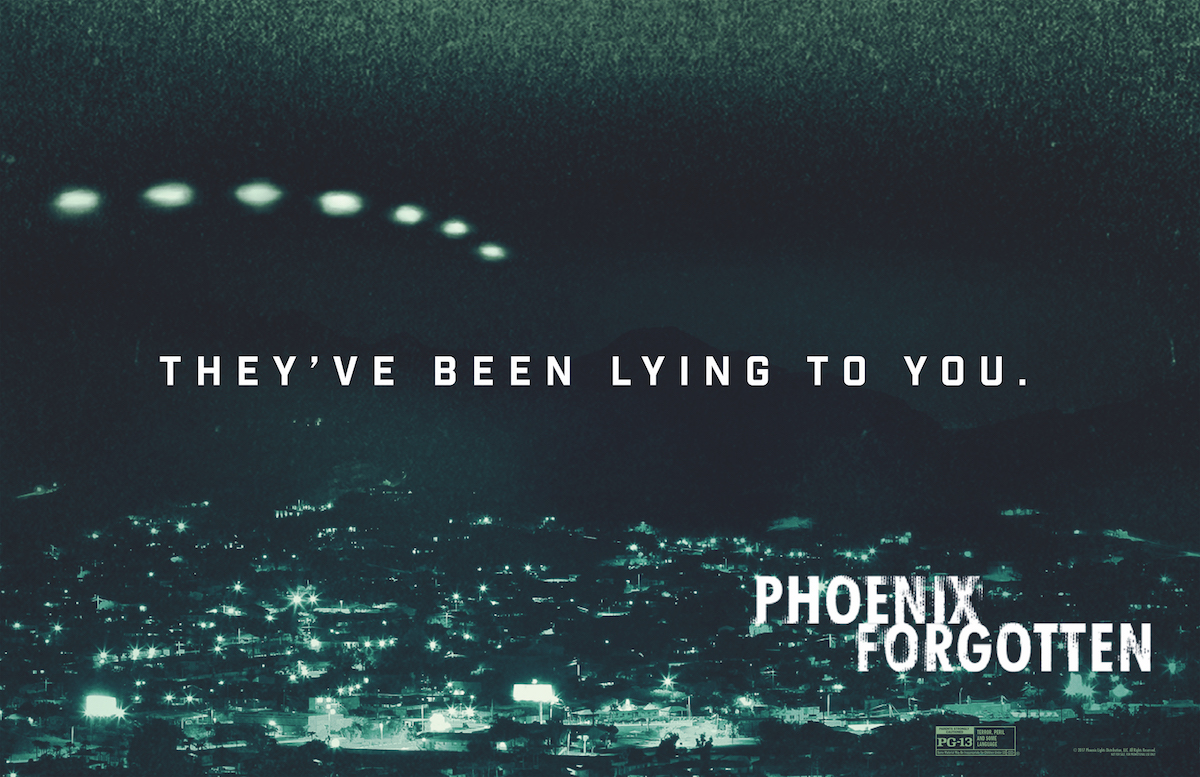 We know a lot of Oncers were excited to see Once Upon a Time back in its usual panel slot on Saturday morning at 10AM in Ballroom 20. Yvette Nicole Brown, who is set to moderate her favorite panel again this year, has put out the call for fan questions to ask during the panel, and we know there are a lot of them. Use #askYNB on Twitter to submit the myriad of questions we have about Once Upon a Time.
Yes! #Oncers! Let's get the questions going so I can ask what you wanna know at #SDCC! Use the Hashtag #askYNB! https://t.co/Vviy4QtBvL

— yvette nicole brown (@YNB) July 9, 2017
https://twitter.com/loudmouthjulia/status/884793277148540928
Time is running out for you to order your Treat Boxes from the Kneady Bakers. Hurry up and order here by this Friday, July 14, to make sure you get your helping of Robert Brownie Jrs. Remember, $1 from each box ordered is donated to Operation Smile!
https://twitter.com/kneadybakersla/status/884807369439326208
Artist Val Hochberg is hard at work on her new pieces for SDCC. Visit her Small Press Table #N-12 to see great work like this one below.
https://www.instagram.com/p/BWZW328gi2S/
Artist Randy Martinez posted this Catwoman print he'll have with him at Choice Art Group's Booth #4219. Visit their booth on Thursday, July 20 from 2PM-6PM, when he'll be live painting there.
https://twitter.com/RandyMartinez40/status/884823771378442241
Our good friend, artist Patrick Ballesteros, believes eight days is plenty of time to churn out a sketchbook. Think he can do it? Head over to Table #DD-08 in Artists Alley to find out.
Comic con next week? Whateva' I still got time…crunch, crunch,crunch. New sketchbook in the works…crosses fingers. #SDCC17 #sketchaholic pic.twitter.com/bGf1m5bZev

— Patrick Ballesteros SDCC DD-08 (@PatrickBallest) July 11, 2017
Show artist Scott C that you believe in narwhals, too, by heading to Gallery Nucleus' Booth #2643 and picking up one of these awesome t-shirts or totes (which we think would go perfectly with his new shorts).
https://www.instagram.com/p/BWapOFIhMzW/
I believe in love. All the #WonderWoman art you want for @Comic_Con ! Done w/ @copicmarker on @CansonPaper #SDCC #ComicCon17 #CopicComic pic.twitter.com/nCLqcG5MmD

— Rhiannon Owens (@RhiannonDrewIt) July 11, 2017
Cosplayer Ivy Doomkitty announced she will be signing at her Booth #4016 all five days (which means Preview Night, too). Just don't show up during her panel at noon on Saturday as you're likely to be disappointed.
https://www.instagram.com/p/BWagci_AsiV/
Anything we missed? Let us know in the comments, drop us a line, or tweet us at @SD_Comic_Con.