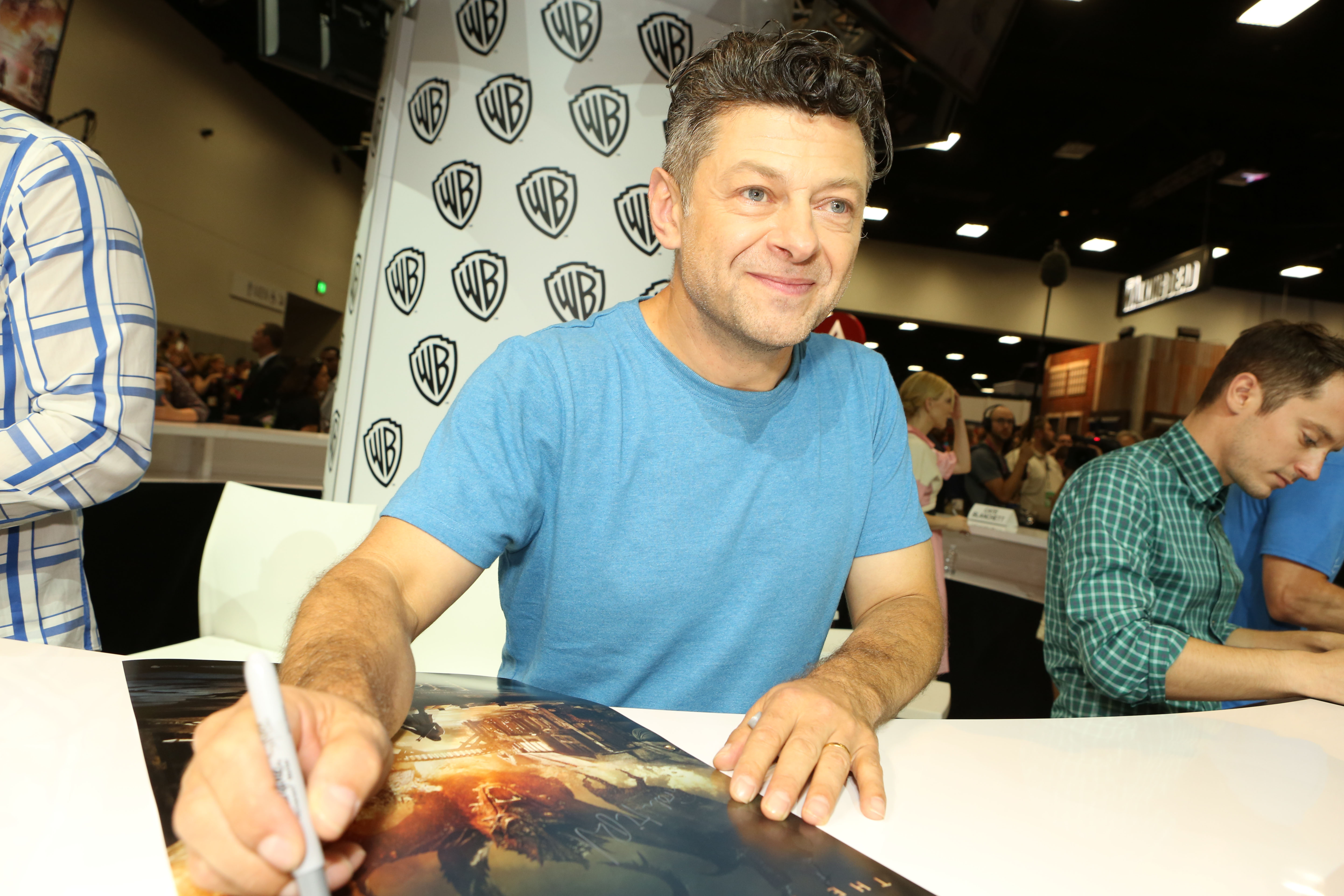 Hold on to your butts.
We've been hearing rumors for awhile that Comic-Con International was looking into moving to an online-lottery system for select autograph sessions – and that's exactly what's happening, at least for WonderCon 2018.
Gone are the days where you'll need to line up at an insane hour to score an autograph with your favorite stars of WB and Marvel TV shows (as well as a few others). Instead, in order to get autographs with stars of those series – and other "exclusive signings" – you simply need to log into your Member ID and click the "Exclusives" tab. You will only see this option if you have a WonderCon badge.
Once you're in the portal, you can view all available signings. You are eligible to enter the lottery for any signing on a day which you have a WonderCon badge (so, if you don't have a Sunday badge, you can't enter Sunday's autograph lotteries). You can enter starting right now through March 14, 2018 at 10AM PT. Attendees will be randomly selected on or around March 19, and then notified if they are a winner.
For those who are lucky enough to win entrance to a signing, you'll need to bring a printed copy of your selection confirmation, and a photo ID to Hall D of the Anaheim Convention Center on the morning of the signing, to exchange it for your signing wristband. And in case you were planning on selling your wristband – don't. It's strictly prohibited and non-transferable, much like badges.
Here's an overview of the process:
Log into your Member ID and select the "Exclusives" tab.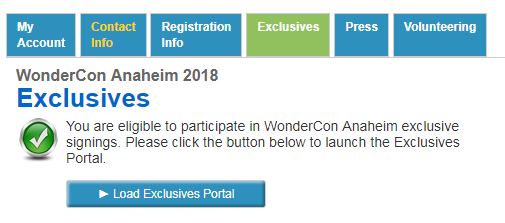 Once you've found the autograph signing you want, you'll click on the "Agree to the Terms and Conditions" box.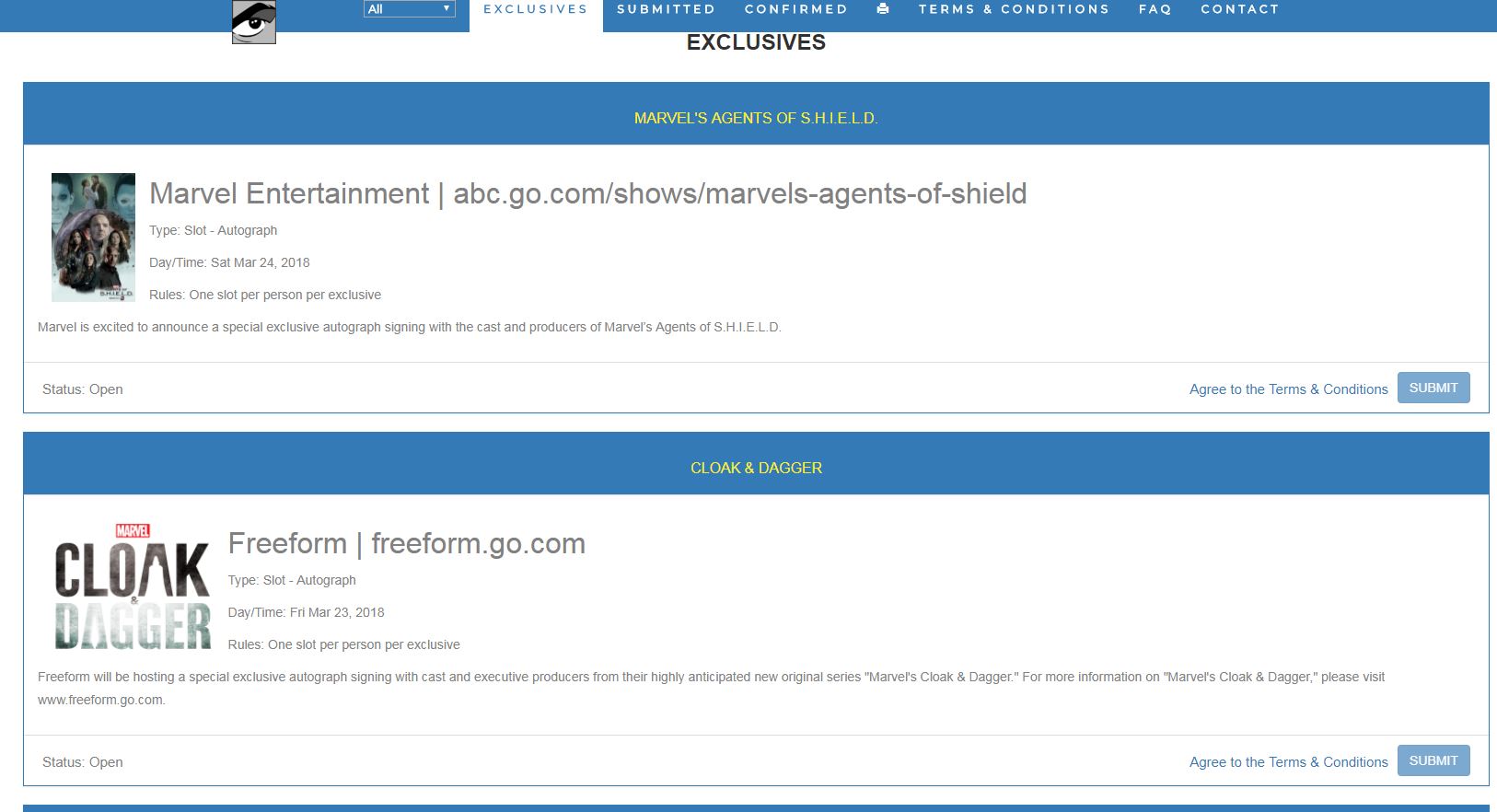 That will bring up another pop-up box, which you must click "OK" to.
You'll then click the Submit button and then the "cart" on the bottom right to "Confirm Interest".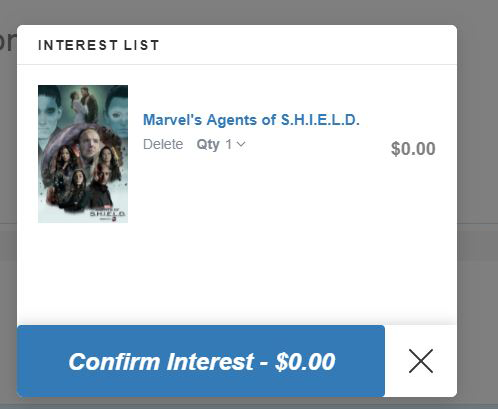 Finally, you should be greeted by a screen that confirms your submitted exclusive signings:

You can read more about the process, including common FAQ's, on Comic-Con International's site.
The question on your mind now might be: What does this mean for San Diego Comic-Con? While nothing is official, we would be very surprised if Comic-Con International wasn't using this as a test-run for an online lottery system for autographs at San Diego Comic-Con as well. After all, they also tested out RFID at WonderCon to work out many of the bugs before Comic-Con.
While we're typically a bit anti-lottery-system here at the San Diego Comic-Con Unofficial Blog, in this case, we think it could be a very positive thing. Although the pool of individuals who request autograph signings is likely to balloon by moving it to an online-system, making your chances smaller, there's little denying that the current system as it stands right now is broken. There's an annual stampede and mass chaos along the back staircase for those trying for autographs in the Sails Pavilion. And for those who do wait 12-15 hours just to draw a ticket, there's no guarantee you'll be a winner, and won't have wasted much of your day. An online-lottery system would eliminate a lot of the big unknowns and chaos of the current system, if implemented correctly.
And by implementing is correctly, we mean not just including those who do autograph signings with drawings traditionally held in Sails. The Marvel booth, AMC booth, and many of the studio booths are among the worst offenders, with exhibitors jumping into line long before general attendees step foot on the show floor. If Comic-Con is serious about fixing the autograph problem, it will include looking at the whole problem. Additionally, this could be implemented for the big exclusives, such as LEGO, Hasbro, Funko, and others.
We could be looking at a whole new convention experience in 2018.
How do you feel about the change? Let us know in the comments.