[UPDATE May 30] Parking will open to the general public at 10AM PT on Monday, June 4.
[UPDATE May 25] Due to the holiday, Group 5 parking will be launching on Tuesday, May 29 at 10AM instead.
[UPDATE May 15] Group 3 parking kicked off on Monday, May 14. Hilton Bayfront still has Preview Night parking available. Most other lots are still available for all days of Comic-Con.
[Update May 7] The Hilton Bayfront lot is now sold out except for Wednesday. The Diamond View Tower and the Padres Parkade lots both have Saturday and Sunday available. Most other lots are still available for all days of Comic-Con.
[Update May 1] According to Ace Parking, only the Convention Center is sold out as of this morning. If you are having problems logging in or see more sold out, contact Ace. You must purchase all parking you need at one time. If you need to purchase parking for additional days and are having a problem, contact Ace.
[Update April 30 #2] Ace Parking tweeted about 1pm PST that the Convention Center lot has sold out.
[Update April 30] The Ace Parking purchase system is now open for Group 1. See 2018 pricing in the map from Ace, and consult our how-to guide below for the step-by-step process for purchasing parking.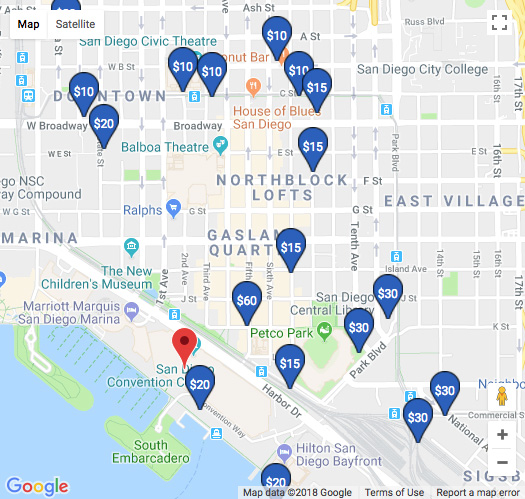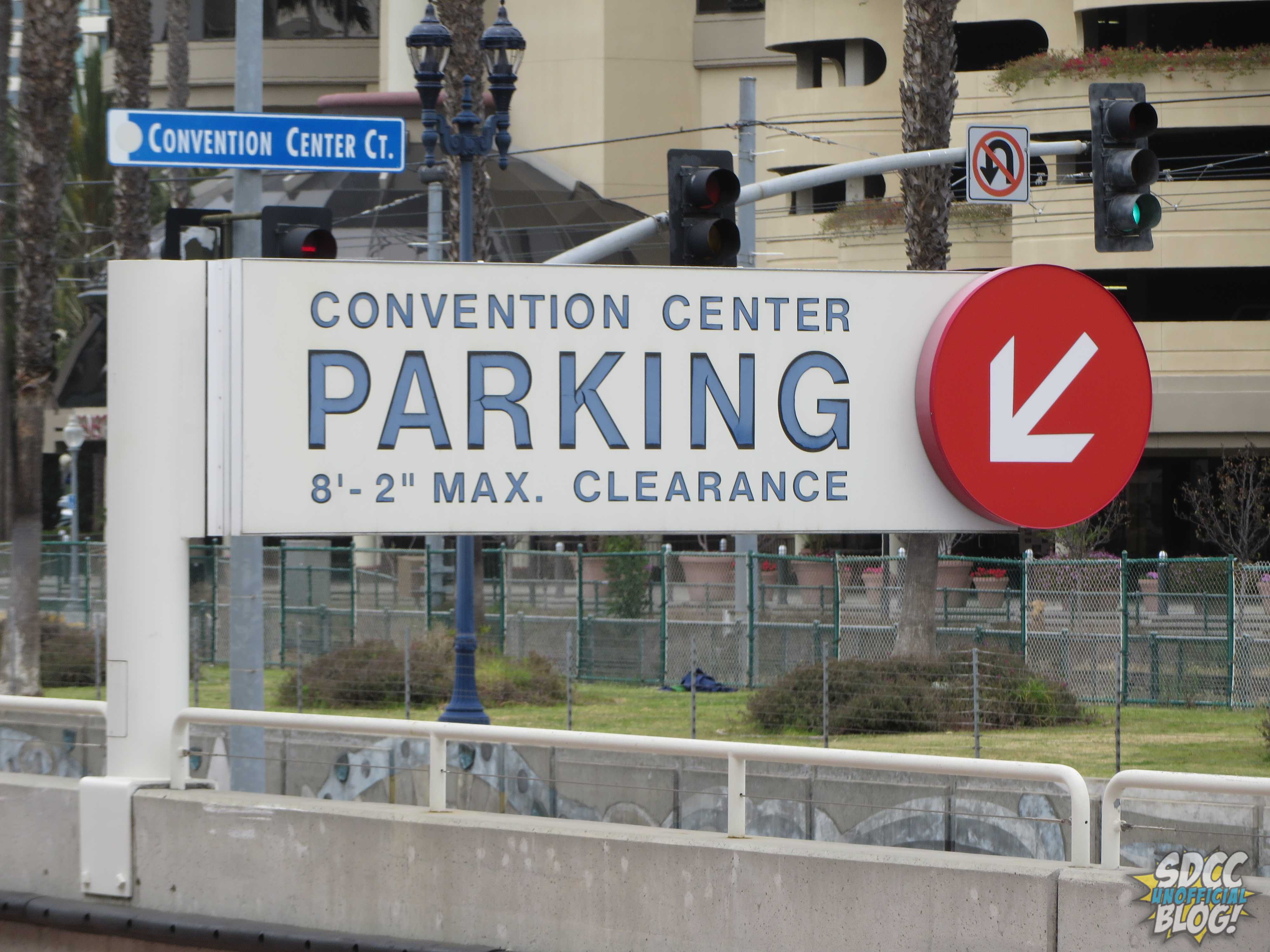 Parking is the last major pre-convention hurdle for attendees leading up to San Diego Comic-Con. Whether you're a local resident or not staying at a downtown hotel, where you park is very important.
Ace Parking (who owns most of the parking in Downtown San Diego) moved to a lottery based system three years ago, and that system is currently under way. Sign ups closed April 22, and Ace should begin sending emails out to groups today, April 24. Group 1 will be able to purchase parking beginning on April 30, and then each subsequent week, a new group will gain access to the system to purchase their permits. At the end of the group sales, the system will be opened to the general public.
If you are selected to be in one of the parking groups, you may notice that the system looks a little different than previous years — but we're going to walk you through it.
On the day of the sale, you will log into your Ace account (which you will need to set up during the checkout process if you haven't already done so). Here, you will have a list of all the available lots — ranging from the Convention Center to the Hilton Bayfront, and beyond. After deciding on your lot, you can click on the name to expand the list to see available dates and prices for that particular lot (Note: Listed availability and prices below are merely an example — they are not reflective of 2018 inventory).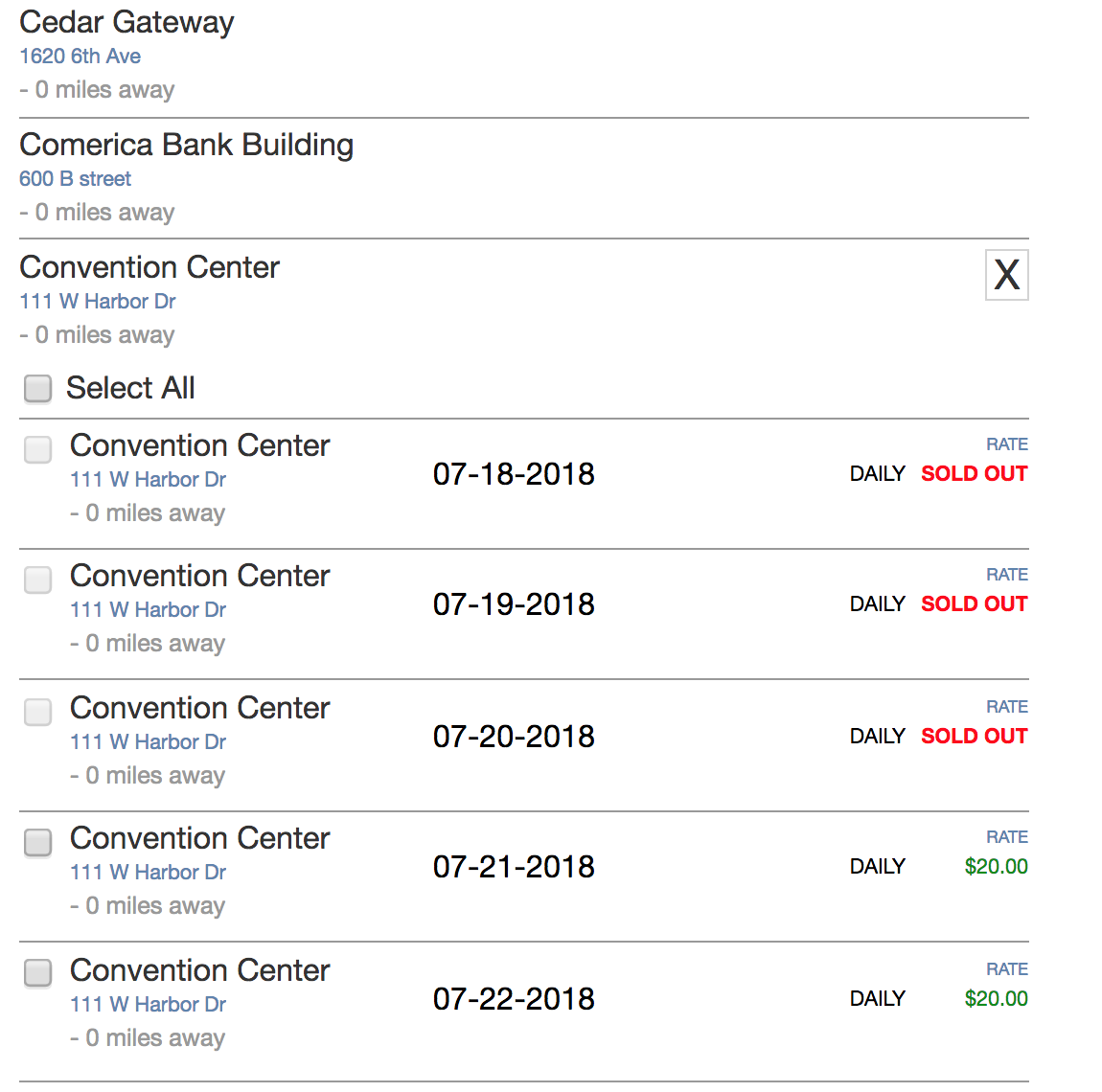 Remember, though, that there is no overnight parking in any of the lots. These are the opening hours of some of the lots:
Convention Center, Hilton Bayfront garage, Padres Parkade, Diamond View Towers: 5am – 2am
Tailgate Park, Triangle, MTS: 5am – 2am
707 Broadway: 4pm on Friday until 6am on Saturday. Saturday 6am – 12am and Sunday 6am – 6pm. No overnight camping.
After deciding on the options you want, you will ticky them, and select "Add to Cart and Checkout" at the bottom of the screen.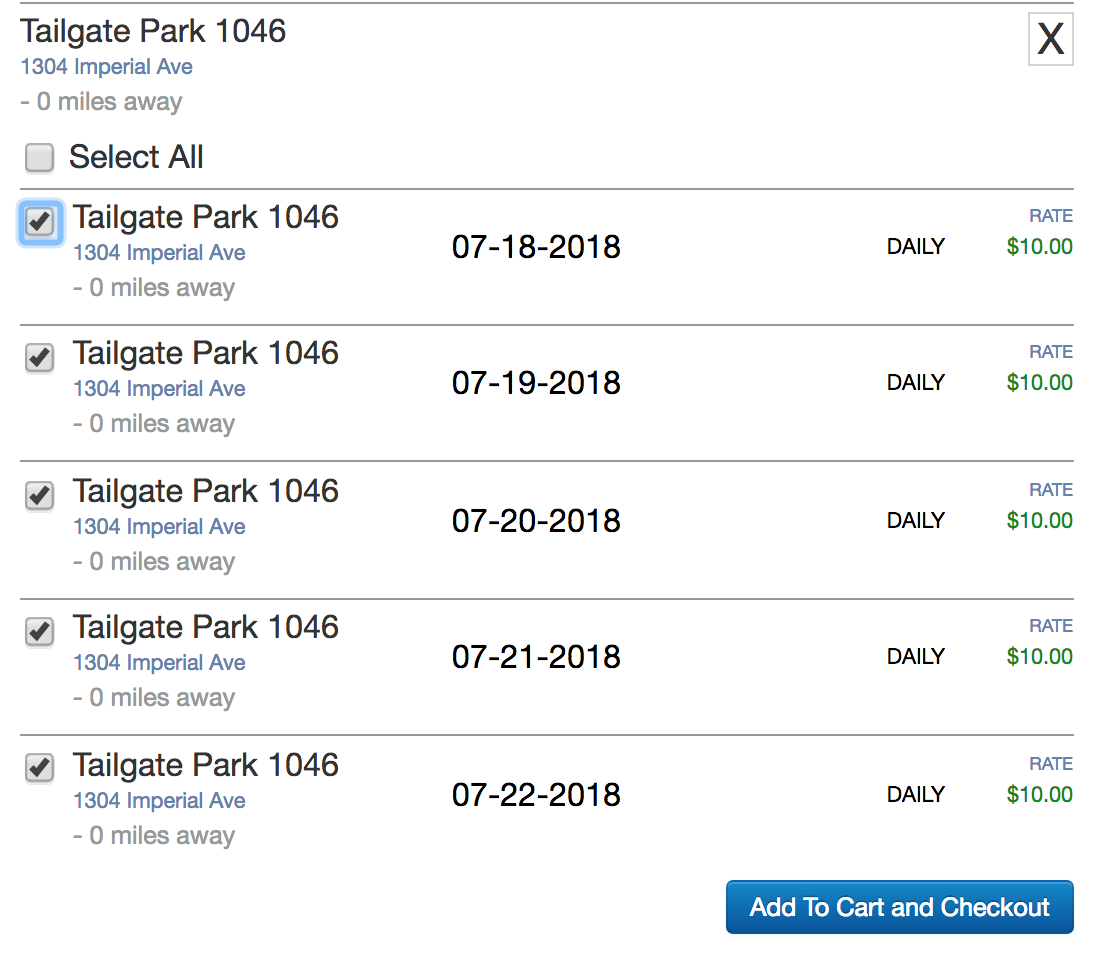 This will immediately take you to your cart, which will show a recap of your purchases, along with the price with the added daily service fee.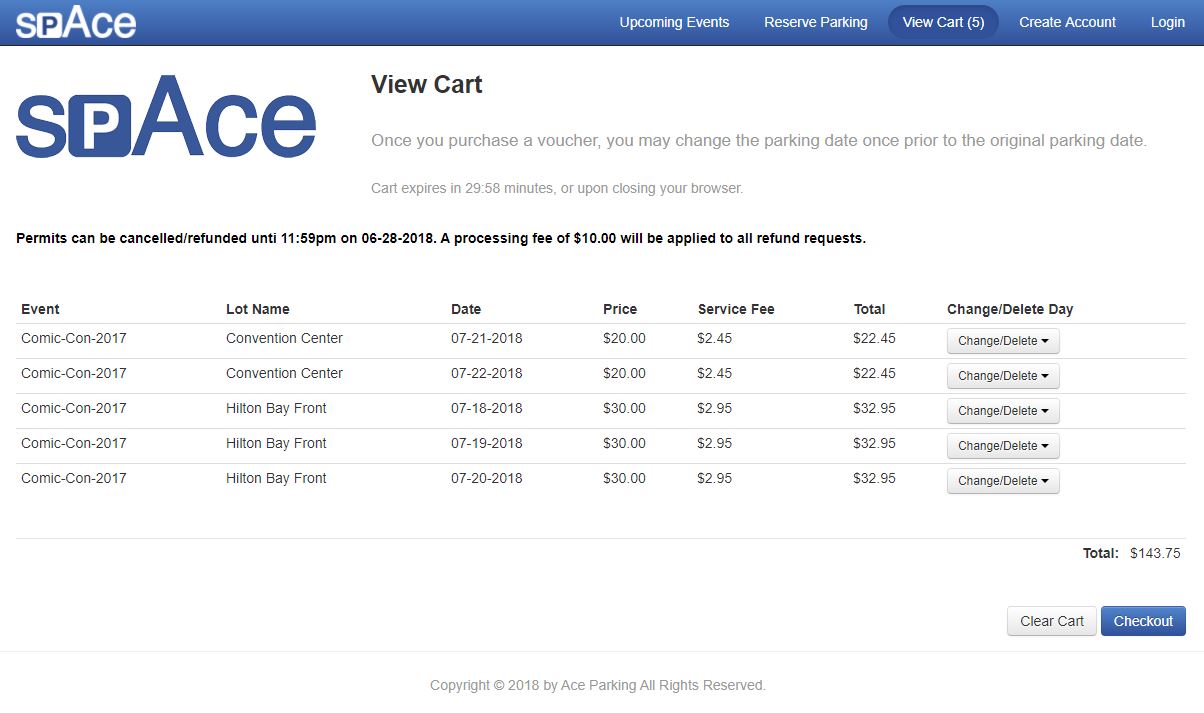 At this point, you can check out by filling in some personal information and your credit card information.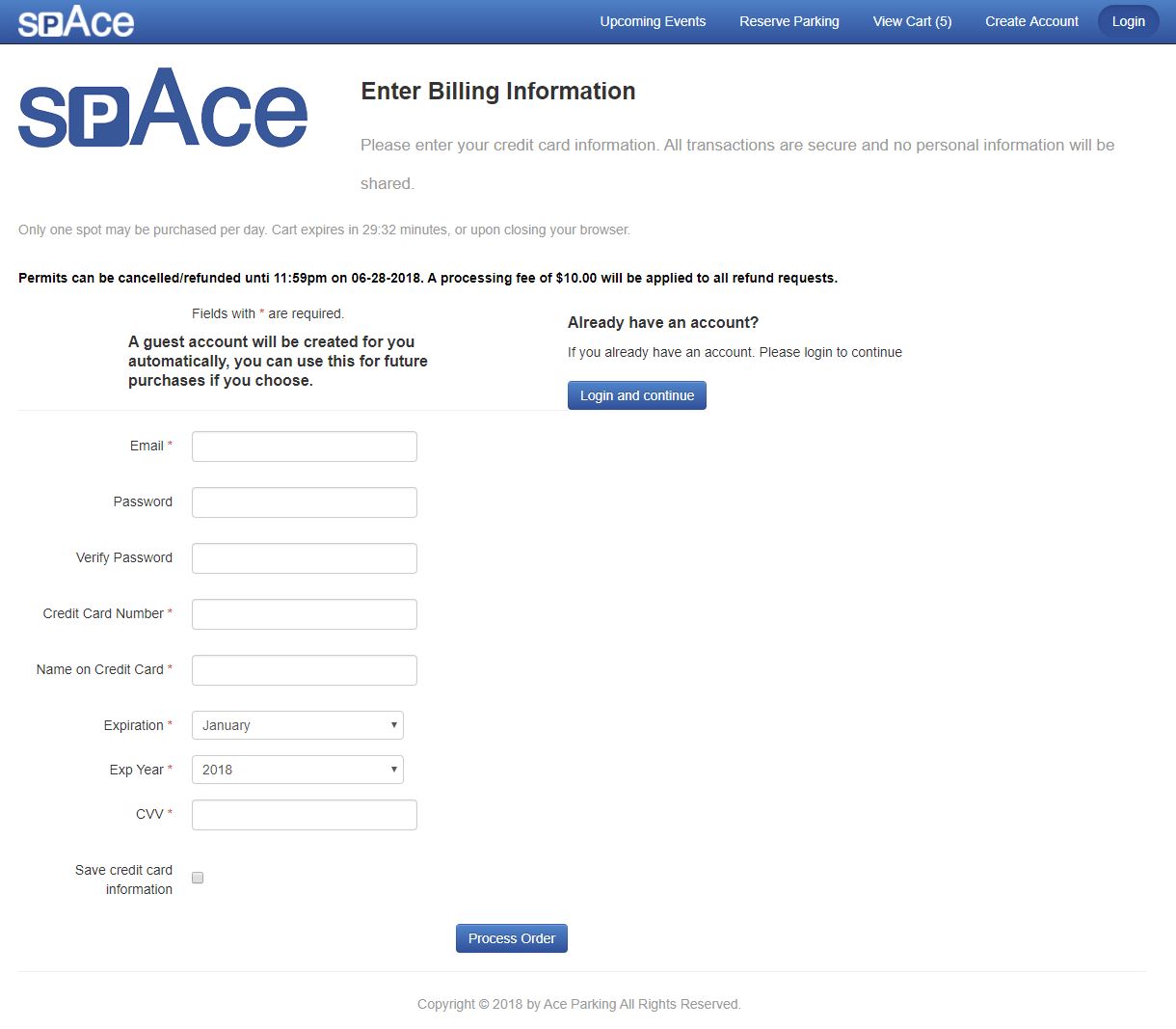 After that, the only thing left to do is to print your permit, and enjoy.
[PREVIOUS]
ABM Parking is also currently selling pre-paid parking for several lots, available Wednesday through Sunday (though not all lots are available each day). Prices range from $10-$30 on Sunday, and the closest parking appears to be at Horton Plaza. However, if you don't mind a short walk in exchange for getting your parking now, it's certainly worth investigating. Also, a pro tip: After you click on the day you want, if you click to zoom out on the map, other options appear.