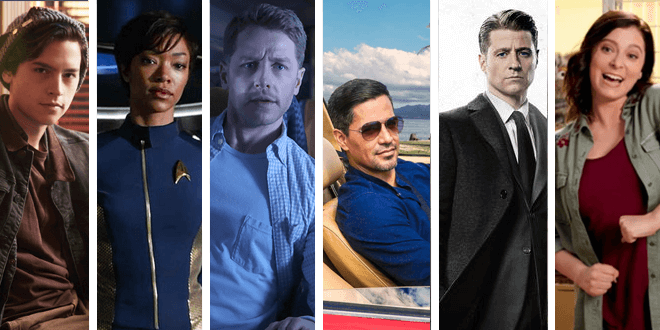 Television series comprise a huge chunk of the schedule for San Diego Comic-Con — and every year it seems like they become a larger and larger piece of the pie. The lines for Ballroom 20 often rival even those of Hall H, and they won't be getting any shorter any time soon.
As the anticipation builds for the official announcements from networks and CCI as to which television shows will be on the panel schedule, we like to take time out earlier in the year to speculate which shows have the best chances of appearing at SDCC. We'll be breaking this into three segments, including the Cable Networks (coming Wednesday!) and the Family Networks (coming Friday), but we're kicking things off today with the main five basic broadcast channels — ABC, CBS, CW, FOX, and NBC.
It's important to note that while we've broken out the schedule by which network a series airs on, these aren't necessarily the entities that physically own the shows, and thus bring them to Comic-Con. So, for instance, The Big Bang Theory is actually a Warner Bros. production, that merely airs on CBS, so Warner Bros. is the one who brings it to the convention. FOX owns The Orville, but not Gotham, so it would only be responsible for bringing the former along. Confusing? We know. That's why we've laid it out like this — but don't panic if your favorite shows aren't on any announcements the networks and studios make in the next two months.
So what do we think you'll be seeing at Comic-Con this summer? Let's take a look:
ABC
With so many previous ABC Comic-Con shows now cancelled (Once Upon a Time, Marvel's Inhumans, The Crossing, Designated Survivor, and Deception – just to name a few), just what will ABC do at San Diego Comic-Con 2018?
There's two options. One, they could skip entirely – which is entirely plausible, considering their most genre-friendly show doesn't even return until next summer. After all, Marvel's Agents of S.H.I.E.L.D. already skipped in 2017, and that was in a year when their season started much earlier than it will in 2019. However, at the time, ABC wanted to go heavy on the now-cancelled Marvel's Inhumans, so if the House of Mouse still wants to promote one of their Marvel broadcast TV shows airing on ABC, S.H.I.E.L.D. is really the only option. Just how far does synergy get you?
But if they do go (which is option two), after S.H.I.E.L.D., anything the network might bring is all a bit of a toss-up. We think Whiskey Cavalier, a "high-octane" dramedy about FBI/CIA agents who lead "an inter-agency team of flawed, funny, heroic spies who periodically save the world (and each other)", has a decent shot of attending. It comes from WB, which tends to bring everything and the kitchen sink, and it has a Comic-Con friendly cast in Scott Foley and The Walking Dead's Lauren Cohan. It's also a contender for a Wednesday night pilot screening, but considering it doesn't air until midseason, it's also a little bit of a stretch.
Two even longer-shots (but not impossible), are The Rookie, which stars everyone's favorite Nathan Fillion as a small-town man who moves to LA to become the LAPD's oldest rookie; and Take Two, which stars Rachel Bilson as the former star of a hit cop TV series who is fresh out of rehab, and in an effort to restart her career, begins shadowing a private investigator for research. Neither are really "genre" enough to be considered a lock, but ABC chose to bring both Castle and Designated Survivor in the past, so if they're looking to have a larger presence (or, really, any presence at all), either series could fill that role for 2018. Take Two will also be in the middle of its run during the convention, which we think might give a slight lead to The Rookie for the being the more likely of the two to appear.
But again, we wouldn't be shocked if ABC simply bowed out of the convention in 2018.
https://www.youtube.com/watch?v=FhYQU5eWdCo
https://www.youtube.com/watch?v=k9K06dCP-lc
CBS
CBS has gone big with various Star Trek things the last two years – and we think 2018 will be the same, so expect big things for Star Trek: Discovery. The second season isn't expected until sometime in 2019, but the series started filming in April and goes until November – so they'd have footage to show, and the cast would all be available for a quick flight down to San Diego.
The Big Bang Theory will undoubtedly be back for their annual Writer's Room Panel with Special Guests. As for prequel comedy series Young Sheldon, considering it didn't attend last year, we don't think you'll be seeing it this year either. We could also see the return of summer series Salvation, which was at Comic-Con last year. Word on the street is that the series will be debuting its second season sometime this summer, though an actual release date hasn't been announced yet. If they choose not to bring Salvation, they also have Strange Angel – a summer series debuting in June which stars Jack Reynor as a 1930s LA janitor who has fantastical dreams of becoming a rocket scientist. Comic-Con has hosted actual rocket scientists, so it's not that much of a stretch.
As for new series, CBS actually has two options, and we think both are pretty likely. God Friended Me, which is a WB series from the prolific mind of Greg Berlanti, follows an outspoken atheist (Brandon Michael Hall) whose life is turned upside down when he is "friended" by God on Facebook. The words "WB" and "Greg Berlanti" usually mean it's a lock for Comic-Con. If ABC's Whiskey Cavalier doesn't get a Wednesday night pilot, we think this likely will.
Then, they've got Magnum P.I., which, hear us out. CBS Television Studios has a long history of bringing, "wait, they're bringing what?" series to SDCC, and this remake boasts Suicide Squad's Jay Hernandez. Considering in the past, both Hawaii Five-0 and MacGyver have attended the con, we think you'll be seeing Hernandez's sadly-stache-less-self on the Ballroom 20 stage.
The CW
Pretty much rinse and repeat last year's schedule — which isn't a bad thing.
If there's any network that boasts a truly Comic-Con friendly programming schedule, it's The CW. Expect another year of panels for Supernatural, Riverdale, Black Lighting, Arrow, The Flash, Legends of Tomorrow, iZombie (for a final farewell panel), The 100, and Supergirl (which, even though star Melissa Benoist is off making her Broadway debut during the con, we don't think the series will skip).
Plus, with the news of a Crazy Ex-Girlfriend live show happening at the Balboa, could we finally get a little piece of West Covina inside the convention center? Odds are higher this year than they've ever been before, at least!
As for new series (and not just new-to-Comic-Con), the CW has a few things that we'd be, quite frankly, shocked if they didn't attend. Up first is Legacies, The Vampire Diaries/The Originals spinoff starring starring returning favorites Danielle Rose Russell and Matthew Davis, among others. It comes from a long-line of Comic-Con pedigree-shows, and is from the WB. We'd go further than to say this is a lock at SDCC 2018 – we also think it's guaranteed to be one of the Wednesday night pilots.
Roswell, New Mexico — the reboot of the 1999 series Roswell, is heading to a TV screen near you, and very likely to a stage inside the con. The reboot follows a daughter of undocumented immigrants who returns home to New Mexico, only to discover a shocking truth about her police officer crush: he's an alien. It hails from WB, and from series reboot co-creator Julie Plec, so yeah. This is coming. 100%. We're also fully expecting this to be one of WB's Wednesday night pilots up in Ballroom 20.
After that, is Charmed – which is only slightly less likely because it's owned by CBS Television Studios rather than WB (and CBS TV Studios tends to bring less to the convention in general than WB), but it's so Comic-Con friendly that there's no way CBS doesn't bring it along. The series, also a reboot of the 1998 series, follows three sisters in a college town who learn they are witches. With both Roswell and Charmed on the slate, for everyone who's always said they wanted to see what San Diego Comic-Con was like in the 90's, this might just be the year for you.
https://www.youtube.com/watch?v=loWpbevW9xg
FOX
With ABC's Once Upon a Time no longer filling that Saturday morning Ballroom 20 slot, what will go in its place? Our guess, honestly, is that FOX's annual Saturday Ballroom 20 animation domination will just kick things off a bit earlier, with back-to-back panels for The Simpsons, Family Guy, American Dad! (which technically airs on another network these days, but it's our blog, and we'll do what we want! We're mad with power!), and Bob's Burgers.
Beyond that, expect Gotham to get a grand farewell, as the series heads into its final season. The Orville and The Gifted – two series which both launched at last year's San Diego Comic-Con – should be back in full-force as well.
Ghosted hasn't been renewed (or cancelled) yet – and obviously, that's a pretty necessary first step in determining whether or not it returns to the con.
As for new series, FOX actually doesn't have that much new scripted content on their 2018-2019 schedule – in large part due to cutting back extensively on original programming for more sports. But they do have The Passage, based on the Justin Cronin book trilogy. The series stars Mark-Paul Gosselaar, a federal agent protecting a 10-year-old girl, as a secret government medical facility begins experimenting with a dangerous virus that could either cure all disease or cause the downfall of the human race. It's a midseason show, but we think they'll bring it.
NBC
Hey, NBC, if you're listening – I think I speak for a lot of us when we say that we'd really love for The Good Place to return to San Diego Comic-Con in 2018. It came in 2016, so it's not even like there isn't precedence. Additionally, if you felt like trotting out Brooklyn Nine Nine for a victory lap in its new comedy home, no one would mind. Sincerely, fans of good comedy.
With that out of the way, the most likely contenders for NBC's presence at SDCC are actually Blindspot and Midnight, Texas. While Midnight, Texas got the big NBC promotion outside The Tin Fish last year, this year we think that honor will instead go to newcomer Manifest, a mystery thriller about plane passengers who discover when their flight lands that the world around them has aged five years, while they've been presumed dead. It stars Once Upon a Time's Josh Dallas, comes from producer Robert Zemeckis, and has a bit of a sci-fi element to it – in other words, attendees are going to love it.
Less likely, but not impossible, is Blacklist, which has skipped for awhile and isn't slated until midseason, which doesn't bode well for a San Diego appearance. There's also Timeless, which is currently hanging out in the same nebulous "cancelled or renewed?" space as FOX's Ghosted. 
https://www.youtube.com/watch?v=Dwc27Lsr1EY
Television Graveyard
We'd also like to take a moment to reflect back upon our dearly departed shows that won't be gracing the stages at San Diego Comic-Con this summer, either because they were canceled, or simply ended their run. Here are the broadcast shows that you won't be seeing at SDCC again, at least until that ten year reunion (or until Hulu, Netflix, or some streaming service that hasn't been invented yet inevitably picks it up):
The Crossing (ABC)
Deception (ABC)
Designated Survivor (ABC)
The Exorcist (FOX)
The Last Man on Earth (FOX)
Lucifer (FOX)
Marvel's Inhumans (ABC)
Once Upon a Time (ABC)
The Originals (The CW)
Scorpion (CBS)
Zoo (CBS)