The Comic-Con news has been coming out fast lately. How have we gone from relative crickets to two Under the Tents posts in a week already? Since we officially have less than 60 days until SDCC 2018, we'll be getting a lot more news soon as well. This edition of Under the Tents has great news from Funko, teasers from Entertainment Earth, and quite a few Facebook Events. Oh, and we even found some crochet.
Here's a look at the news you might have missed:
Decent idea. Conan Pops are definitely coming!

— Funko (@OriginalFunko) May 17, 2018
Funko also confirmed that just like the last few years, most (not all) of their SDCC exclusives will be shared exclusives, meaning you'll be able to find them online or at specific retail shops as well. The only difference is a different sticker – and a lot more sleep. We expect that just like the last two years, Funko will confirm the list of retail stores you'll be able to find specific SDCC Pop!'s at on Preview Night.
Yes, most will be shared!

— Funko (@OriginalFunko) May 17, 2018
Comics artist and writer Eddie Campbell mentioned in passing during a Twitter conversation that he will be at SDCC 2018 "signing and jabbering" to support his latest work, The Goat Getters.
I'll be at SDCC signing and jabbering. we should catch up.

— Eddie Campbell (@ecampbelldammit) May 18, 2018
Collectibles distributor Entertainment Earth has been having fun teasing their Twitter followers. They posted yet another tease for their SDCC 2018 exclusives to their Twitter feed.
#SDCC #SDCC2018 #ThanosisComing #InfinityWar #iCollectatEE pic.twitter.com/adbS6pxo48

— Entertainment Earth (@EntEarth) May 18, 2018
Our recent issues of Under the Tents have been lacking on crochet. This one, however, is not. Crochet artist RE:Gina thanked her fellow crochet artist The Geeky Hooker for bringing her critters with her to drop at SDCC this year, and showed off this year's line-up, which includes Disney's Hades, Ahsoka, and Bruce Banner in the Hulkbuster armor.
Shout out to @GeekyHooker for taking my stuff to #SDCC2018 as a part of her #critterdrop even though she didn't have to! I'll be rather busy in the near future so I finished this year's line-up already now.
Meet Disney's Hades, Ahsoka, and Bruce in the Hulkbuster armor #amigurumi pic.twitter.com/dgw8eRt69k

— RE:Gina 🐾 (@moon_catcher) May 18, 2018
https://www.instagram.com/p/Bi2kkwFFwQR/?tagged=sdcc2018
Artist Liana Hee announced via Facebook that she will be at SDCC 2018 at Booth #4715. You can let her know you'll be stopping by on her Facebook Event page.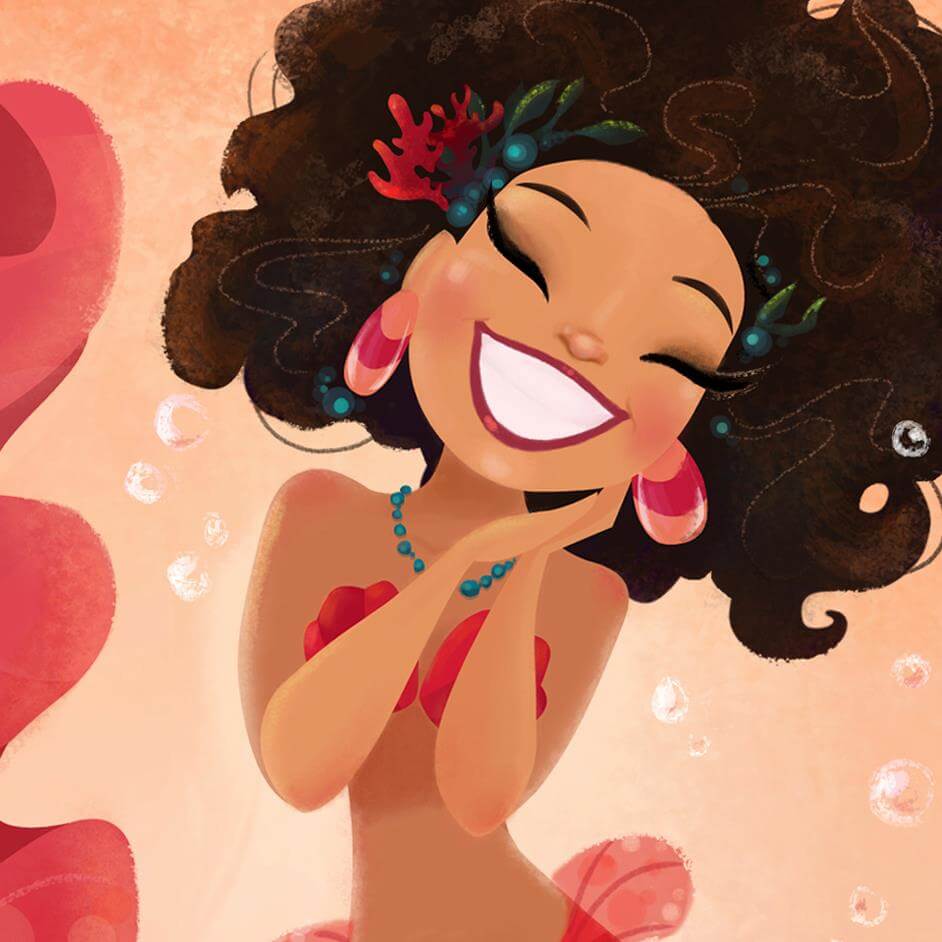 Another Facebook announcement came from Prime 1 Studio, whose items will be exhibited at the Sideshow Collectibles booth. Let them know you'll be there by responding to their Facebook Event.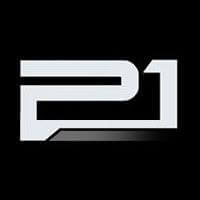 Artist Jennifer Nolan will be exhibiting her work in the SDCC 2018 Art Show. While we still don't have final details about the Art Show itself, it looks like it should be in another spot where you won't require a badge to attend. Let Nolan know you'll be there on her Facebook Event page.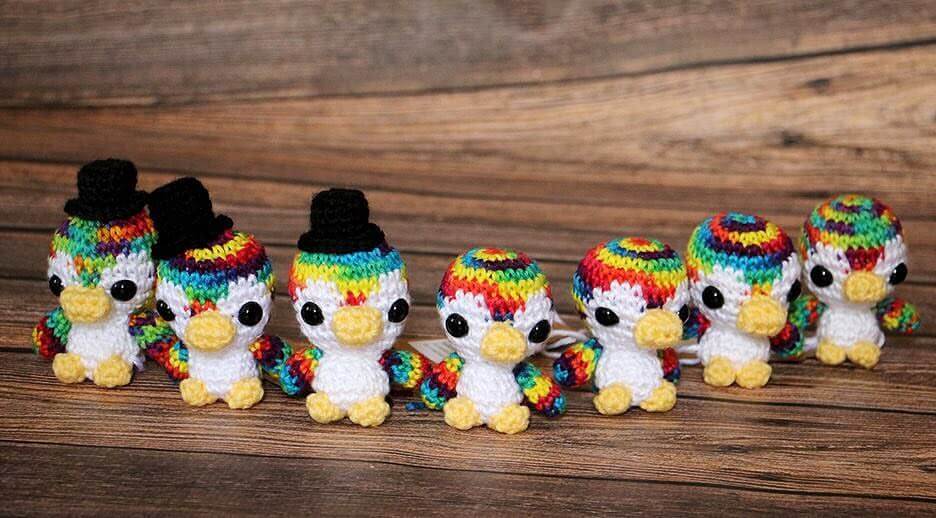 The team behind the film Kuleana would like to bring this Hawaiian adventure to the mainland and are attempting to do just that at San Diego Comic-Con 2018. You'll need to RSVP via their Facebook Events pages to let them know you'd like to see this unique film.

Starburner Galactic Courier Service is holding a gathering of Harry Potter and Fantastic Beasts cosplayers for some photo ops and some downtown shenanigans. Let them know you'll be there at the Children's Pool across from the Marriott Marquis at 10AM PT on Friday, July 20 on their Facebook Event page.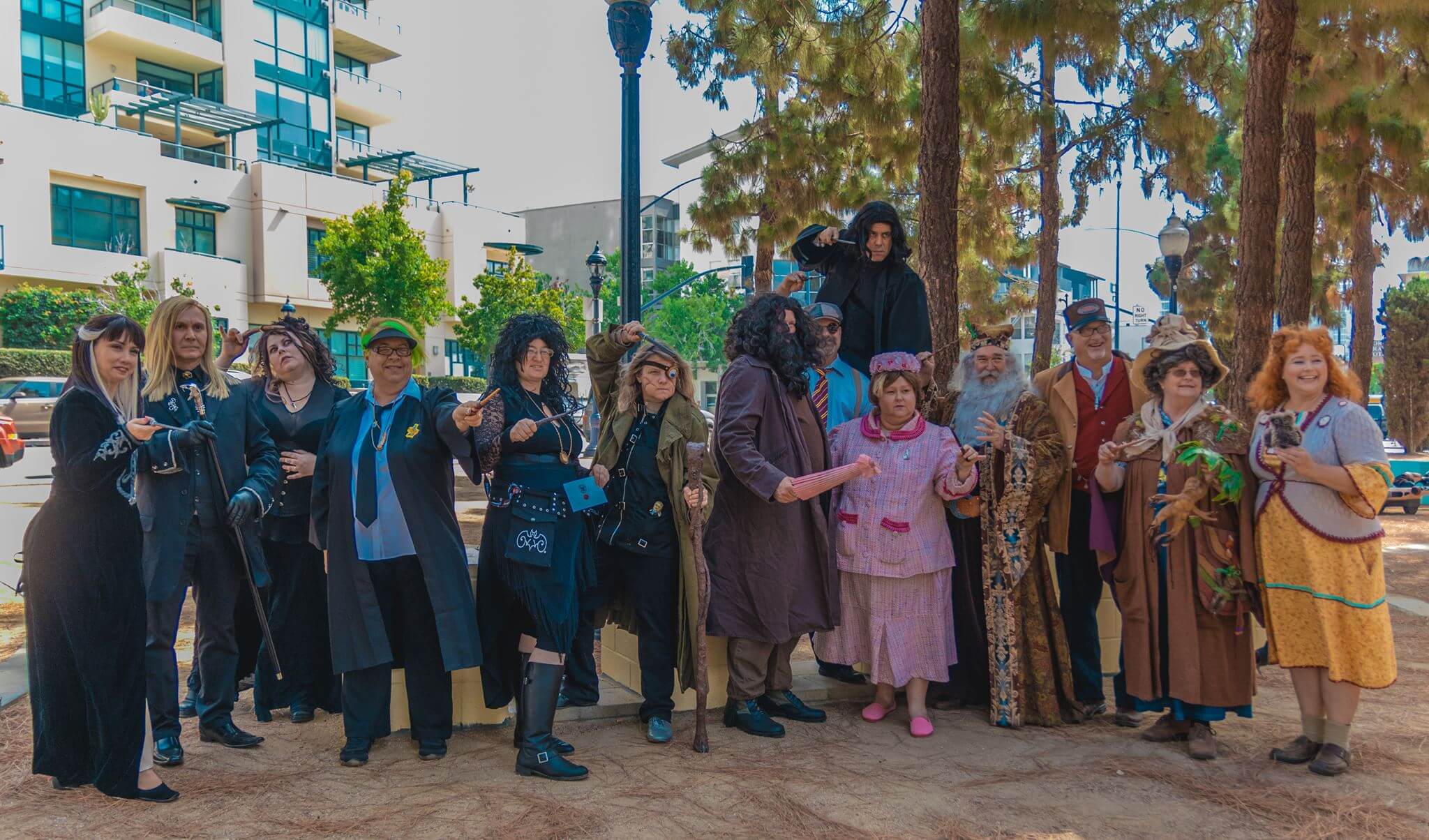 Author Adam Bray also took to Facebook to announce that he will be exhibiting with DK at SDCC 2018 promoting his latest Marvel Studios books. If you want to know his schedule for each day, you'll have to keep an eye on DK's site for more information, but you can still respond to his Facebook Events page to let him know you'll be there.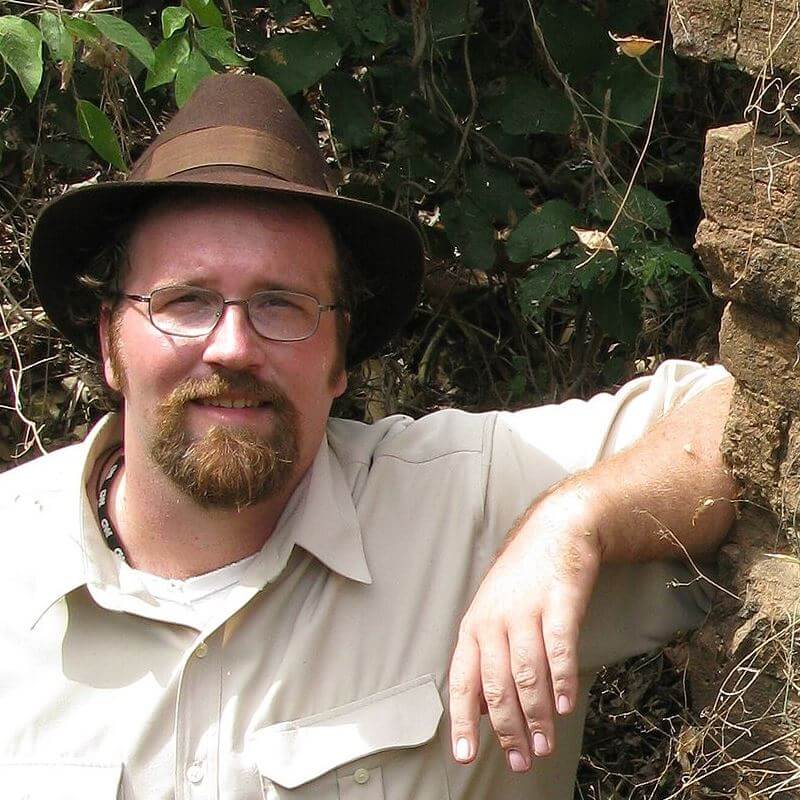 Espionage Cosmetics announced via Facebook that they will be at SDCC 2018… and not much else. If you'd like to know more details when they're posted, however, you can go to their Facebook Events page and click Interested to get all the updates as they come out.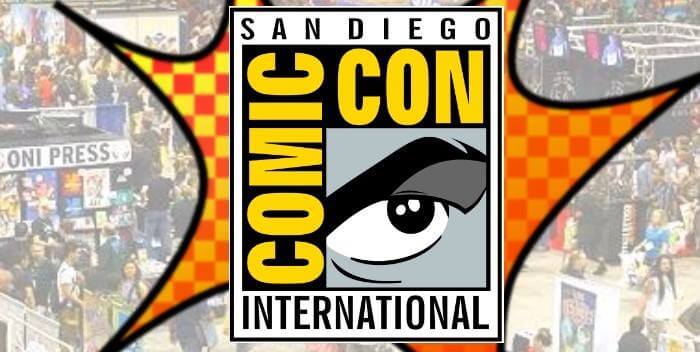 Hey, Puddin! The Eighth Annual Harleypalooza will be held on Saturday, July 21, at 12PM. All Harley cospalyers are welcome to celebrate Gotham's Clown Princess of Crime, regardless of which outfit you prefer. Other DC cosplayers are invited to hang out as well. This will be held within the convention center, so you will need a Comic-Con badge if you want to participate. You can find more details and let them know you're coming on their Facebook Events page.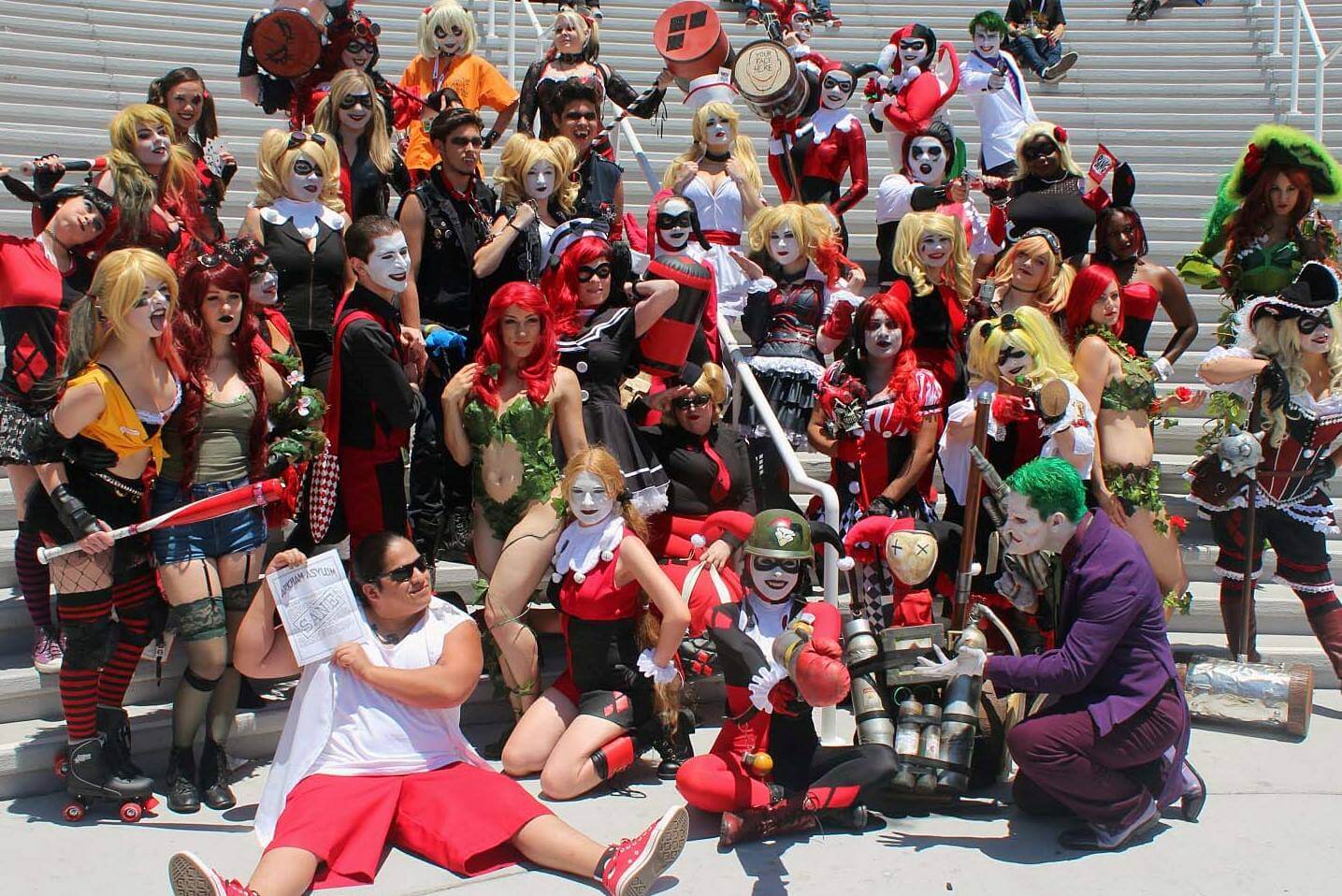 Author Sherrilyn Kenyon will be back at Booth #1700 at SDCC 2018 with more goodies. Show her Facebook Events page you're interested to get the latest updates and let her know you'll be there.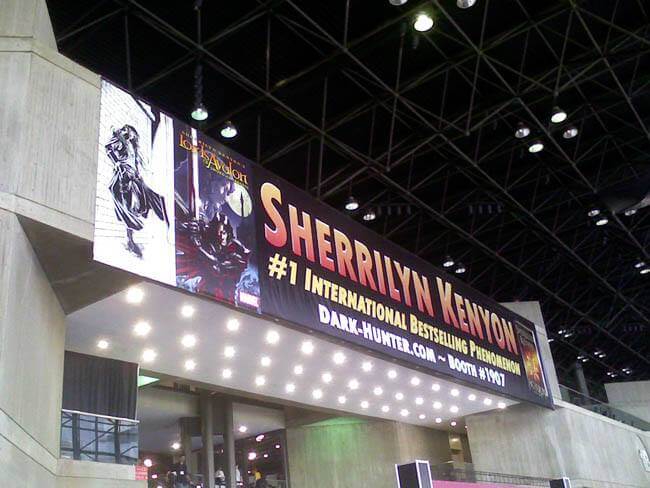 Illustrator Jamie Sullivan has a Facebook Events page set up for his appearance at SDCC 2018. Unfortunately, details on his page are sparse, so you might want to click Interested to see if there will be any updates.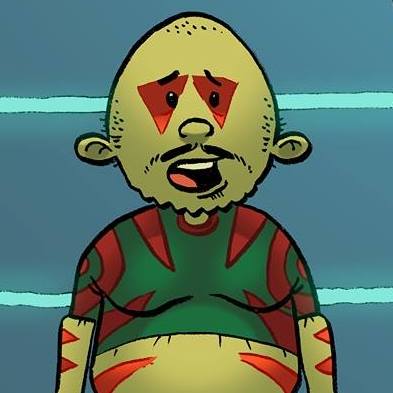 We're often asked for recommendations for food and drinks in the Gaslamp. The answer is often very subjective, as it's hard to know exactly what kind of food or drinks our readers like. If you like the sweetest deals in the Gaslamp, Garage Kitchen and Bar certainly fit that bill. While they'll be closed Friday for a private event, you can take advantage of their SDCC deals on Thursday, Saturday, and Sunday. Details can be found on the graphic below or on their Facebook Events page.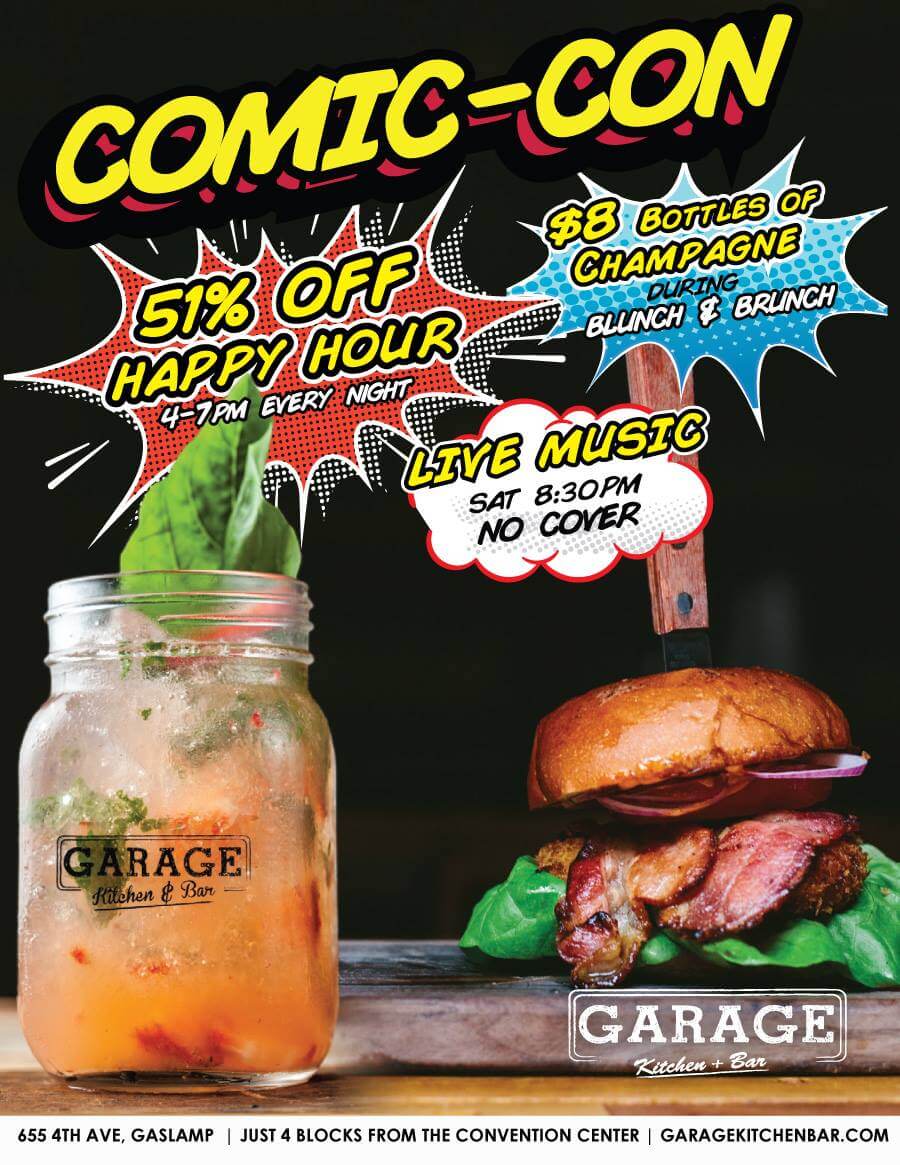 Anything we missed? Let us know in the comments, drop us a line, or tweet us at @SD_Comic_Con.