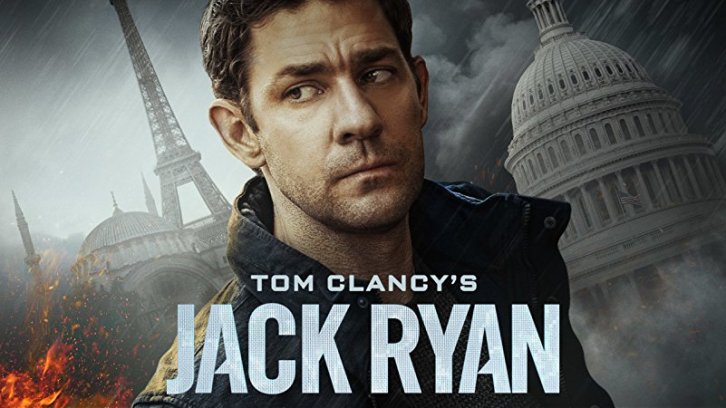 Deadline has the details on all of Amazon's plans for this year's San Diego Comic-Con plans, the biggest news of which is a joint panel featuring all of Amazon's biggest shows.
Tom Clancy's Jack Ryan executive producer Carlton Cuse, Good Omens' co-creator Neil Gaiman, The Tick's creator Ben Edlund, Mr. Robot and Homecoming's Sam Esmail, Lore Executive Producer Gale Anne Hurd, and The Expanse's Naren Shankar will all be in attendance to discuss their series.
According to Deadline, there no word yet on if Jack Ryan's John Krasinski or Good Omens' Michael Sheen or David Tennant will be in attendance on the Friday, Ballroom 20 panel at 3:30PM-5:30PM – but you'll get the debut of a new episode from one of Amazon's series, as well as never-before-seen clips.
They'll also have a panel for The Man in the High Castle on Saturday, July 21 at 4:15PM-5:15PM in Room 6A. Attendees can join cast members Alexa Davalos, Rufus Sewell Jason O'Mara, and Stephen Root along with EPs Isa Dick Hackett and Dan Percival for a look into season three.
All week long though, you can find Amazon at The Jack Ryan Experience, in a huge offsite that starts the corner of MLK & 1st and extending to the back adjacent parking lot. The entire area will be converted into a vast Jack Ryan immersive experience that plucks people from the streets of San Diego and transports them into the heart of the Middle East.
Attendees will complete the Jack Ryan Training Field by infiltrating, fighting and evading the enemy to gain full field clearance in a hyper-reality virtual reality spy experience. You'll then use that training to help Jack Ryan himself in Dark Ops, a groundbreaking escape room that recreates the pilot episode of Tom Clancy's Jack Ryan. Attendees can also explore the Middle Eastern bazaar which has assignments to be completed at every turn, watch a live leaderboard and pick up some iconic Jack Ryan swag.
Heroes in training will go through a series of thrilling true-to-life experiences including rappelling from a helicopter, traversing between dangerous high rise buildings, and zip-lining to ground level. Created with MediaMonks, the Jack Ryan Training Field stands over 30 feet tall and uses the latest Optitrack 4D and Oculus Rift technology to make visitors physically feel as if they were thrust into the action.
It will be open daily from 9AM – 7PM on Thursday, July 19 – Saturday, July 21, and then 9AM – 5PM on Sunday, July 22.