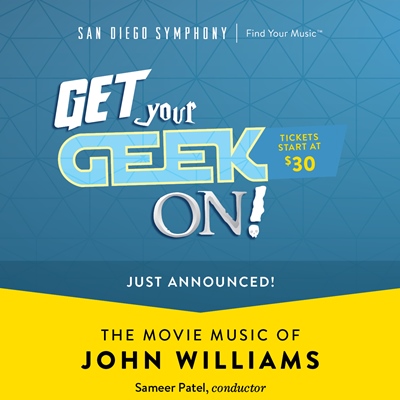 There is possibly no one more iconic when it comes to scoring films than John Williams — and there is possibly no offsite we're more excited about at San Diego Comic-Con this year than the San Diego Symphony's "The Movie Music of John Williams".
On Wednesday, July 18, at the Copley Symphony Hall downtown, the San Diego Symphony will perform famous excerpts from classic John Williams scores, including Harry Potter, Jurassic Park, Indiana Jones, Star Wars, and more. The concert begins at 7:30PM, but there will be a special "Plan B" pre-concert gathering at 6PM featuring special Star Wars themed cocktails and a costume contest.
You can snag your tickets now (only $30-$45!) before it sells out, or, you can enter to win tickets below. We are partnering with the Symphony to give away a pair of tickets to two lucky winners! You can enter below now through Monday, July 2 at 11:59PM. Our chosen winners will have 24 hours to respond, or a new winner will be chosen.