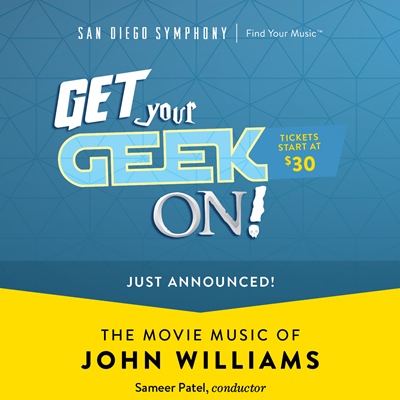 The San Diego Symphony always has something up their sleeve for San Diego Comic-Con attendees, and 2018 will be no exception. This year, you can join the San Diego Symphony inside their home at the Copley Symphony Hall for a special concert of the movie music of John Williams.
The concert — set for Wednesday, July 18 — will feature famous excerpts from Harry Potter, Indiana Jones, Jurassic Park, and, of course, lots of Star Wars music.
Tickets are just $30 – $45 and available at the Symphony web site. The concert begins at 7:30pm, but doors will open at 6pm for a "Plan B" pre-concert gathering, featuring special Star Wars themed cocktails and a costume contest.
The Symphony encourages cosplay, although asks for Comic-Con tote bags (and presumably other bags, such as backpacks) to be left behind in cars or hotel rooms, when possible, to save on security checkpoint time.
Will you be getting your geek on with the San Diego Symphony? Let us know in the comments below!